Labor Advocates Fight and Win To Keep Emeryville's Minimum Wage the Highest in the Nation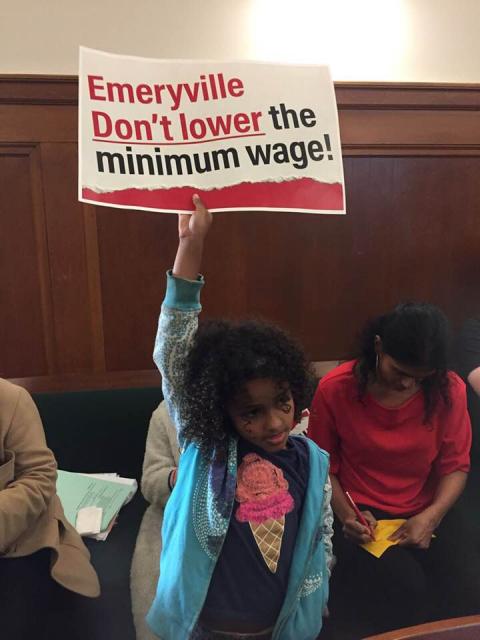 On July 23, the Emeryville City Council voted 5-0 to abandon an amendment to the minimum wage ordinance that would have lowered wages for hundreds of workers. In 2015 at the urging of Local 1021 and a coalition of labor and community groups, Emeryville's City Council passed an annual minimum wage increase through July 2020.

Until now, those scheduled increases had been steeper for businesses with more than 55 employees. But they were set to level off across all businesses, regardless of size, on July 1 of this year, making the city's minimum wage — of $16.30 — the highest in the country.
The repeal of the amendment to the minimum wage ordinance is huge victory for SEIU 1021 and the labor/community coalition who gathered hundreds of signatures to stop the city council from lowering the minimum wage.
"We had 30 days to collect the signatures that represent 10% of registered voters in the community totaling 666 signatures. Well within that timeline we collected those signatures, and gathered more signatures than we needed," said Andrea Mullarkey, SEIU 1021 Alameda County COPE Co-chair, and City Of Berkeley librarian.
The coalition included EBASE, Alameda Labor Council Resident Unite for a Livable Emeryville (RULE), East Bay Working Families, ACCE, and Restaurant Opportunity Centers United (ROC United), and SEIU 1021.
"Workers are getting that minimum wage right now, because everyday voters protected them with their signature. We know we have the power of the people and we have the strength in numbers," said Mullarkey.