From LA to Oakland, California is #RedforEd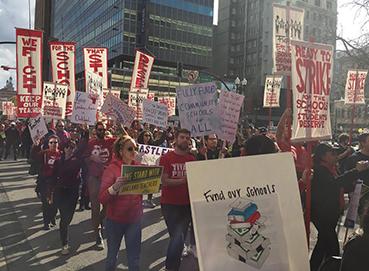 Yesterday, 32,000 Los Angeles Unified School District (LAUSD) teachers went on strike for the first time in nearly three decades. Walking on rain-soaked picket lines, thousands of parents, students, and allies joined teachers in our country's second-largest school district to speak out against austerity measures and increased privatization in our public school system.

Despite having millions in reserves—in LAUSD's case, billions—school districts throughout the nation have been reducing funding to public education, pushing unnecessary cuts, and privatizing the jobs that keep our schools running. This increases classroom sizes, erodes the quality of education, undermines school workers' power, and transfers even greater wealth to the 1%, all the while making the lives of working families harder.

"We need to stand together and push back against the agenda that leaves our children and working families further behind, " Bettie Smith-Reed, a paraprofessional at Markham Elementary in Oakland. "We can't allow our children's future and their chance to succeed to be short-changed."

On Saturday, Bettie joined her fellow Oakland Unified School District workers in a march to demand that the school district increase its investment in the learning conditions for Oakland's youth and for better working conditions for teachers and other school staff. Oakland teachers have been working without a contract since July 2017 and announced the possibility of a strike in the near future.