La Clínica workers reach out to their community for support in their fight to improve services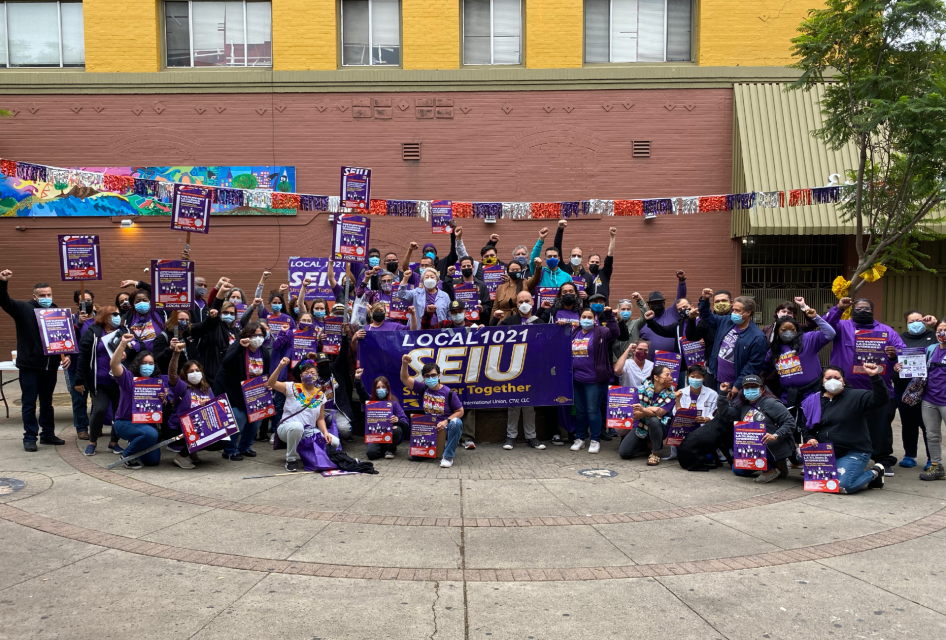 SEIU 1021 members at La Clínica de la Raza in Oakland have been fighting for a new contract that invests in frontline workers as well as increases staffing to improve services for the community. La Clínica has gotten millions of dollars from federal and local funding to provide quality services throughout the pandemic but has yet to address the issues that plague their tirelessly working essential workers.
This past Saturday, La Clínica workers, community leaders, and labor allies gathered for a rally in the Fruitvale neighborhood of Oakland, near La Clinica offices, to raise awareness of these issues. Those gathered went from local business to local business asking for them to prominently place posters that support these workers who have been tirelessly working all through the pandemic to help our communities. Earlier this past week, La Clínica put their last, best, and final offer on the table, but members say it doesn't go nearly far enough.
Dental Worker & SEIU 1021 member Iramis Kouromenos said: "I've worked for La Clínica for 23 years in the Dental Department. We are here to support our community because we are very low on staff and we need more support for our patients and La Clínica is not prioritizing the workers. They only want to use the grants they've received on other things besides their workers. So every day we're losing more essential workers and we're struggling to provide the care that our patients need."
From the low wages to the 24.9% vacancy rate and 18.6% turnover rate that hurts community services and causes burnout among workers, there have been a plethora of issues that have made it challenging for La Clínica workers to continue to provide the much-need healthcare services to a marginalized community. La Clinica administrators have been spending tens of millions on IT, management positions, and unknown items while denying workers decent raises. Based on this wasteful spending and mismanagement, members say it's clear that La Clínica has no long-term financial plan.
Members plan on meeting this week for next steps and actions, so stay tuned. When we fight, we win!