Kaiser is gouging SF residents and employees; Kaiser is probably gouging others, too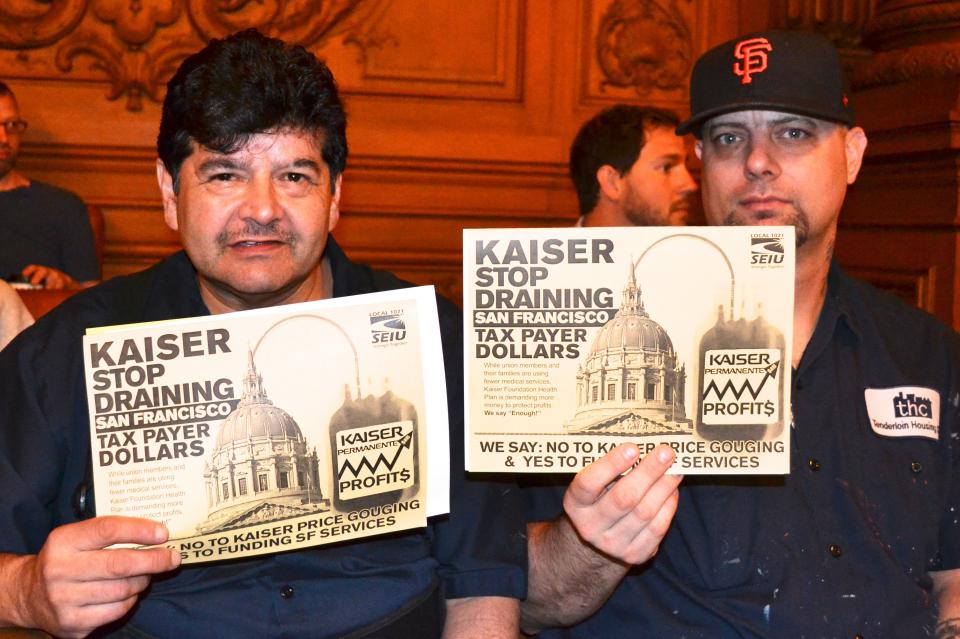 (See event photos here: Kaiser stop draining San Francisco tax payer dollars)
Dear SEIU 1021 members:
SEIU Local 1021 is committed to maintaining both Kaiser and Blue Shield as healthcare options for our members. We are also committed to keeping healthcare affordable for our members and will oppose unwarranted and unjustified rate increases by any healthcare insurance provider.
Our union has taken on the fight for more affordable healthcare.
In San Francisco, we are challenging Kaiser's rate increase, which would gouge San Francisco for an additional $15 Million — despite the fact that Kaiser patients are healthier and require fewer services. Kaiser has so far refused to justify this rate increase.
From 2010- 2012, Kaiser has charged HSS $87 million more than it actually cost to provide services. That's a 13% percent profit margin, far above the Blue Shield two percent profit pledge. Now, Kaiser demands an additional $15 million dollars for 2014 that they refuse to justify.
While SEIU Local 1021 members and SF residents struggled and made sacrifices to get through the recession, Kaiser banked over $2 billion in profits last year. That's billions in profits while union members, taxpayers, and residents suffered cuts in wages, benefits, and city services.
We ponder: If Kaiser and other healthcare insurers are gouging city employees, it is likely they are gouging all of us. In SF, we're fighting for a solution to runaway health costs for everyone. Transparency is the first step.
Here are two things you can do for a more affordable and transparent Kaiser:
• We need members to come to a full Board of Supervisors meeting on Tuesday, July 23 at 2PM in room 250.
• Call Kaiser CEO Bernard Tyson– 510-271-2659 –to demand that they negotiate in good faith and provide greater transparency in their rate setting, rebate $11 Million to the City for their unjustified rate increase, and withdraw their opposition to Senate Bill 746 that would establish Kaiser transparency.
In unity,
Larry Bradshaw, SEIU 1021 VP of San Francisco, Paramedic at the SF Fire Department and a Kaiser member for over 25 years
Karen Joubert, SEIU 1021 VP of Representation working at Laguna Honda Hospital and a Kaiser member for over 49 years.
PS. Read more about the unjustified Kaiser rate increase here:
SF Chronicle: Rate increase creates criticism of Kaiser
http://www.sfchronicle.com/health/article/Rate-increase-creates-criticism-of-Kaiser-4669119.php
CBS San Francisco: http://sanfrancisco.cbslocal.com/2013/07/11/sf-supes-urged-to-refuse-to-kaiser-rate-increase-for-city-workers/
SF Examiner: http://www.sfexaminer.com/sanfrancisco/city-mulling-health-insurance-options-as-kaiser-rates-increase/Content?oid=2507080
SF Chronicle: http://www.sfchronicle.com/bayarea/article/S-F-Supes-panel-delays-vote-on-Kaiser-rate-4658217.php