Julie Meyers, longtime SEIU 1021 member leader and 3x bargaining team member, reflects on her experience in negotiations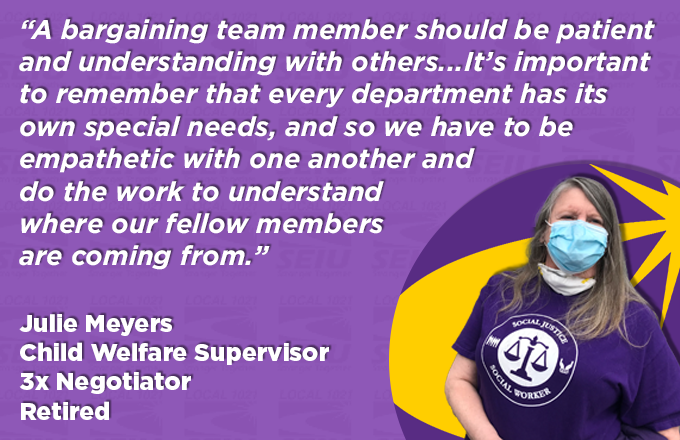 Want to submit a bargaining team nomination or learn about our upcoming negotiations? Visit SFfight.org for the most up-to-date news.
How long did you work for the city and county of SF and what was your job title?

My name is Julie Meyers, and I was a Child Welfare Worker and then a Supervisor with the City and County of San Francisco for just over 31 years.

What first prompted you to want to run for the bargaining team?

I was asked by Larry Bradshaw, who also recruited me to join our local's Executive Board. I would always ask Larry grievance questions or for advice on workplace issues, and he suggested that I run for the bargaining team to really learn the ins and outs of our contract. I had been a steward for some time, but there wasn't a lot of involvement from our worksite on the bargaining team so I decided to go for it. I'm so glad I did—it really made it easier for me to learn about our rights and protections at work and also become more familiar with what was in our contract and how we could enforce it. Ultimately, I served on the bargaining team for three negotiation cycles.

What is one of your favorite memories of serving on the bargaining team?

In my years on the team, we had a couple of great contracts that I'm very proud of it. The first contract I was part of negotiating was probably my favorite. It was all very new and exciting—I didn't know the contract as well, and so it pushed me to learn and know the ins and outs of the agreement. I didn't know anything about bargaining at first, so it was all a learning process. As time went on, I soon felt more comfortable writing proposals and taking on a larger role on the team. We got a great contract that year, and it's because we prioritized working together for the common good. Having our members, both on the bargaining teams and in the worksites, standing together is the most important ingredient for success.

What is the contract victory you are most proud of?

A lot of the city unions will often bargain back-to-back with each other, and I always liked to go first so we could set the tone for all the negotiations. A few cycles back, we didn't go first and had to fight tooth and nail to protect our medical benefits and keep them 100% covered. Some negotiating teams with our sister unions in San Francisco agreed to share part of those healthcare costs with the employer, but we held strong and were able to keep our medical coverage fully paid for, and we still managed to win the same wage increases that everyone else did. After that fight, the City didn't even bother bringing up healthcare costs with us at the table in the next round of negotiations because they knew it would be a nonstarter for us.

What did you find rewarding about being a bargaining team member?

Learning the contract as a bargaining team member was incredibly helpful in my grievance writing and work as a steward, but in general I enjoyed the camaraderie of being on the team. I loved meeting and working with members from other departments and worksites and learning about their issues and goals. It's important for us to know what our fellow coworker around the city are going through, and I loved how being on the bargaining team brought us all together and expanded my perspective.

What are good qualities for a bargaining team member to have?

A bargaining team member should be patient and understanding with others—this is especially important for new team members. Things seem very odd at the beginning, but if you go in with an open mind and ready to learn, you will absolutely catch on. It's important to remember that every department has its own special needs, and so we have to be empathetic with one another and do the work to understand where our fellow members are coming from.

What would you say to someone who is considering nominating themselves or a colleague for the bargaining team?

It's of course important to have people who have some experience on the bargaining team, but it's just as important—if not more important—to have new people get involved. I would 100% encourage anyone who is even remotely considering running or nominating a colleague to do it. It's such an amazing opportunity to learn about our union, our contract, and everything happening around our city.

I just retired this year and the thing that probably made it most difficult for me to step away was knowing that I wouldn't be participating in bargaining at the table any longer. I always enjoyed writing proposals and being at the table advocating for myself and my coworkers. I'd recommend it wholeheartedly to anyone.