IATSE Members Vote Overwhelmingly to Authorize a Strike to Demand Better Working Conditions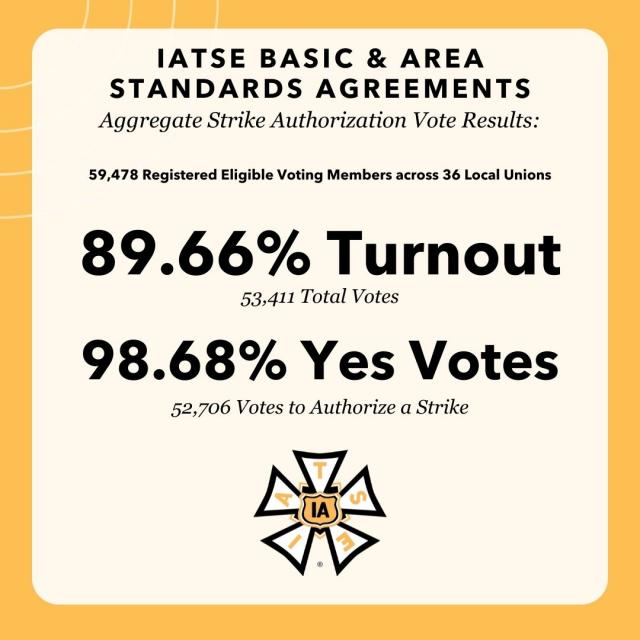 October 12, 2021: Imagine this scenario: You sit down in front of your TV screen, tablet, or phone. You log onto the Paramount+ video-on-demand streaming service app to catch up on Star Trek: Discovery. You wait patiently for the blue and white Paramount mountain logo to fade. You wait. You wait some more. Then, nothing happens. It is frozen, stuck, and no longer working.
Now imagine what it takes to make a series like Paramount+'s Star Trek: Discovery, HBO's Game of Thrones, NBC's Saturday Night Live, or a major feature film like the upcoming film adaptation of Dune by writer-director Denis Villeneuve.
The International Alliance of Theatrical Stage Employees, Moving Picture Technicians, Artists and Allied Crafts of the United States, Its Territories and Canada, or IATSE for short, will soon flex its worker power and show the entertainment industry what it means when workers fight for basic dignity and respect on the job.
After negotiations between IATSE and the Alliance of Motion Picture and Television Producers (AMPTP) broke down after a July 31, 2021 deadline to renew contracts and agreements, IATSE went forward with a nationwide strike authorization vote. The scope of the negotiations is the Hollywood Basic Agreement, which covers productions in the Los Angeles area, and the Area Standards Agreement, covering the rest of the country.
Between October 1 and 3, the nationwide strike authorization vote was held. IATSE members voted 98.68 percent authorizing a strike, with ballots cast by 89.66 percent of eligible voters.
Jennifer Esteen, a registered nurse and the SEIU Local 1021 Vice President of Organizing, who recently led a discussion for the 2021 convention platform plank for the union, "Unions for All," speaks about the significance of such a vote, the importance of workers having a union, demanding fair and safe workplace protections, and more:
"At the end of the day, it is about power. Does power rest in the hands of the workers, the people who create the value for people's entertainment, or in the hands of the boss? Do we treat the workers who do the physical and mental preparation for all kinds of productions with dignity and respect? Yes! We do.
"Asking for higher wages, a minimum period between the end of one day and the start of another, an end to the current classification of streaming as 'New Media' with lower minimum wages, and measures to dissuade studios from skipping breaks for meals isn't just reasonable, it is just.
"The militancy of IATSE members voting in such large numbers for a yes vote to strike is unprecedented and is precisely the kind of mass-movement labor building we need in our country right now. This could be the first nationwide industry strike in the union's 128-year history. The vote total shows that IATSE members are united and committed to building a better entrainment industry for all.
"Due to an ever-changing media landscape and the enormous challenges posed by the COVID-19 pandemic, IATSE members risk their lives each and every day to give it their all so we can enjoy our favorite films, series, and productions. Without IATSE members, our favorite media wouldn't look and sound even remotely as good as they do now. Just last month, during our member-led convention for SEIU Local 1021, members of IATSE Local 16 worked with us to ensure a smooth, professional production that was done virtually, despite the pressure of working under pandemic restrictions. They worked with us to make sure we were safe and looked after. I saw firsthand their passion for their craft.
"When push comes to shove, and the boss does not listen to your demands, workers need to flex their muscles. We need to show our strength and the power of our movement. If that means shutting down an industry to get what we rightfully deserve, then so be it. We stand in solidarity with our union sisters, brothers, and siblings across all of IATSE in their fight for better workplace productions."