Hundreds of SEIU 1021 Members Mark Tax Day with Protest of Weakening of Vital Services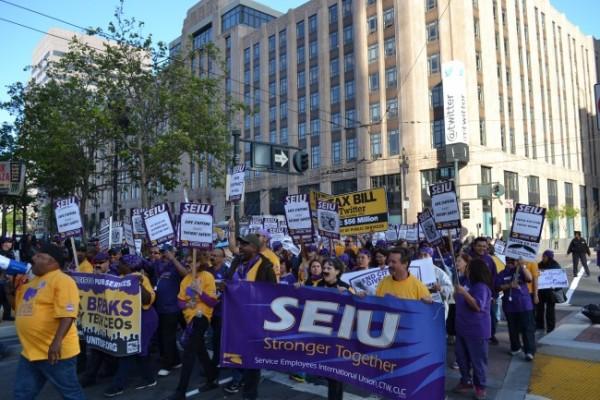 Over 1,000 San Francisco City workers, nonprofit workers and residents marked Tax Day on April 15 with a major protest of the weakening of vital social services and of the increase in income inequality in the City under Mayor Lee's economic initiatives.
As part of the protest, 24 persons were arrested at San Francisco City Hall for performing acts of civil disobedience.
Prior to the arrests, protestors marched along the Mid-Market corridor, passing by the corporations that have enjoyed hundreds of millions of dollars in tax giveaways under Mayor Lee, with a stop in front of Twitter headquarters. The march ended with a rally at City Hall.
Protestors cited significant funding problems for vital services such as 911 dispatch and San Francisco General Hospital as a direct result of the giveaway of hundreds of millions in City revenue to wealthy corporations. The undermining of these services hurts working families in San Francisco already struggling with the problem of economic inequality. Working and poor people are now being pushed out of the City in record numbers due to evictions, rising cost of living, and unaffordable housing.
"Mayor Lee's San Francisco just doesn't work for a lot of San Franciscans anymore," said Larry Bradshaw, a paramedic and Vice President of SEIU 1021, who was among those arrested for civil disobedience. "We see the results of Mayor Lee's tax policy: more inequality for working people and less safe healthcare for everyone."
The protest follows significant patient safety concerns raised by caregivers at two San Francisco institutions earlier this month.
Registered nurses and caregivers earlier this month decried the patient care problems caused by under-funding of the public health and under-staffing of nurses. They reported that were no shifts in the year 2013—exactly zero—with adequate numbers of nurses and other caregivers at the San Francisco General Emergency Room. On every single shift, the City violated its own safe-staffing guidelines, as well as California's staffing ratios. Patient outcomes directly suffer when they do not have adequate access to a nurse. The situation is so dire that patients may not even have access to the Emergency Room at San Francisco General. In 2013, for at least part of every single day, patients were diverted away from the ER due to a lack of staffing.
"There is a culture of chaos at San Francisco General and in the way nurses are managed," said Dan Merier, RN, who works at SF General. "Patient outcomes are suffering. We need to fully fund and fully staff our hospitals. Any one of us could end up in the ER at any time."
9-1-1 dispatchers at the San Francisco Department of Emergency Management criticized a culture of delay for emergency calls in the City, noting that California law requires 90 percent of all emergency calls to be answered within 10 seconds. Due to City under-funding, only 60 per cent of emergency calls in San Francisco are answered within 10 seconds.
"When you call 911, there should be operators to take your call," said Ron Davis, who has been an emergency dispatcher in San Francisco for 13 years. "We just can't wait 30 seconds, 45 seconds, or longer for a life-threatening emergency. San Francisco needs a safe and efficient emergency system for our patients."
SEIU 1021 has also filed a ballot initiative to raise the minimum wage in the City for all workers to $15 per hour by 2017. This is a key plank in SEIU 1021's larger program to reduce economic inequality in the City, along with housing, healthcare, and transportation.
See our press coverage here:
SF Chronicle (Front page): "S.F. tax-day protest marches on Twitter"
http://www.sfgate.com/bayarea/article/S-F-tax-day-protest-marches-on-Twitter-5405393.php
SF Examiner: "Mayor's San Francisco doesn't work for everyone"
Op-ed by SEIU 1021 VP Larry Bradshaw
http://www.sfexaminer.com/sanfrancisco/mayors-san-francisco-doesnt-work-for-everyone/Content?oid=2772162​
Gawker
http://valleywag.gawker.com/new-bay-area-rules-every-tech-company-demonstration-mu-1563937153