Hundreds rally to #SaveMills in the wake of a shocking announcement that the doors of the historical women's college will be shuttered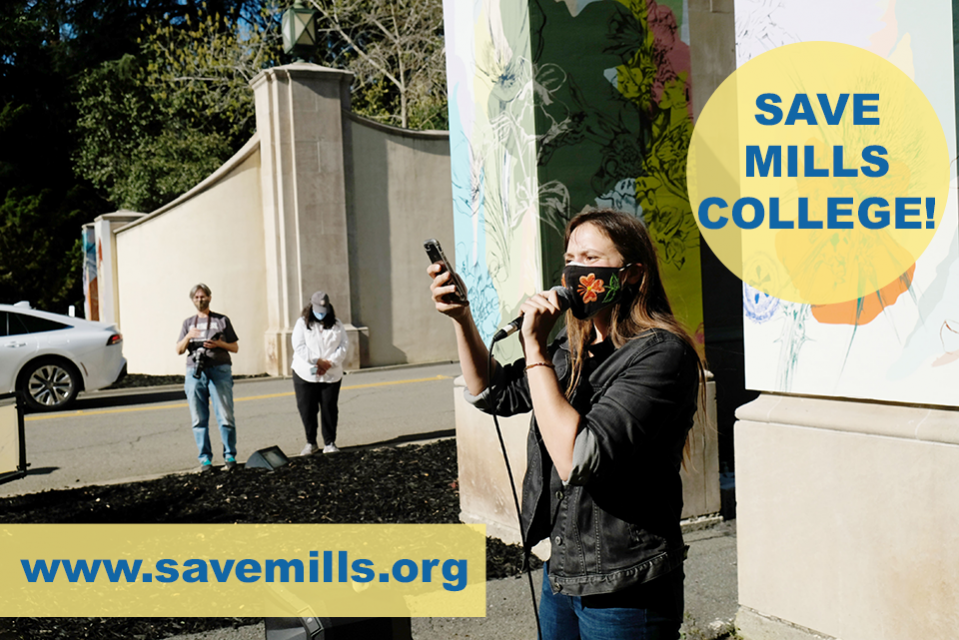 On March 17, 2021, the Mills College Board of Trustees announced its intention to dismantle the historic women's college and replace it as an undefined "Institute" on a breakneck two-year timeline. As part of this shocking decision, the school said they would stop granting four-year degrees to students.
Kalie Caetano, a Digital Communications Manager at Mills, and a member of the staff union's bargaining team, said, "Students have not been provided with a clear pathway on how to complete their education or receive the degrees their tuition dollars are paying for. Neither the staff nor the faculty—over 65 percent of whom are adjuncts—have been provided with any guarantee or incentive for work retention over the course of this 'transition'."
"The decision to dissolve this unique and longstanding institution has left myself and many alumni, students, and community members heartbroken and outraged. At Mills, diversity is more than just a word or a number, it is an integral part of its culture and identity. For generations, it has provided a diverse community of women with an excellent academic education, many of whom would have been denied access at other institutions of higher education. African American and Latina students are not alone here." said Congresswoman Barbara Lee, a Mills graduate, Class of '73 in a statement shared to the Save Mills Facebook Group.
In the wake of the alarming announcement, a grassroots movement lead by students, alums, faculty, and staff drove the #SaveMills rally on March 26 at the Richards Gate entry of the college. Gathering support on the ground, through Facebook groups and a coordinated Slack channel, organizers set out to reverse the Board of Trustees' awful decision and to preserve the groundbreaking culture of a long-standing women's higher ed institution.
Students, faculty, alums, and staff came together to demand the Board of Trustees reverse the decision to cease granting four-year degrees and communicate transparently around what the dissolution means for them in real time. Current students and staff have not been provided with a clear plan for the transition of their degrees and positions within the undefined "institute." All these peiole have been left in the dark and continue fighting to have a seat at the table as the community is left to grapple with the potential loss of another Bay Area higher education institution.