In a huge victory, San Francisco's public workers secure the right to strike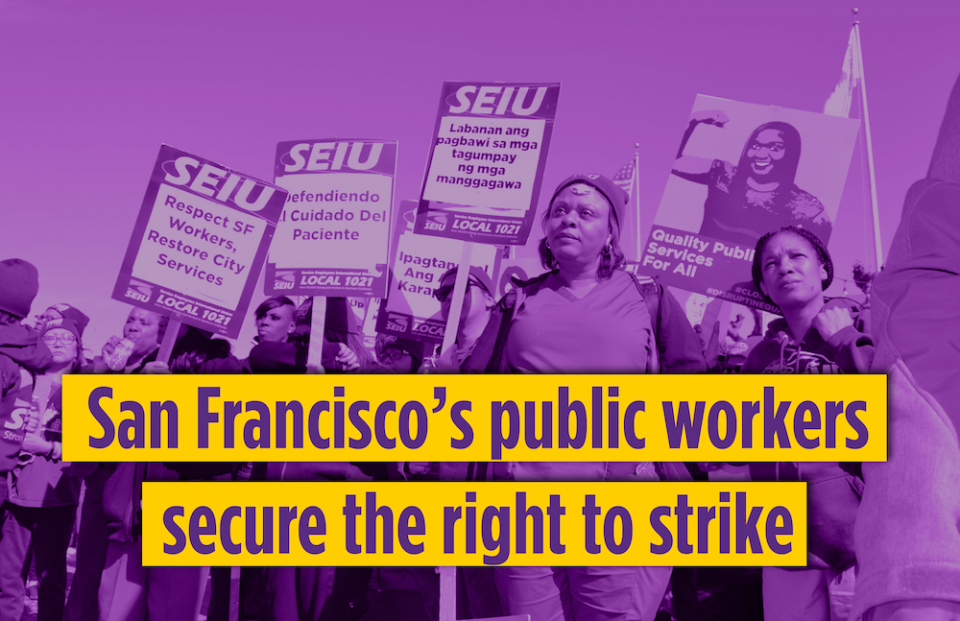 In 2009, the City amended the Charter to deliberately rig the collective bargaining system in the City's favor by creating an arbitrary deadline to complete contract negotiations and a harsh penalty for the unions and their members that do not meet the deadline. These changes to the Charter also made it effectively impossible for workers to use the strongest tool available to us – the right to strike – to advocate for ourselves and the community we serve. As a result, the scales have been tipped in management's favor for years each time we go to the table to bargain a new contract.

Now, a ruling from the Public Employment Relations Board which was just affirmed by the California Court of Appeals has changed everything.

In the past, to the City failed to bargain in good faith until late April and then pushed unions into binding arbitration under the rules in the City Charter to meet the June 15 deadline for reaching an agreement with SFMTA and the May 15 deadline for all other public workers. The unions and their members were forced to abandon important bargaining proposals that benefited the community. Any agreement we reached beyond those deadlines that included economic improvements would be unenforceable until the following year.

Recent decisions from PERB and the courts made it clear that management's way of enforcing the 2009 amendments to the Charter is unlawful.

What does this mean for public workers in San Francisco?

"This victory means we are facing a monumental opportunity. COVID-19 has exposed just how broken many of our workplaces are and how dangerous it is for San Francisco to continue devaluing and underfunding vital public services. Now, for the first time in generations, these rulings allow us to fight for transformative changes by credibly and legally preparing for a strike if management continues to ignore our concerns about the health, safety, and wellbeing of our City's workforce and residents," said Theresa Rutherford, SEIU 1021 VP of San Francisco.

City management appealed this decision to the California Supreme Court but we are confident that the courts will continue to side with workers like us.

Our job now is to get ready to fight.