As housing costs continue to rise, Mendocino County members come together to find solutions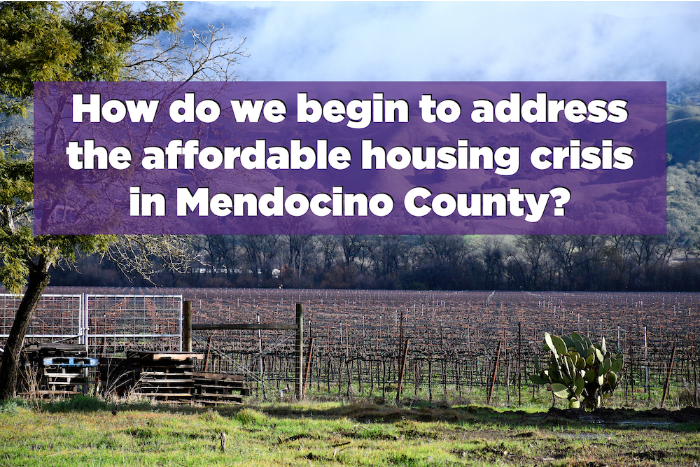 California's affordable housing crisis is a complex problem, and one that touches us all—residents, employers, businesses, and beyond. Recent wildfires haven't helped, as our housing stock has been further depleted by natural disasters. Many of our north coast communities are feeling the effects of this crisis, including our members in Mendocino County who recently decided to get together and look for solutions.

The Housing Options Committee is a newly formed group of members in Mendocino County who are researching, brainstorming, and planning next steps to address the growing housing crisis in our community.

"Historically, finding affordable housing has been a huge problem for workers in our county—particularly for people on the coast. So many homes have been turned into short-term rentals, AirBnBs, or investment properties," said Julie Beardsley, a Senior Public Health Analyst and Mendocino County Chapter President. "When there's no new housing stock, it drives up the existing prices and pushes County employees out or makes it impossible for us to be able to buy a house. If there's no place to live, there's also no way for our economy to grow or for employers to fill vacancies. At the same time, you have some communities saying they can't support new construction because their sewage system couldn't handle the additional volume. It's certainly a multifaceted problem."

Our union is committed to improving the lives of our members both at work and in our communities—a big part of that ensuring our members can afford to live near where we work. Historically, good union jobs built a pathway into the middle-class for working people; as income inequality continues to explode around Northern California and the United States, we must look for solutions that address both its causes and effects. That's why work being done by members in groups like the Housing Options Committee are so important. Additionally, because many of us are civil servants working for our cities and counties, we have the experience, knowledge, and relationships needed to propose effective solutions.

"In different areas, there are different causational factors so identifying why affordable housing is a problem in certain areas like the coast or inland communities is step one. Figuring out what we can do to increase housing stock and work with municipalities to find solutions comes next," Julie said. "The thing about Mendocino County is that people really care about each other and we care about our community. If we have a problem, we get together and work on finding a solution and that's what this committee is all about. Right now, we're having monthly meetings so if you want to get involved and participate, joining one of those meetings is the first step."

If you're interested in getting involved with the Housing Options Committee, please email Patrick.Hickey@seiu1021.org.