Healthcare Workers Across Alameda County Vote to Accept a New Contract with Alameda Health System
"This struggle wasn't just for our members: it was for the community, for them to have a safe place, to have a safety-net hospital they can go to, where they can have confidence they will receive the proper care that they deserve."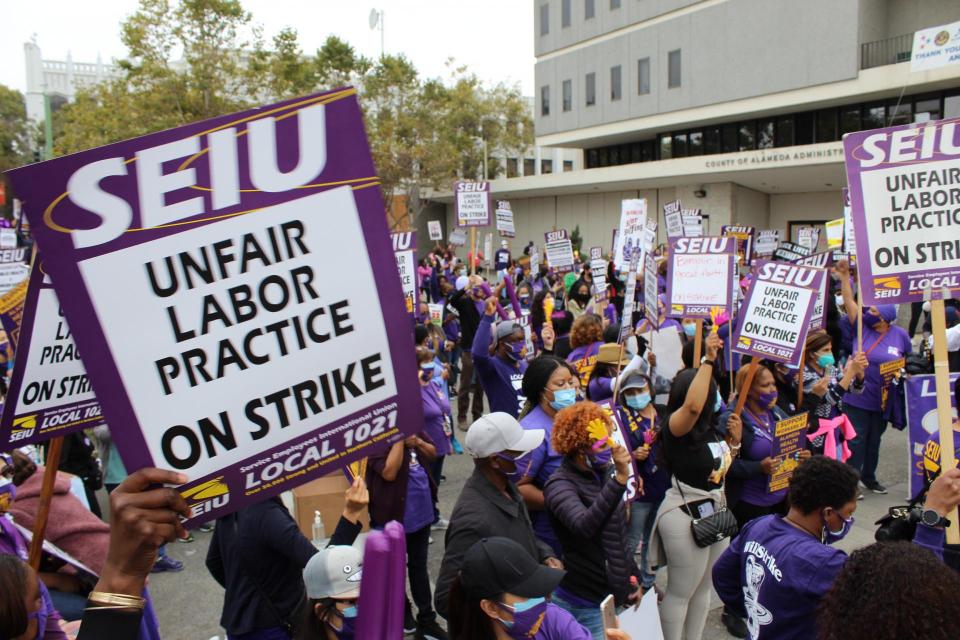 On Friday, April 9, more than 3,000 workers at Alameda Health System who are united in SEIU Local 1021 voted to accept the tentative agreement their elected bargaining team made with AHS negotiators, which ratifies the agreement and approves the new contract.
The negotiations had begun in late January of 2020, and included a historic five-day unfair labor practice strike in October. Workers fought to change the way public health works in Alameda County, vowing throughout negotiations to bring the safety-net health system back under country control, putting public health in public hands.
The four-year contract runs from April 1, 2020, through May 31, 2024. The contract's new provisions include improved working conditions throughout the system, including longer notice for schedule changes, enhanced COVID leave provisions, greater protections against discrimination, extended protections for service-as-needed workers, and 3% cost of living raises per year, so these vital workers can keep up with the region's skyrocketing costs of living.
When management came to the bargaining table last year, they were proposing hundreds of pages of takeaways, including a wage freeze and increased healthcare costs for members. They also wanted to rewrite the entire union contract from scratch, removing protections that had taken years to win.
Because of the incredible solidarity of the members, none of the takeaways made it into the final agreement, and progress was made on all the AHS workers' priorities, including:
Dedicated break relief nurses at John George Psychiatric Hospital
Workplace violence and safety protections at San Leandro Hospital, which has had many incidents of patient assaults on staff
Updated staffing standards to implement safe nurse-to-patient staffing ratios with adequate break nurses, support staff, and additional staffing based on patient acuity
Expanded educational benefits to all job categories, instead of only providing educational benefits to licensed professional titles
Since AHS acquired San Leandro Hospital in 2012, workers at that location have been under their own contract that was worse than workers doing the same duties in other parts of AHS. This contract eliminates many of the inferior standards for SLH members in areas of paid time off, mandatory cancellations, discipline protections, health benefits, layoff protections, severance pay, and more
A timeline to upgrade the inadequate ventilation in older buildings
New policies and procedures to provide adequate clothing to homeless patients when they are discharged, so homeless patients no longer get discharged to the streets in surgical gowns
Stopping the planned closure of the Intensive Outpatient Psychiatry program that treats the most severely mentally ill patients in the County
During the strike, Alameda County's Board of Supervisors called on the AHS Board of Trustees to resign. By the end of November, the Board of Trustees resigned and a new Board, including two Registered Nurses, was appointed. The newly appointed Board includes SEIU 1021 Vice President of Organizing Jennifer Esteen, RN.
Not long after the appointment of the new Board of Trustees, CEO Delvecchio Finley resigned, followed by many other top executives. The County Board of Supervisors began a process to change the governance of the public health system, which serves low-income residents of Alameda County, with more than 70% of AHS' patients being Black or brown. In 1998, the Board of Supervisors had stepped away from managing the system, turning over control to the appointed volunteer Board of Trustees.
With a thorough change in management and governance, and a new contract approved, workers at AHS are reflecting on the new situation and the lengthy process that led to it. Veronica Palacios is a Chief Shop Steward and Eligibility Specialist II at Oakland's Highland Hospital, where she has worked for 20 years. She said, "We showed them what we could do as a united body, and three thousand members came together and through all our hard work, not only did we get a contract out of this, we got our membership back, unified and ready to move forward. Our contract and our membership are both stronger and better and everyone is just excited. This struggle, this fight, wasn't just for our members, for the workers: it was for the community, for them to have a safe place, to have a safety-net hospital they can go to, where they can have confidence in the staff and the workers, have confidence they will receive the proper care that they deserve. We fought for them for them to be able to go to and receive healthcare without having to worry about wait times, without worrying about whether or not they were going to get proper care. Moving forward, we want to let them know we accomplished that for them, for our community, for our low-income residents, it's guaranteed that the healthcare is there, and they don't have anything to worry about."
Emergency Room nurse and Chapter President John Pearson said, "Everyone deserves good healthcare, without questions. Our patients deserved much better care than the system was providing, and this was the only path we had to win better care for our patients, with the resources we need and the staffing we need."
Derrick Boutte, an Environmental Services worker at Oakland's Highland Hospital, said, "As workers, we come to work to provide the services for those who don't have them. To have a contract that allows us to continue that journey is so empowering. As union members, we know we're taking care of the individuals in our community, and supporting our co-workers in this fight for justice. It's such a motivating cause to hold these officials accountable to doing the things we know are right, and transition into an economy that benefits all, that supports all. That's why we fight as a union, is for change."
There are three SEIU 1021 contracts covering Alameda Health System workers across Alameda County, including Highland Hospital, the East Bay's only level one trauma center, Fairmont Rehabilitation and Wellness, John George Psychiatric Hospital, the East Bay's only emergency mental health facility, San Leandro Hospital, and clinics at Eastmont, Hayward, and Newark. The workers of the AHS chapter of SEIU Local 1021 provide for public health in almost 200 job classifications, including registered nurses, physician assistants, social workers, lab technicians, food service workers, environmental services workers and housekeepers, eligibility specialists, community health outreach workers, and many others.