Hayward Unified School District Staff, Educators, and Families Rally to Save Schools from Closure
Following a massive march, rally, and hours of public comment, the Board of Education voted to close only 2 of the 4 schools on the list.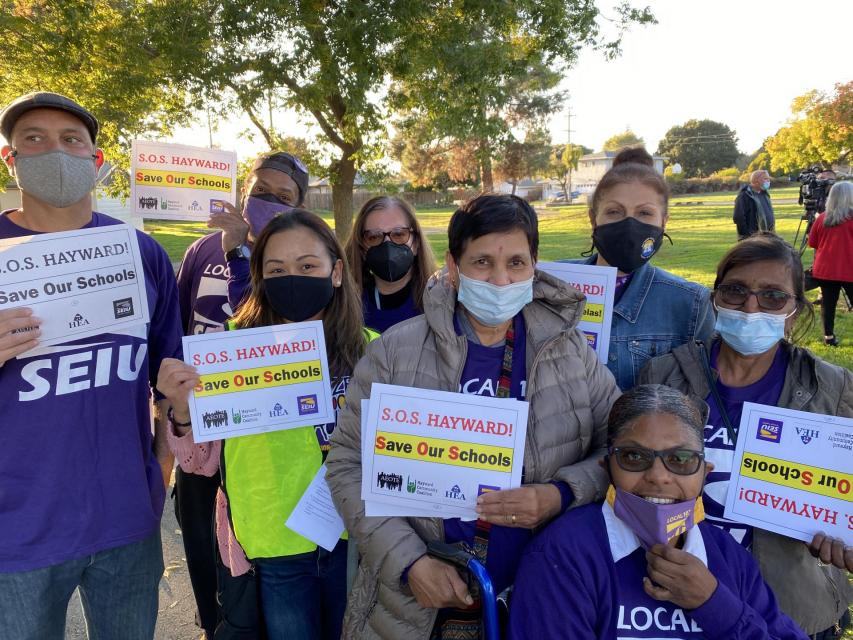 November 22, 2021: The announcement last month that Hayward Unified School District (HUSD) management plans to address a budget shortfall by closing as many as eight schools came as a shock to HUSD staff, educators, students, and families — hundreds came out to last Thursday's mobilization to urge the HUSD Board of Education to put the plan on hold until more has been done to look into creative ways to improve schools, use new funding for pre-K/TK and community schools to boost enrollment, gather and consider community input, and make a concrete plan to mitigate the harm to students, programming (especially for special ed), and the schools that would absorb the students from the schools slated for closure.
The march, rally, and outcry over school closures dominated local news throughout the day. You can see SEIU 1021 HUSD Maintenance and Operations chapter's interim president Lanell Johnigan's interview here.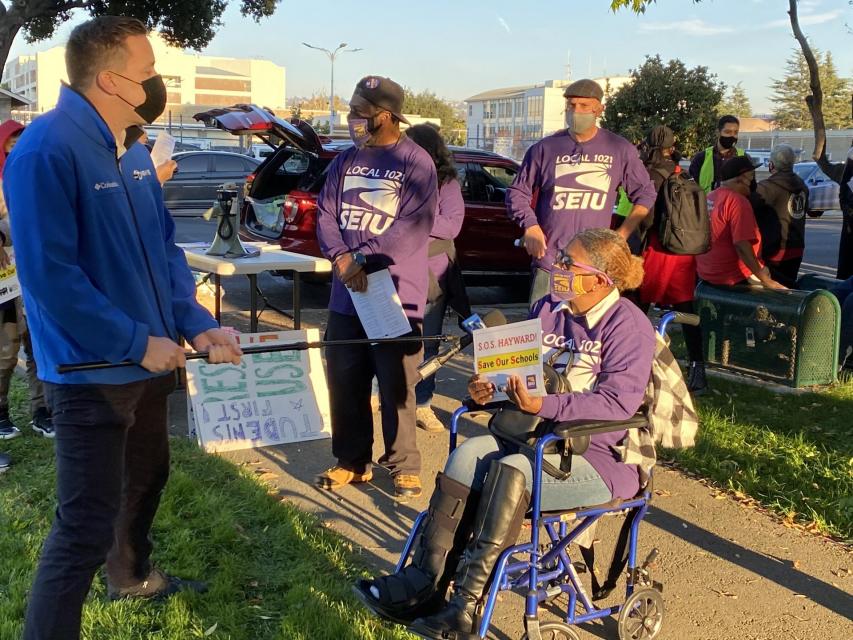 The HUSD Board of Education heard a presentation from district management about their school closure plan and voted unanimously to slow down their planned school closures after hearing hours of testimony from parents, staff, and students who spoke against the closures during the school board meeting following the mobilization.
While there was disappointment at the board's decision to close two elementary schools next year, school closures in the following years were postponed allowing engagement of all stakeholders to explore other solutions.
"Our schools are a critical part of our communities. Abruptly closing several schools, on top of two years of upheaval, is extremely disruptive to students and the dedicated people who work with and for them under already stressful conditions every single day," said Lanell Johnigan, interim president of the HUSD maintenance and operations chapter of SEIU Local 1021. "District management continues to lack a real plan to ensure programs existing at the schools they want to close continue beyond the closures and how to mitigate the impact on displaced staff, educators, and students. The 'bottom line' in any plan should be the opportunities of our students to learn and grow in Hayward schools. We're disappointed that two schools will still be closing at the end of this year, but we hope they will take the time and effort to involve all stakeholders and get this plan right before closing any others."
"We came out in hundreds and pushed back. Taking such drastic action with four school closures would have been unconscionable after the past two years of what our students have already been through," said Deisy Bates, president of the Association of Educational Office and Technical Employees, which represents education support professionals, which include school site office staff, specialists, technology and outreach workers, and others. "Closing more schools means further disruption to children, families, and communities at a time when their lives, education, and routines have already been disrupted enough. Community engagement would minimize this disruption by airing and addressing concerns raised by staff, parents, and community leaders. Last night's decision puts us on that path. The School Board's focus right now should be on regaining and/or preserving as much stability as possible after a year of turmoil and upheaval. School closures can impact communities for generations and should only be implemented as a last resort. Concerns about future changes in budget or enrollment should move the School Board to work on initiatives to increase enrollment, rather than fueling a vicious circle where overcrowded classrooms, lack of options and programming, and fewer schools in communities leads to further declines in enrollment."