Gov. Newsom rolls up his sleeves and leads by example in San Francisco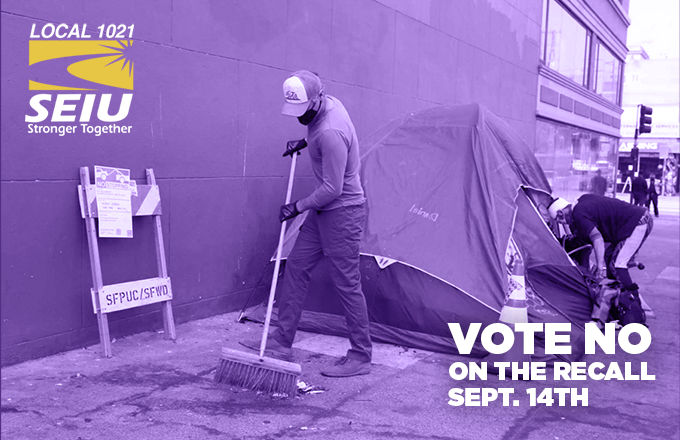 You can sign up to volunteer and help defeat the anti-union recall of Gov. Newsom by clicking here.
SEIU 1021 members were ready to campaign for Gov. Newsom with Vice President Kamala Harris at a rally on Newsom's behalf last weekend when the Vice President, unfortunately, had to cancel in light of the situation in Afghanistan.
Instead of rallying, Governor Gavin Newsom used that time to volunteer to clean up a homeless camp in San Francisco alongside outreach workers and staff from the Deparment of Public Works. A couple of weeks ago, he did the same in Berkeley, when he came to town in the morning with no news conference, just a reporter from the San Francisco Chronicle. The Governor then chatted with outreach workers and helped street cleaners sweep up debris, much like many SEIU 1021 workers do every day.
"It's important to vote no on the recall because Gavin has been a labor advocate who has come into office in the unprecedented times of the Covid pandemic. He's always had worker safety in the forefront of his policymaking, making sure frontline workers have adequate PPE and sick leave in these critical times," said Mary Sandberg, SEIU 1021 North Coast Vice President.
Consistently, SEIU 1021 workers have protected California's residents on the frontline while pushing for a recovery that everyone can share in strength and unity. SEIU 1021 members are urging everyone who wants what's best for this progressive and beautiful state of California we call home to vote NO on the recall. We're making great strides with these efforts by phone banking, texting, and emailing people across Northern California.
Especially now as Sept. 14 draws closer, these efforts are being undermined and attacked by a partisan attempt to recall Governor Newsom, and undo much of our progress. You can sign up to volunteer and help defeat the anti-union recall of Gov. Newsom by clicking here.