Gig workers take the fight worldwide on the Gig Worker Global Day of Action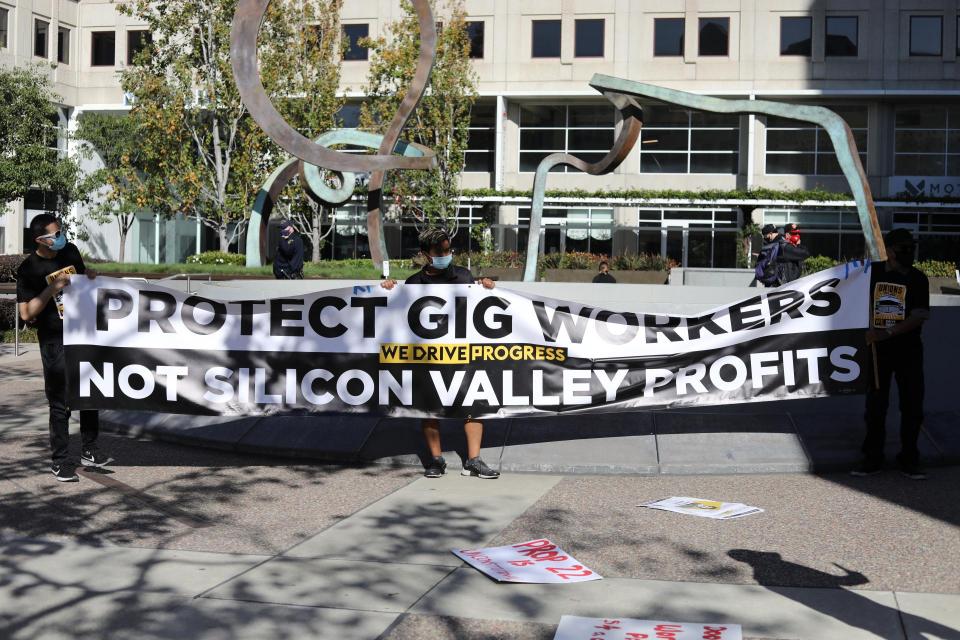 App workers worldwide held a series of rallies on November 3, the first anniversary of the passage of California Proposition 22. Gig workers are demanding that companies like Uber, Lyft, and DoorDash pay drivers a fair wage and respect their basic rights, including their right to form a union. In California, the "Gig Worker Global Day of Action" — which took place across nine countries — was anchored by protests in San Francisco and Los Angeles.
Prop 22, which a California court recently ruled unconstitutional, denies app workers the rights and protections they deserve, including paid sick leave, overtime pay, unemployment insurance, access to workers' compensation, and the right to join together in a union. During the global day of action, drivers called on Uber and Lyft to drop their appeal of the court's decision and correctly classify their drivers as employees.
In San Francisco, gig drivers with We Drive Progress and Gig Workers Rising rallied at the headquarters of DoorDash to call on the company's CEO, Tony Xu, to provide gig workers the rights and protections they deserve. A group of drivers attempted to deliver a petition demanding that CEO Tony Xu share his wealth with the company's workers, who have made him $413 million in 2020 alone, making him the San Francisco Bay Area's highest-paid CEO.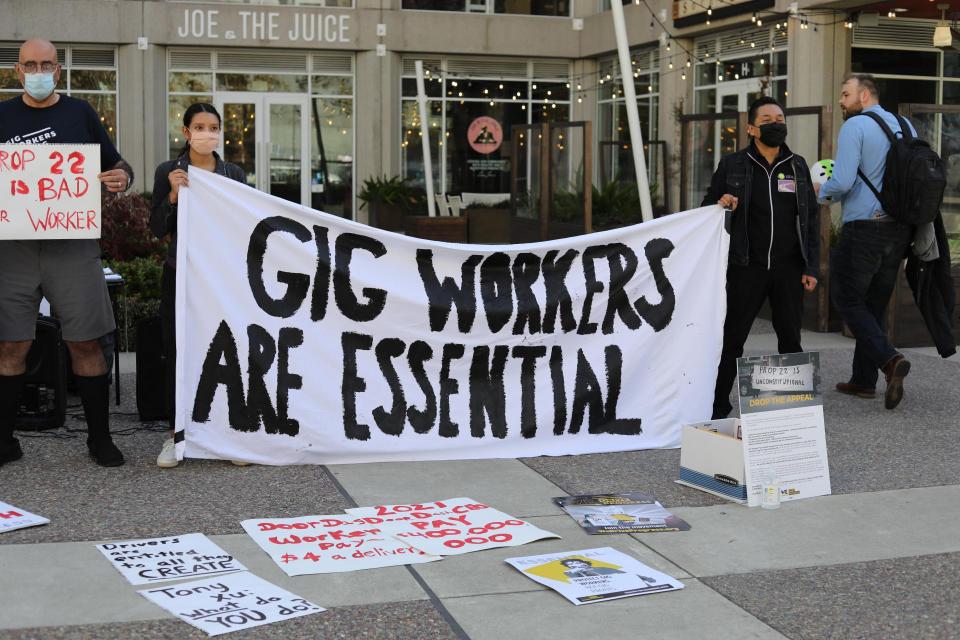 In Brussels, Uber and Lyft drivers from the Bay Area and Los Angeles joined gig drivers representing thirty gig worker rights organizations to call on the European Parliament to adopt legislation that would protect gig drivers' rights as employees, including their right to earn fair wages and benefits and to join together in a union. Down below is the speech given by Hector Castellanos, a gig worker and organizer with We Drive Progress, at the "Transnational Forum on Alternatives to Uberisation" event put on by The Left in the European Parliament – Gauche Unitaire Européenne/Nordic Green Left:
"Hello, my name is Hector Castellanos. I'm a rideshare driver from Antioch, California in the United States. I'm a member of We Drive Progress, a driver organization fighting for a union. I've driven Uber and Lyft for the past 6 years. It's my full-time job.
In the past year and a half, gig workers have had to work through an epic pandemic. In California, gig workers are called essential workers. We help transport medical workers and important supplies when other people are working from home. But we haven't had any support from the gig companies to do our jobs. All we received for our hard work is a new law which the gig companies created to hurt us and bring them more money.
In November 2020, Uber, Lyft, DoorDash, and other gig companies spent over $200 million to pass a law against gig workers called Proposition 22. Proposition 22 was only created to benefit the companies. It overturned a previous California law, Assembly Bill 5, that classified gig workers in California as employees. Under AB 5, we were eligible for all the rights of employees, like paid time off, sick leave, and workers' compensation.
Winning AB 5 was a huge victory, but the companies refused to follow it. Even when AB 5 was the law across California, they continued to treat us as independent contractors while they paid millions of dollars for misleading advertisements to pass Proposition 22. They promised so many things – a healthcare stipend, a minimum wage, safety, and that our lives would improve. Gig workers got notifications on their apps all day asking them to vote yes on Proposition 22. We were threatened with losing our jobs if the law didn't pass. The companies even threatened to leave California and leave thousands of gig workers without jobs if they didn't get their way.
But once Proposition 22 was passed, gig workers were again left without any benefits for ourselves and our families – no pay for all the time spent waiting for rides, no pay for gas or car maintenance, no unemployment insurance, no workers' compensation, no healthcare, no sick days, no vacation days and no legal right to unionize. Uber, Lyft, DoorDash, Instacart, and other gig companies deceived all California voters into taking away our rights.
Now, we are even worse off than before Prop 22. We Drive Progress did a study and found that only about 15% of gig workers are actually receiving the healthcare stipend that was promised by Prop 22. We are still without any real medical insurance and the companies can lower our earnings whenever they want. I've seen my earnings drop month after month and I have to drive farther and farther to pick up passengers. I work 12 hours a day and even then, it's not enough.
This treatment isn't anything new for gig workers like me. In 2017, I was hit by a car while working for Uber. My shoulder was hurt in the accident. I was hurt so bad that I had to get surgery and I couldn't work for months. I wasn't able to earn enough money to support my family. One of my daughters had to stop school in order to work and support us. I didn't get any help from Uber, even though I was injured while working on their app. Many gig workers are suffering injuries from car accidents while working. Gig workers are dying from COVID-19. There are stories of gig workers being injured or murdered while just trying to pick up a passenger or drop off a delivery, and their families are left without benefits.
The situation is desperate – that's why I'm so happy to finally see light at the end of the tunnel.
A few drivers in California, including me, sued to say that Proposition 22 violates the California constitution. I was so excited a few months ago when a California judge agreed with us and ruled that Prop 22 is unconstitutional and should be struck down. The companies are appealing, but this is a big victory for gig workers in California and across the world.
In different times, there have been laws and treaties from all around the world to protect workers and end the type of exploitation that Uber is built on, like the one signed in Vienna in June 1993 at the World Conference on Human Rights. There, people were talking about the exploitation and the rights of all workers, including benefits like medical insurance, worker compensation, vacation, and sick days. This treaty is recognized by the United Nations, but companies like Uber don't care about laws or human rights.
That's why we are here – to show the world what's happening and open the eyes of people and governments around the world. What's happening to us is inhuman and if it can happen to gig workers, it can happen to any workers. All workers deserve the right to a living wage, benefits, and a union. I ask you to stand against laws like Prop 22 and for gig workers in your countries and around the world. "