Gig workers to galvanize the world on November 3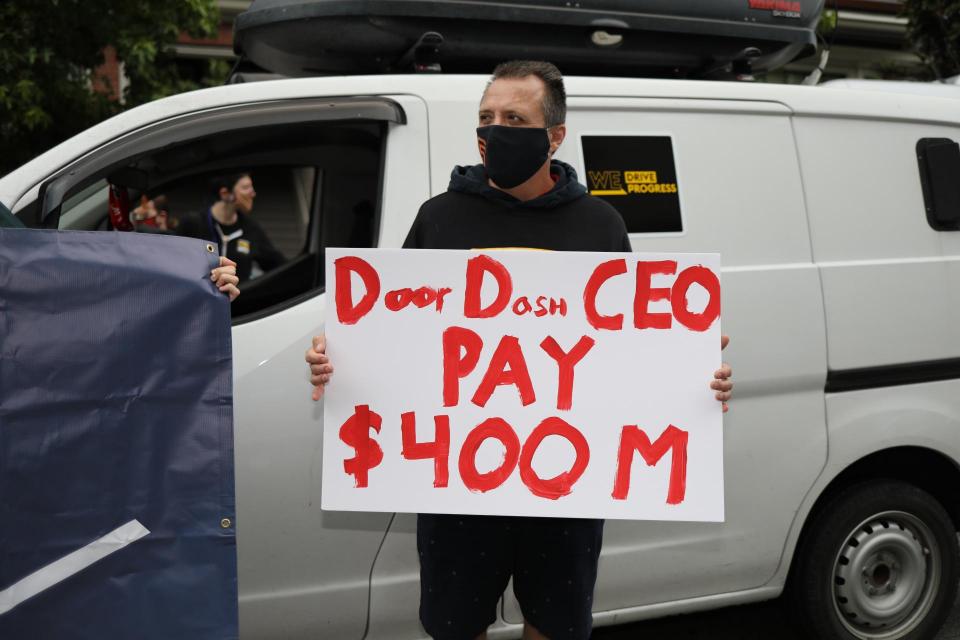 Tuesday, November 3, 2020, marks a somber day for gig workers across California. Gig companies spent more than $220 million promoting Proposition 22, an anti-worker law that allows DoorDash, Uber, Lyft, and other app-based companies to classify their workers as independent contractors rather than employees. That reclassification denies workers from seeking better workplace conditions, health care benefits, higher wages, personal protective equipment, and more.
In spending $220 million, gig companies promised working conditions would improve for ride-share drivers under Proposition 22. Instead, they've gone backward.
That's why on Wednesday, November 3, California gig workers will join app-based workers around the world for a Gig Worker Global Day of Action, to say enough is enough. It's time app-based gig workers take back the power.
Gig Worker Global Day of Action: Wednesday, November 3, 2021

At 10:30 am, we will be meeting at the parking lot at 828 Brannan St, San Francisco, CA 94103. Gig drivers with We Drive Progress and Gig Workers Rising will rally at the headquarters of DoorDash in San Francisco to call on CEO Tony Xu to provide gig workers the rights and protections they deserve, drop their legal appeal of the ruling striking down Prop 22, and properly classify California gig workers as employees.
Hector Castellanos, a gig worker and leader with We Drive Progress, a movement of app-based drivers seeking to form a union, speaks about how, a year on, gig workers are worse off now because of the pro-corporate law:
"We are even worse off than before Prop 22. We Drive Progress did a study and found that only about 15% of gig workers are actually receiving the healthcare stipend that was promised by Prop 22. We are still without any real medical insurance, and the companies can lower our earnings whenever they want. I've seen my earnings drop month after month, and I have to drive farther and farther to pick up passengers. I work 12 hours a day, and even then, it's not enough.
This treatment isn't anything new for gig workers like me. In 2017, I was hit by a car while working for Uber. My shoulder was hurt in the accident. I was hurt so bad that I had to get surgery, and I couldn't work for months. I wasn't able to earn enough money to support my family. One of my daughters had to stop school in order to work and support us. I didn't get any help from Uber, even though I was injured while working on their app. Many gig workers are suffering injuries from car accidents while working. Gig workers are dying from COVID-19. There are stories of gig workers being injured or murdered while just trying to pick up a passenger or drop off a delivery, and their families are left without benefits.
The situation is desperate – that's why I'm so happy to finally see light at the end of the tunnel.
A few drivers in California, including me, sued to say that Proposition 22 violates the California constitution. I was so excited a few months ago when a California judge agreed with us and ruled that Prop 22 is unconstitutional and should be struck down. The companies are appealing, but this is a big victory for gig workers in California and across the world.
What's happening to us is inhuman, and if it can happen to gig workers, it can happen to any workers. All workers deserve the right to a living wage, benefits, and a union. I ask you to stand against laws like Prop 22 and for gig workers in your countries and around the world."