Gig Worker Caravan Makes a Stop at Uber HQ in SF
Rideshare drivers seek to pass AB5 and a union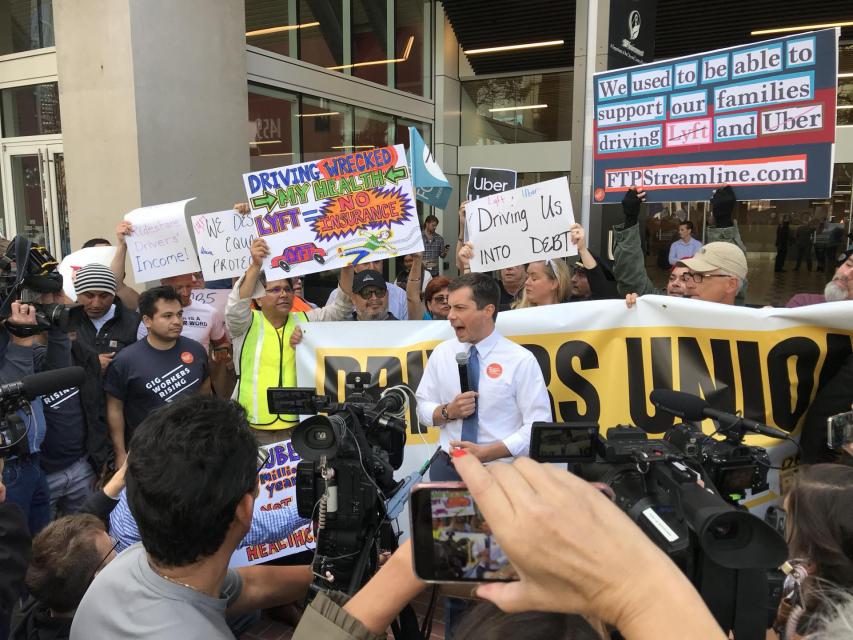 On August 26, SEIU 1021 President Joseph Bryant, Presidential Candidate Pete Buttigieg and community supporters stood with hundreds of Uber and Lyft drivers caravanning to draw attention to their lack of worker protections. The caravan stopped in front of Uber headquarters in San Francisco to a protest low wages and highlight their demand for a union. The caravan of gig workers started in Los Angeles on August 24 and was headed to Sacramento to lobby elected officials on AB 5 –the gig worker protection act– on August 27.
Pete Buttigieg, 2020 presidential candidate, made an appearance at the protest in SF.
"Where I come from gig is another word for job," Buttigieg said to the crowd and news cameras gathered outside Uber headquarters. "Which means if you're working a gig that makes you a worker and you ought to be protected as a worker."

Rideshare drivers throughout California have been organizing for living wages, benefits, and the right to form a union at the same time as Assembly Bill (AB-5) makes its way through the State Legislature. AB-5, authored by Assemblywoman Lorena Gonzalez and championed by the Mobile Workers Alliance, seeks to correctly classify rideshare drivers as employees and greatly expand their labor rights, including a minimum wage, benefits, and basic job protections.
Along for the caravan was Jessica Porter from North Hollywood, who has been driving for Uber and Lyft since 2018.
"The passing of AB 5 is important because these companies are cutting our working hours and making us pay out of pocket for health care. When we become unionized we'll be able to afford a living wage and have benefits," said Porter.

After the SF protest at Uber Headquarters, the Caravan headed to Oakland for a round table discussion with ride share drivers at Taylor Memorial United Methodist Church Auditorium.

SEIU 1021 President Joseph Bryant led the round table discussion with drivers.
"During today's discussion I heard drivers talk about some of the tactics their employers have been using to take more money out of their pockets. Which makes it more difficult for them to support their families. A lot of emotion that was shown. Drivers desire to have dignity and respect in their work. The way they are being treated right now is not that," said Bryant.