Fighting for Workers' Rights in a New Political Era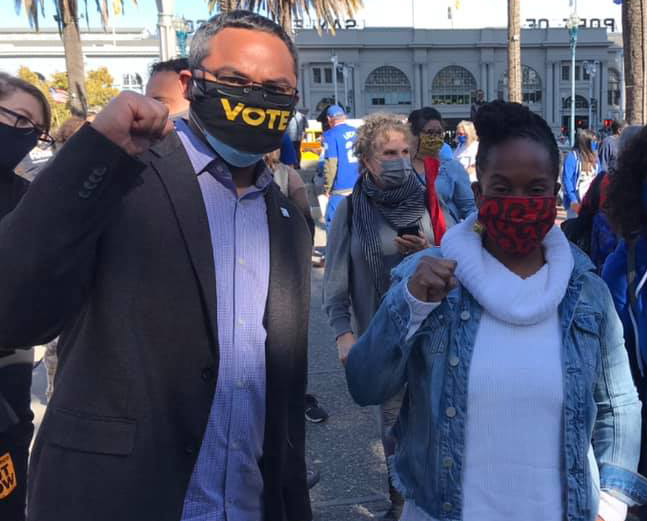 On January 6, 2021, as Twitter, Instagram, Facebook, and news feeds began to flood with reports of unruly crowds and violence erupting at the nation's Capitol, our President Joseph Bryant promptly shared a bold public statement written in real-time. Here is an excerpt of his powerful statement:
"We are witnessing an assault on our people, an assault on democracy, and an assault on our country. The racist, divisive lies fomented by President Trump have turned into a full-on coup attempt. This is not who we are."
(You can read the full statement posted on the SEIU 1021 Facebook page here.)
At first glance, the attack on the Capitol appears to be the manifestation of propaganda, distorted narratives, and mock patriotism. But on a deeper level, this attack on our most sacred democratic processes is a reflection of the racial and economic inequalities that exist for most working Americans.
"Voter suppression has historically been a tool of oppression for communities of color. In particular, Black communities have been given the narrative that our vote doesn't count but the Georgia State Senate race shows that the black vote counts, the brown vote counts, the API vote counts, the working white vote counts and we have to protect that. We have to break through and put the country on a track where working folks will be prioritized over corporations," said Bryant when discussing the importance of defending democracy.
With inauguration day approaching, many Americans are anxious for a new era in American Politics to be ushered in. When asked about the incoming administration, President Joseph Bryant is calling for stimulus relief for workers, corporate accountability, social responsibility, racial justice, and reorganized priorities.
"There has to be a real consideration for communities that have suffered for a long time due to laws and legislation that continue to hold back and suppress entire groups of people. If we don't fix the problem at the federal, state, and local levels we're never going to see a different outcome," said Bryant.