Fast-food workers to rally at capital building in support of AB 257 – The FAST Recovery Act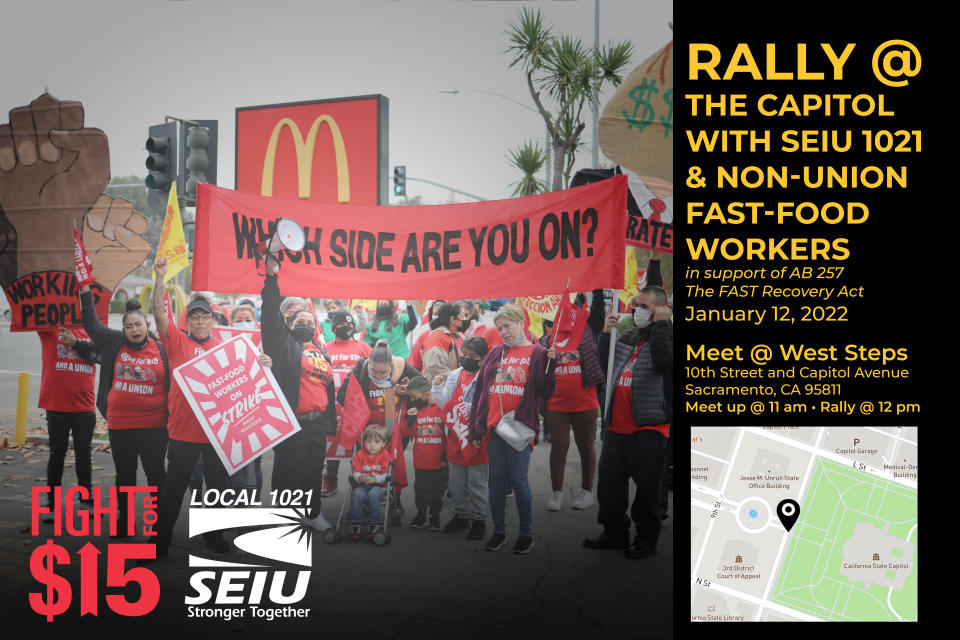 As members of the California State Assembly and the California State Senate return for the 2022 state legislative session, so will fast-food workers, union members, and grassroots activists. On Wednesday, January 12, 2022, supporters of Assembly Bill 257, the Fast Food Accountability and Standards Recovery Act or FAST Recovery Act, will rally on the steps of the California State Capitol building. Along with members of SEIU Local 1021, non-union, fast-food workers will demand the passage of AB 257 – the FAST Recovery Act out of the State Assembly.
The rally will take place on Wednesday, January 12, 2022. Workers will meet up at 11 am at the West Steps, 10th Street and Capitol Avenue, Sacramento, CA 95811. The rally will begin at 12 pm.
The FAST Recovery Act would give workers a seat at the table to increase corporate accountability across the fast-food industry. AB 257 allows fast-food workers and employers to set binding standards to address the crisis of violence and enables franchisees to push corporate franchisors to provide the resources needed to prevent violence and operate safe restaurants.
"It's vital that we pass AB 257!" said Jennifer Esteen, Vice President of Organizing for SEIU 1021. "We often see ads for job openings at places like McDonald's, Burger King, or Jack in the Box that paint these places as family-friendly places to eat and work. However, when I talk to fast-food workers who do the day-to-day work, the people who make these fast-food companies tens of billions of dollars in profit each year, there's a completely different story. The working conditions can be terrible. These frontline workers, mostly Black and Brown women, are regularly assaulted, robbed, spat on, yelled at, sworn at, and told to go back to 'their country.'"
Vice President Esteen spoke about the importance of AB 257, the FAST Recovery Act, and what the bill will do when it's passed and signed into law. "The FAST Recovery Act is more than just a piece of legislation, it gives workers power. It creates the framework that brings together workers, employers, and regulators to work together towards improving conditions. AB 257 will set industry-wide health, wage, and safety standards. The FAST Recovery Act empowers fast-food workers by giving them a voice on the job and a seat at the table, it creates the conditions to unionize the workplace, and forces much-needed corporate accountability onto billion dollar corporations like McDonald's. A company that made approximately $4.73 billion during the first year of the COVID-19 pandemic while its employees suffered with some of the worst of working conditions. We came close to passing AB 257 in the State Assembly last June, it was only a few votes short of majority. This time around, we won't let that happen. We demand that politicians answer our question, 'Which side are you on?' Are you on the side of your constituents, the workers who run your district's restaurants and businesses? Or, are you on the side of corporations that have placed profits over people? If lawmakers are with us, they will be on the steps of the state capitol building with us. They will press their fellow Assemblymembers to do the right thing and pass AB 257. If they don't join us, we will remember and vote them out of office this November."