End the Government Shutdown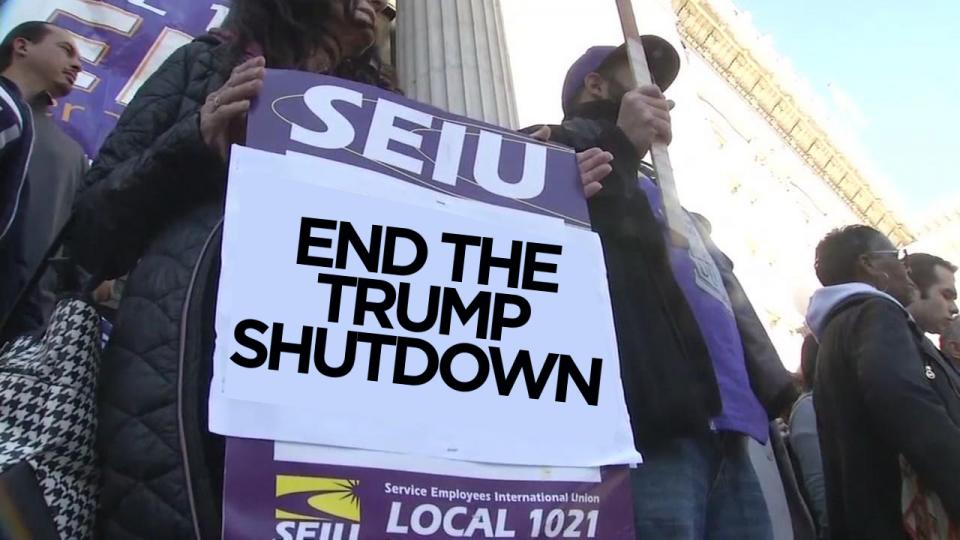 America is the land of opportunity, a loving and accepting country where families come first and people who are seeking safety in our country are treated with compassion.
SEIU members have rallied from Sacramento to Washington, D.C. to stand up for these values and to call on the President and Congress to respect the priorities of working people and reopen the government.
"The Trump Shutdown is jeopardizing the livelihood of millions of working families and our country's economy," said Gary Jimenez, who works for Fremont Unified School District and is SEIU 1021's Vice President of Politics. "We can't allow President Trump to hold our country hostage and use the future of DACA and TPS recipients as a bargaining chip in favor of a divisive and wasteful border wall."
"Our elected leaders need to focus on our country's real needs — like higher wages for working people, the right to have a voice in the workplace no matter where you live, affordable healthcare, and common-sense immigration reform," he continued. "Reopen the government. End the Trump Shutdown"
As we enter the 31stday of the shutdown, 800,000 federal workers are going without a paycheck. Another 380,000 have been furloughed—including men and women of the Coast Guard. All are struggling to pay rent, bills, or buy groceries.
Millions of families who are in need of federal assistance to meet their basic housing and food needs hang in the balance. The funding for the Supplemental Nutrition Assistance Program (SNAP), which provides food aid to almost 40 million poor and working-class Americans, will run out by March 1.