Despite COVID-19's challenges, Exploratorium members use their unity to protect workplace standards and vulnerable coworkers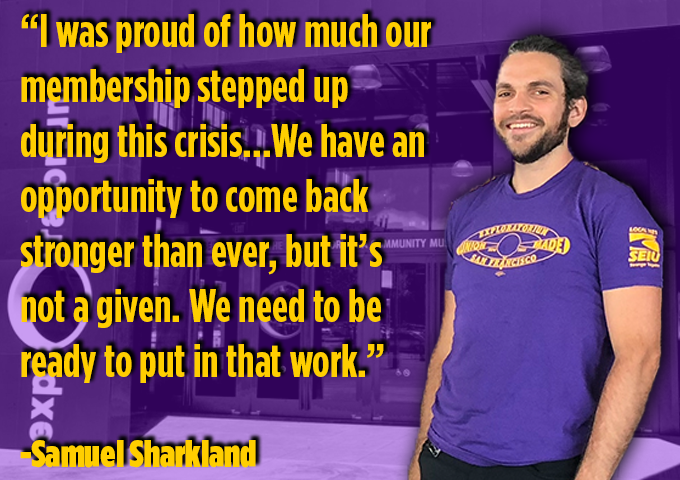 When it came time to negotiate a new agreement at the Exploratorium, members knew they had a challenge ahead. Early in the pandemic, management had already laid off some staff members and so preserving stability was a huge priority for their team.
"We knew we needed to defend our colleagues who were affected by layoff notifications and prioritize them. We wanted to protect our existing standards through the restructuring while looking out for the needs of our most vulnerable members. It was about triaging a crisis," said Samuel Sharkland, a Program Developer at the Exploratorium and bargaining team member. "I'm really proud of our previous contract, which had a four-year term and was a stable platform for us to continue building on. It was good enough for us to feel comfortable pursuing an extension of that contract for one more year to weather this crisis."
After the first round of layoffs, the Exploratorium was able to get PPP loans to keep the rest of the staff either fully or partially employed until May of 2021. At that point, management initiated another round of layoffs affecting workers with decades of service at the institution. Members bargained with management to secure strong severance packages for their colleagues impacted by layoffs as best they could.
"I've been at the Exploratorium for 35 years and I'm nearing retirement but getting laid off felt like a punch in the gut. I've been at the museum through many, many layoffs. You have some survivor's guilt when you go through that, but this was especially traumatic," remembers Debra Bainum, a Senior IT Specialist at the Exploratorium who was laid off in May of 2021. "I was a negotiator and sat in the meetings around layoffs. There were people with 35, 37, and 49 years of service who were part of the most recently affected group. Now, they'll receive 6 months of severance pay with the 5% COLA we deferred last year included instead of the normal 12 weeks. Considering the challenges of these circumstances, I am really proud and grateful of what we were able to get."
One member with 49 years had his layoff delayed until the end of the year so he could stay until the end of the year and keep his benefits before reaching his 50th anniversary and enjoying a retirement party before receiving his severance package. Another member will be kept on call, possibly until the end of the year, so she can complete a project she was working on.
"This victory was purely a result of our pressure on management. We asked everyone in the union to sign a petition to show management that we were a united front with the full strength of the membership behind us, and that really did the trick. We made a lot of logical and emotional arguments at the table, but our collective strength got the job done," said Debra.
Samuel echoed this sentiment, saying, "I was proud of how much our membership stepped up during this crisis. We ramped up our engagement with union members in general unit meetings and committees, even when we had to do so virtually. Lots of new people moved into those leadership roles and demonstrated their commitment to labor rights and workplace justice. I felt so proud of our whole community. We have an opportunity to come back stronger than ever, but it's not a given. We need to be ready to put in that work."