County Workers Take A Stand for San Joaquin Residents in Two-Day Strike
As community suffers from systemic neglect of services by the Board of Supervisors, thousands of workers fight back against the Board's illegal refusal to bargain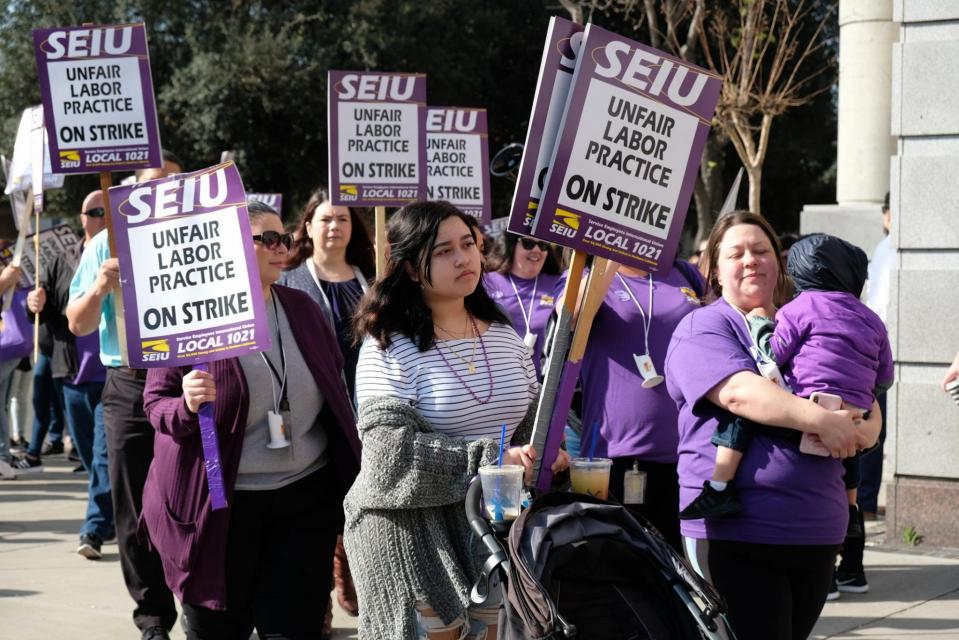 Thousands of San Joaquin County workers from several selected County departments participated in the strike, including Human Services Agency, Behavioral Health Services, Substance Abuse Services, the Department of Child Support Services, and San Joaquin General Hospital. Registered Nurses at the County hospital who are members of the California Nurses Association (CNA) also participated in this week's strike over growing concerns regarding rampant short staffing.
"After our strike, I'm feeling fired up and ready to keep fighting. I love seeing the unity between SEIU 1021 members and RNs from CNA. We work together to keep the hospital running—it's incredible that we're working together to make sure the County puts our residents first," said Kandice Crabtree, a Dialysis Patient Care Technician at San Joaquin General Hospital and a member of the SEIU 1021 bargaining team.
The two-day Unfair Labor Practice strike was a direct response to the Board of Supervisors' refusal to come back to the bargaining table to work out an agreement that puts the needs of this community first by adequately staffing and funding public services. SEIU 1021 members have been working without a contract since our previous agreement expired on September 5, and the County has refused to meet since our last bargaining session on January 15.
"All we are asking is for the County to come back to the table and take our concerns seriously. We have dedicated our lives to caring for this community's vulnerable patients, the working families teetering on the edge of housing and food insecurity, our community's defenseless children and elderly folks, the homeless population living on our streets, and every single other member of this County. Why won't Supervisors Miguel Villapudua, Kathy Miller, Tom Patti, Chuck Winn, and Bob Elliott instruct County Administrator Monica Nino to sit down and agree to a fair contract with us?" said SEIU 1021 member Francine Dougherty, an Eligibility Worker with San Joaquin County.
The Board of Supervisors has failed to live up to their responsibility to make sure San Joaquin County is a safe and healthy place for everyone to live, work, and raise their families. San Joaquin County Hospital was recently given a "D" grade by the Leapfrog Hospital Survey, which reports on hospital performance. Behavioral Health Services (BHS), which is a crucial lifeline for people suffering from severe mental illness in this County, has an overall vacancy rate of 18.83% as of August 2019. Mental Health Clinicians and Clinical Social Workers in this department are grappling with a shocking 29% vacancy rate.
Meanwhile, since 2011, the San Joaquin County's General Fund balance has more than doubled from $127.66 million to $300 million, including close to $120 million in unassigned dollars. County Administrator Monica Nino, who the Board has tasked with gutting funding for services, is being rewarded with a total compensation package of over half a million dollars every year.
Although today marks the end of the two-day ULP strike, San Joaquin County workers are more energized than ever to keep up the fight, and are committed to doing whatever it takes to get the Board of Supervisors back to the bargaining table to find a solution to the crisis facing our community.
"This strike has felt amazing and awesome. It's so great to see our strength in numbers and this unity in our community. When we're united, we have the power to make a difference. That's why we have to keep fighting," said Lisa Evans, a Senior Office Assistant and SEIU 1021 member.