Contract Extension Update for March 18, 2021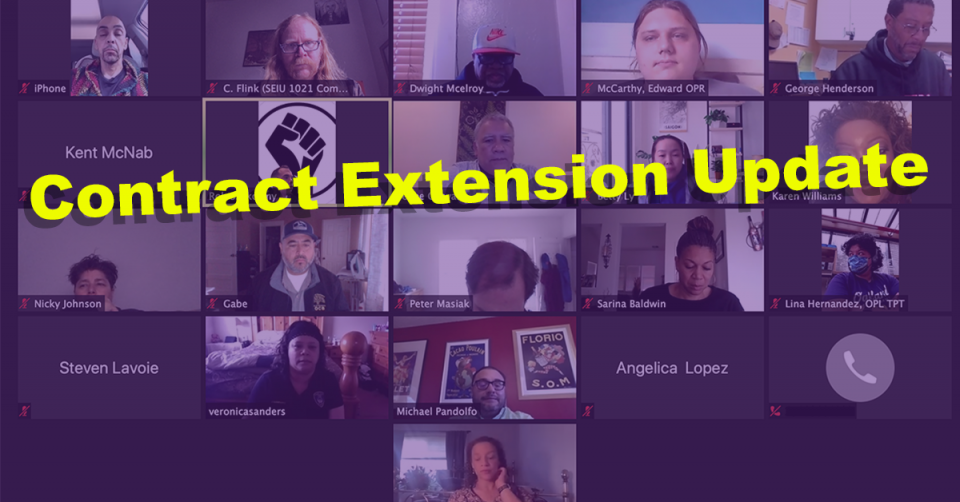 On Thursday, March 18, our elected Bargaining Team met via Zoom to discuss the City of Oakland's recent extension offer.
The City offered a two-year extension of our existing contract, with no changes and no additional money to keep up with the rising costs of living.
A fair COLA is essential for our members, so many of whom have suffered and sacrificed throughout this pandemic, or under our region's affordable housing crisis. The Bargaining Team decided to discuss the possible extension in coalition with other unions representing city workers, including CMEA, IBEW Local 35 and IFPTE Local 21.
Representatives of the Bargaining Team including the Lead Negotiator Rob Szykowny and chapter president Felipe Cuevas will meet with the union coalition, and we will keep all chapter members updated on the progress of these extension talks.
Meet Your Elected Bargaining Team
Chapter Officers: (all seven serve on bargaining team)
Public Works: Timothy Glasper, Gabriel Macias
Sewers: Hugo Velasquez
Department of Transportation: Loren Givens
Library: Susan Martinez, Adelina Hernandez
Fire: Veronica Sanders
OPD: Kent McNab, Nicole Johnson
Parks and Rec: George Henderson, Edward McCarthy
Human Services: Betty Ly
Finance: Sarina Baldwin
Building and Planning: (No nominations.)
Animal Control: (No nominations.)
Oakland Recovers Together Coalition
As we prepare to bargain a strong new contract for all our members, it is critical that City leaders pass a budget that puts community and worker needs first.
Together with our union siblings in IFPTE 21, IBEW 1245, IAFF 55, and CMEA, we are excited to launch the Oakland Recovers Together campaign. Our goal is to make sure that our voices as city workers are included in the conversation around the Oakland City Budget.
We are calling on all of our elected officials to learn the lessons of the Great Recession: in 2008, they tried to cut their way out of the crisis, which led to understaffed services, a slower recovery, and deepening inequality. This time, we need a Just Recovery, and a budget that invests in services and the workers that provide them.
Sign our petition today to help us get started: https://actionnetwork.org/petitions/stand-with-city-workers-for-a-just-recovery/
Other Ways to Get Involved On Social Media
Follow us on social media:
https://www.facebook.com/OaklandRecoversTogether
https://twitter.com/OaklandRecovers
https://www.instagram.com/OaklandRecoversTogether
While we are still following social distancing guidelines, social media is more important than ever if we want to win a just recovery. That's why we are also asking you to participate in our campaign on social media by sharing something yourself with the hashtag #OaklandRecoversTogether
Talk about how you and your team have kept Oakland running during the pandemic, why the budget is so important, and why the need for a just recovery is so urgent. Anything is helpful: messages, selfies, or videos of yourself talking!
Help get the word out by sharing our campaign with you friends, family and coworkers. We need all of us to get involved to urge our leaders to do the right thing.
Together we can build back better and demand the City respect us, protect us, and invest in us. Look out for more updates in the future about our campaign!