Communities Protest Trump's Racist "Public Charge" Rule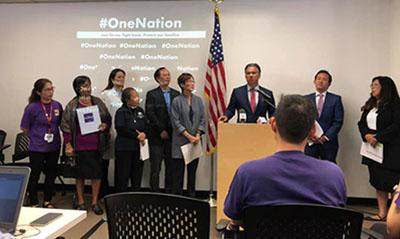 #OneNation, a coalition of unions and community groups, is organizing actions across the nation next Tuesday to protest the president's racist 'public charge' rule, which cleared a procedural hurdle last week. The administration's policy targets immigrants by dramatically expanding what is considered welfare to harm 26 million Americans, keeping them from accessing healthcare, food and housing assistance. The impacts could also be felt across our members' industries and employers from community clinics to counties.

"This is yet another cynical attempt by the Trump Administration to divide us and to undermine the funding that goes into public programs that we all rely on," said Tina Diep, a Community Health Advocate at Asian Health Services, " these are the programs that keep all our communities healthy and safe. Limiting access to health, housing, and nutritional programs for immigrants and working families affects us all."

SEIU 1021 and our community partners will unite to protest this inhumane policy on Tuesday, August 27th at 5 PM in Oakland at Madison Park to send a strong message that we condemn these attacks on our immigrant communities.