"Children Don't Belong in Cages"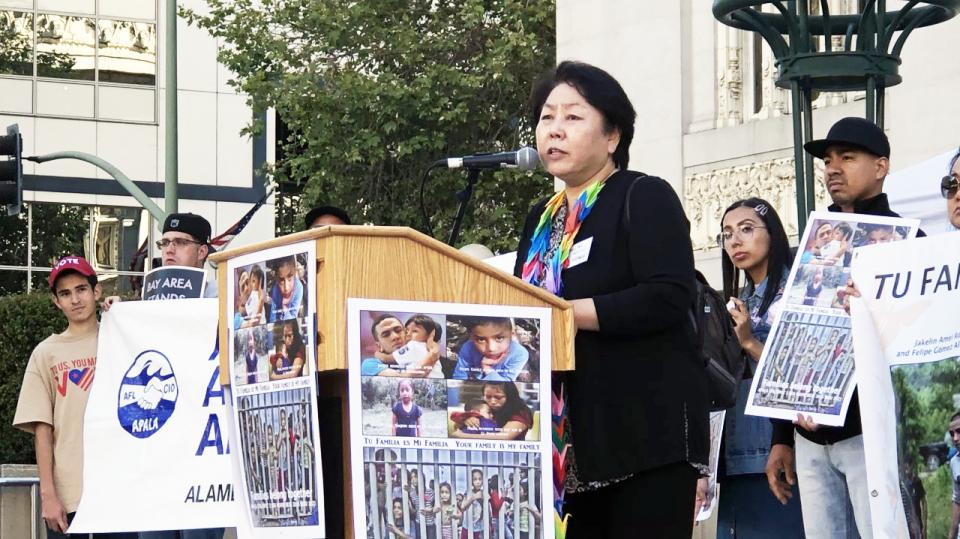 On Friday, July 12, we joined millions across the country to shine a light on the inhumane conditions facing migrants in detention centers. With rallies and vigils held in Oakland and in Marysville, we took part in the Lights for Liberty national day of action to call on the Trump Administration to stop the separation of families and to stop the raids that incite fear in our communities.
Hiroshi Shimizu, whose family was imprisoned at the Tule Lake Camp on the California-Oregon border in the 1940s, spoke before a crowd of more than 500 at the Oakland rally. He urged everyone to continue to speak out about the atrocities happening at our borders so that we may never repeat history. Hiroshi was born in the internment camp and for the first few years of his life, all he had known was incarceration.
"Children don't belong in cages," said Yeon Park, who provides mental health services in Alameda County and serves as SEIU 1021 East Bay Regional Vice President, at the July 12 Oakland rally. She spoke of the impact of separation in her own family's history and how war tore her father away from his parents and siblings. She shared the sacrifice her own parents made in sending her to America so that she may have greater opportunities.
"There's no excuse for further trauma to be inflicted on children and families who have been forced to flee their homes because of violence and poverty." Yeon continued. "Close the camps and stop the inhumane treatment of refugees at our borders."
In recent months seven children have died in custody of federal immigration agencies at the border.
In Marysville, our members joined a vigil outside the Yuba County Detention Center, the last correction facility in Northern California to contract with ICE to detain migrants. SEIU is part of the coalition of community and labor groups urging elected officials to pass AB 32, authored by Assemblymember Rob Bonta (D-Oakland), so that the California Department of Corrections could no longer enter or renew contracts with for-profit, private detention facilities. These private prisons are integral to the Trump Administration's immigration policies, running ICE detention camps around the country.