CCA Staff and Adjuncts stand strong at their Union BBQ and petition launch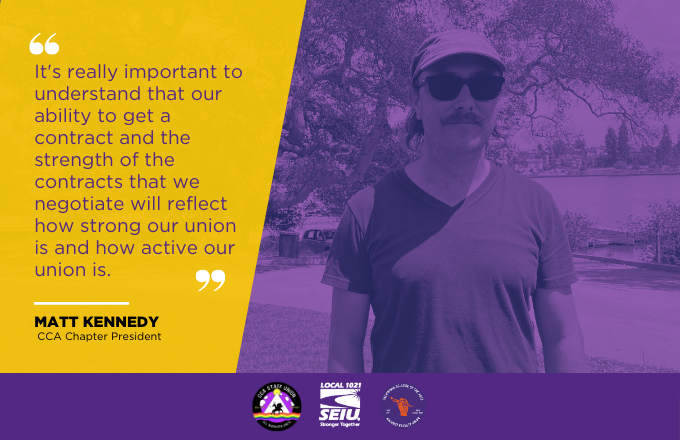 On Sunday, July 18, 2021, dozens of CCA Staff, Adjuncts, and supporters gathered at the community grills near Lake Merritt Boat House in Oakland to celebrate a tough collective year on zoom and to launch the official CCA petition against President Beal.
After a year of ongoing negotiations, the CCA union is taking the fight to the boss by launching a contract petition in the face of sluggish negotiations and disgraceful conduct led by CCA's union-busting attorney Michael Vartain.
"It's really important that workers talk to each other about what is going on and about the contract negotiations. It's really important that workers stand up to the boss, show up to actions, and publicly support the union. When the administration sees us actively supporting the union as a whole, they are going to get to work a lot faster on the contract that they owe us," said Matt Kennedy, Chapter President and 2D Studio Manager in Educational Technology Services at CCA as he addressed the crowd at the BBQ and petition launch.
Over the last year, President Beal and the CCA bargaining team have:
● Furloughed half the Staff, laid-off workers without regard for seniority, and unilaterally cut Staff members' wages and hours.
● Cut classes from Adjuncts and undermined Adjuncts' seniority rights.
● Put the profits of banks and real estate developers ahead of CCA workers and students.
● Refused to bargain leaving 14 union proposals for adjuncts on the table with no discussion since September and 14 union proposals for Staff on the table since November 2019 with no discussion.
CCA Staff and Adjuncts believe that working conditions are student learning conditions, but despite that, CCA administrators refuse to agree to any of the priorities workers have repeatedly identified as essential like living wages, meaningful investments in racial equity, transparency from the Board of Trustees and tangible, enforceable job security and seniority rights for staff and adjuncts like all unionized workers enjoy.
Support us as we call on President Beal and the CCA management to stop making unilateral changes to working conditions and demand fair contracts for both Staff and Adjuncts now!
View the BBQ & petition launch photo album on the SEIU 1021 Facebook page.