CCA members, students, and workers take to the streets to save another Bay Area higher-ed art institution from collapse at the hands of big banks.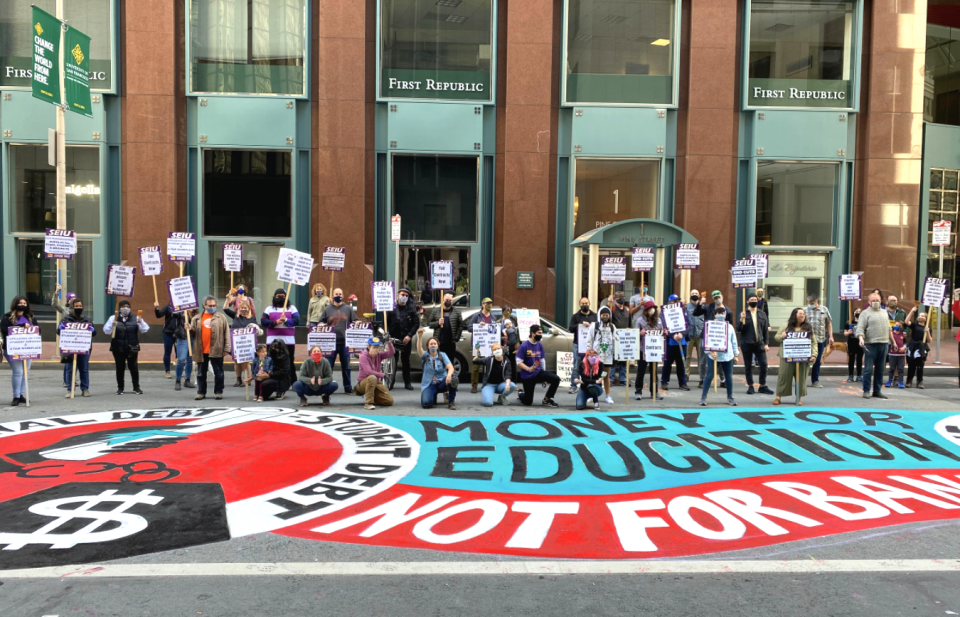 On Sunday, March 21, SEIU 1021 members from the staff and adjunct unions at CCA joined forces with CCA students supporters from the local art community to adorn the street steps away from the front door of First Republic Bank in SF with a dazzling yet poignant mural.
The street mural action is the latest step in an ongoing fight between CCA union members, the CCA administration, and the Board of Trustees over a string of reckless decisions that have burdened the institution with massive amounts of debt which is impacting students and workers alike.
"As a member of the adjunct union and the SEIU 1021 bargaining team at CCA, I have seen first hand how CCA's indebtedness and its obligations to First Republic Bank are getting in the way of CCA actively pursuing justice for students and decent working conditions for adjuncts and staff. The bank and its rating system have way too much power in dictating what kind of educational institution and what kind of community we are going to be. I want to see us take that power back as workers and students," said Andrea Moed, a CCA Design Division Adjunct Professor.
The potential closure of CCA may seem far-fetched but in reality, over the last decade, big financial institutions like First Republic Bank have set their sights on higher education non-profits and ravaged multiple institutions in the Bay Area alone. Near identical cases of financial mismanagement through ongoing relationships with First Republic Bank have led to the insolvency of the San Francisco Art Institute (SFAI), Notre Dame de Namur, and most recently Mills College.
The fight to save CCA from collapse is bigger than one higher ed art institution in one city. This fight is about reclaiming our power from the corporations and big banks that continue to pillage our beloved public entities by using our collective union power to amplify our voices and ensure that all workers and communities have a fair shot at thriving.
Check out photos from the event on the SEIU 1021 Facebook page.