CCA Members Organize to Save the School from Big Banks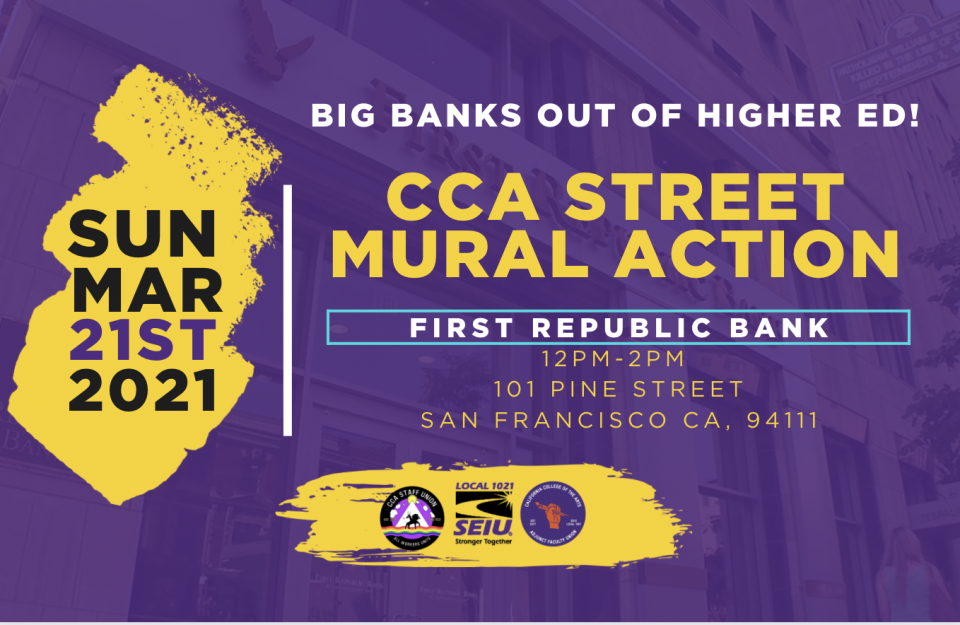 On Sunday, March 21, students, workers, and artists will gather from 12 – 2 pm at First Republic Bank in San Francisco to paint a street mural calling out the administration and Board of Trustees at California College of the Arts (CCA) for their continued corporatization of the institute. You can RSVP to attend here.
Through relationships with banks and developers, the CCA administrators have decreased resources to students, cut staff positions, and saddled the institute with massive amounts of debt, which they continue to balance on the backs of students and workers all while increasing housing and tuition costs. If we don't intervene and stop the madness, CCA is fated to collapse like San Francisco Art Institute (SFAI) leaving workers without a livelihood and students without resources and access to higher ed.
"It's important that the Board of Trustees invest in students, workers, and resources instead of buildings and debt because the people are the heart of the CCA community. Our buildings and campuses are important—the expansion is a good thing—but if we don't have enough students to fill those buildings, that means nothing. If the working conditions for staff and faculty inside those buildings don't create an environment where we can work to our full potential, then we're not putting our priorities in the right place," said Kseniya Makarova, CCA Graphic Design Adjunct Professor, and SEIU 1021 member.
CCA has made public claims about their commitments to equality, social, and racial justice, but in the background, the administration and Board of Trustees are actively suppressing workers organizing for their rights, employing anti-union tactics, and ignoring workers' voices.
Let's show the CCA administration that we are #StrongerTogether by joining your fellow SEIU 1021 members in their demands for re-investment in education, adoption of transparent decision-making processes around CCA's finances, tangible racial and social justice practices, a fair contract, and an end to worker suppression.