CalPERS voting ends on September 27—be sure to vote David Miller and Jose Luis Pacheco for CalPERS Board!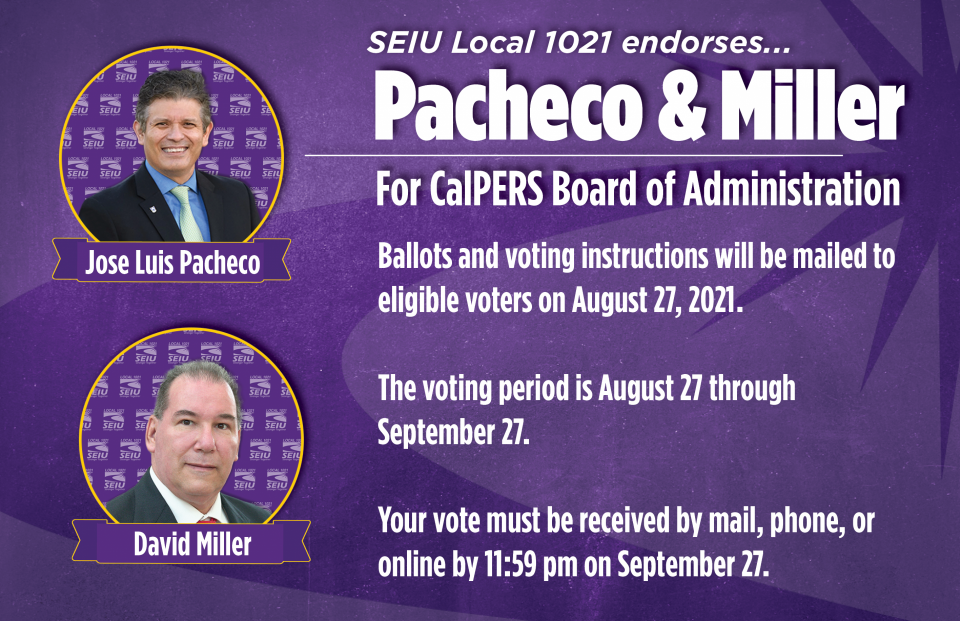 As the United States' largest public pension fund, the California Public Employees' Retirement System (CalPERS) serves more than two million members in the retirement system and more than one and a half million members and their families in the pension and health benefits program.
At the top of the CalPERS executive branch agency lies the Board of Administration. The thirteen-member statewide governing Board is elected, appointed, or holds office ex officio for four-year terms.
There are two board seats up this year. Our Union, along with the firefighters, teachers, and health care workers, has endorsed the two pro-labor candidates: David Miller and Jose Luis Pacheco.
David Miller and Jose Luis Pacheco are endorsed by dozens of groups representing active and retired CalPERS members, including firefighters, teachers, health care workers, and state employees. They are also supported by several CalPERS Board members, including President Henry Jones and Vice President Theresa Taylor.
Miller is running for re-election to At-Large Seat A, and Pacheco is running for At-Large Seat B. We need to make sure we have pro-labor voices on the CalPERS Board.
First elected in 2017, David Miller is running for a second term on the Board as a Member-At-Large Seat A:
"This election is essential to protecting our public employees' pensions and health care benefits. We have seen our not participating in the political process by voting led us to former President Donald Trump. We need Board members who will protect our pensions from right-wing attacks, maintain the 100/90 formula and access to quality, affordable health care, provide affordable prescription drugs, maximize investment returns, and promote integrity, transparency, and represent working-class interests.
The CalPERS Board of Administration election is a critical opportunity to raise your voice and make sure we build upon the work already started. The same applies to the gubernatorial recall election. Every election is an opportunity from the president to your local school board and the governor and CalPERS Board to your local union leadership.
You may vote online, by phone, or by mail between August 27 to September 27. However, don't sit this election out and don't procrastinate. Like the 2016 and 2020 presidential elections, this election hinges on turnout. Detailed voting instructions will be included in your ballot package being mailed out at the end of the month."
Jose Luis Pacheco, an IT professional for the San Jose Evergreen Community College District, speaks about important qualities he would bring to the CalPERS Board.
"One of the pillars of being a Board member is being a fiduciary officer. We need board members who protect and grow CalPERS. We need Board members who understand investments and are there for the members. I have that experience. Also, I want to bring professionalism and responsibility back to this position. An influential CalPERS Board member does not divert attention from essential decisions for self-gain and spectacle. They also must be able to work collaboratively with staff instead of being an adversary. My campaign is based on my merits and experience. My education includes two bachelor's degrees, one in Economics, and the other in Biological Sciences, from Santa Clara University and California State University, East Bay. Every public employee deserves what my mom had when she joined CWA. That promise should be fulfilled to the more than 1.9 million members. I am going to protect and preserve the gains CalPERS have made. I will fight so hard and be a champion for our public employees, retirees, and their families. I want to use all my experience to ensure everyone can retire with dignity and respect after years of working."
Peter Albert, the chair of the SEIU Local 1021 Retiree Council and president of the SEIU Local 1021 Alameda County Retired Employees Retiree Chapter, speaks about the importance of CalPERS' connection to health care and the upcoming Board election:
"Although there are many active and retired CalPERS members who are eligible to vote for the Board members, actual voting numbers have been historically very low. An effort by SEIU Local 1021 to increase voter turnout can have an impact. As in other elections, every vote counts. It's vital to elect fellow working-class union members to the CalPERS Board of Administration to ensure the agency hears our voice, represents our interests, and we have a seat at the table. We need pro-employee and pro-retiree board members committed to defending hard-earned pension plans against right-wing ideological attacks. We must remain vigilant about who serves on the CalPERS Board. Our retirement security is at stake."
Cynthia Landry, the chair of the SEIU Local 1021 Retirement Security Committee, speaks about the importance of CalPERS, particularly on the diversity of its governing Board of Administration, and supporting labor:
"It is vital that we have members on the CalPERS Board of Administration who advocate for the labor movement, unionized workplaces, and support California's workers. We need CalPERS Board members concerned about workers' rights, not just the profit motive of a company's CEO. Having Board members that come from labor, supported by labor, and know the labor struggles makes all the difference. We need members on the Board who understand what it is like to retire with dignity and respect after putting in many years of hard work. Having that kind of diverse, labor-focused background is critical. CalPERS states that diversity helps fulfill the promise made to our members that the pension they earned will be there when they retire. That is all to say; it is all the more decisive why retirees, active public employees, all CalPERS members participate by voting in the upcoming election. Miller is a union leader of the California Association of Professional Scientists. Pacheco is the president of the California School Employees Association, Chapter 363."
From CalPERS: "A ballot package with instructions on how to vote will be mailed to eligible voters on August 27, 2021. Ensure your mailing address is current so you receive your ballot. The voting period is August 27 through September 27. Your vote must be received by mail, telephone, or online by 11:59 p.m. PST on September 27, or it won't be counted."