ART PROFESSORS TO ART COLLEGE PRESIDENTS: YOU FAIL!
Adjunct professors and community allies warn art students and scholars that job security at CCA and SFAI is non-existent and that compensation for college art adjunct professors is under the poverty line.
As the Spring semester is winding down to a close, adjunct professors at California College of the Arts and the San Francisco Art Institute are giving their school administrators a failing grade, passed out diplomas that have been stamped "rejected" due to their failure to achieve the social justice at their schools. These colleges are sponsors of the Open Engagement conference that is dedicated to exploring complex social issues and struggles of our time through art at the Oakland Museum of California.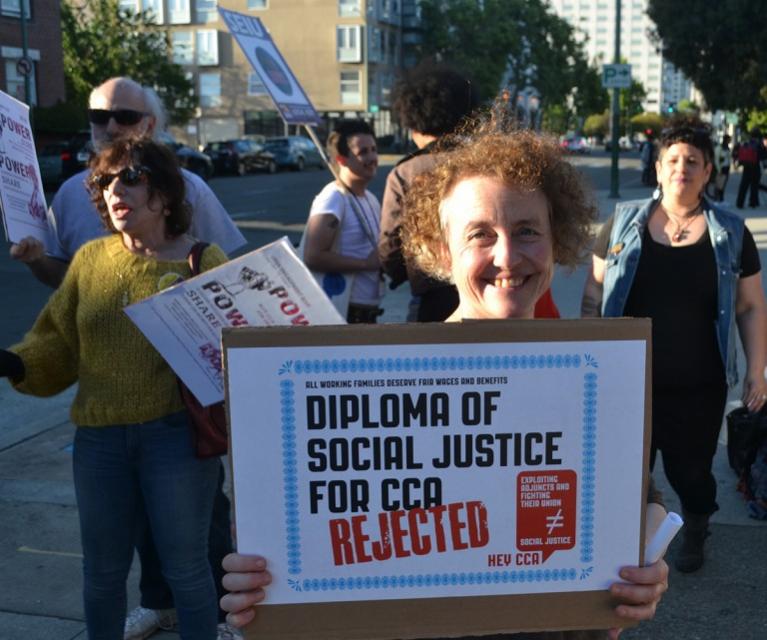 In front of the museum on Saturday, April 30, adjunct professors, students, and alumni from Bay Area art schools, pointed out the hypocrisy of the schools' public face in support of social justice issues, while at the same time resisting the adjunct faculty unions' core goals of job security and a living wage. The information flyer that was handed-out by adjuncts and students highlighted the hypocrisy in dollars and cents.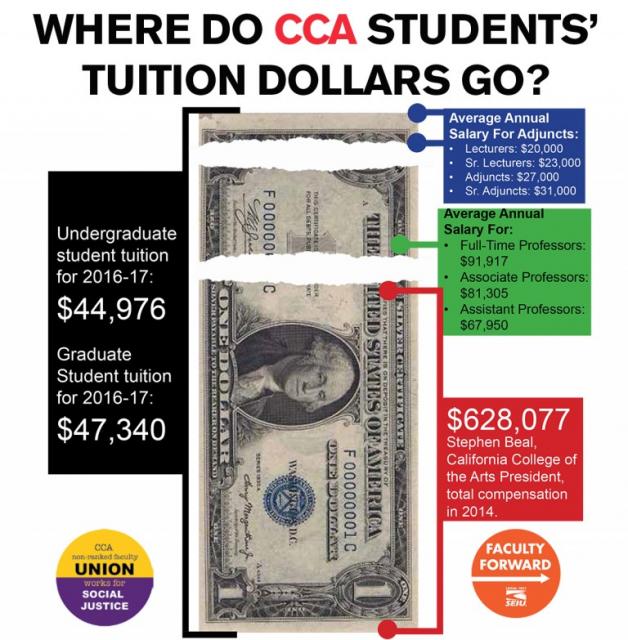 Protestors, students and allies participated in a street party with picket signs; they passed out stickers and informational leaflets; and gave out a mock-diploma for these colleges bearing the stamp "Rejected" for incomplete attention to social justice and inequity within their own walls.
"I never thought that I would be so disempowered after putting years of effort, money, and debt, towards getting a doctorate. I thought I was preparing to contribute to society and bring security to myself and my family. Instead, even as I work long hours to deliver the best classes I can, I bring home a pittance and never know from semester to semester whether I will have a pay check at all. Even though I have the advanced degree, my husband carries the burden of keeping a roof over our heads and food on the table. I feel demoralized, exploited, and at times ashamed by my inability to contribute more to our
family's well-being, said an Adjunct Professor at CCA.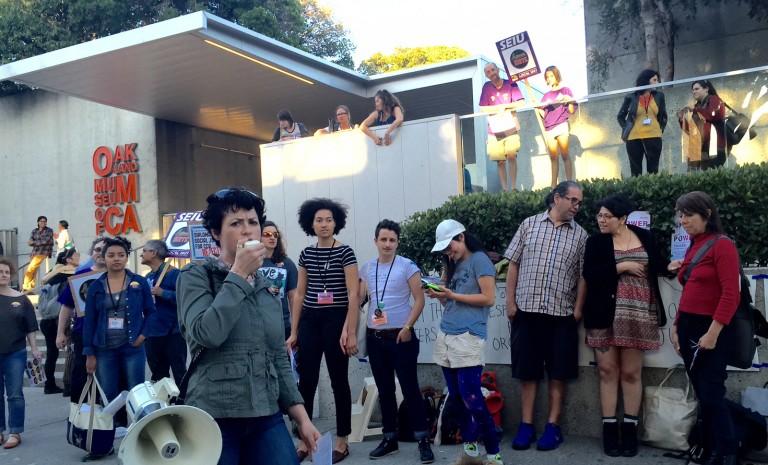 The labor dispute results from a 23-month effort by more than 350 adjunct faculty at CCA and 200 SFAI, who voted to join Service Employees International Union (SEIU) Local 1021 Faculty Forward in 2014. Seven colleges and universities employing over 1700 adjuncts in five counties, have joined with SEIU 1021 and the national Faculty Forward movement to address deteriorating working conditions in higher education including: Saint Mary's College, Holy Names University, Notre Dame de Namur University, California College of the Arts, and the San Francisco Art Institute. Recently, first union contracts were ratified by Mills College and Dominican University.
"Income inequality is the defining social justice issue of our day, and art college administrators are making the income gap worse. While CCA management compensation is double the regional average, adjunct professors and students are scraping by. Adjunct professors teach a majority of the courses and earn at most $35,000 per year, receive no benefits, and are treated as completely disposable. Student tuition is rising out of reach for most students and student debt is weighing down graduates," said Hugh Behm-Steinberg, Adjunct Professor at CCA.
Check out the KPFA press coverage here: https://youtu.be/b5G7ukac-zA
Check out photos here: https://www.flickr.com/photos/89592077@N08/albums/72157667760089376