Ahead of McDonald's shareholder meeting, Bay Area Cooks and Cashiers strike to highlight the company's failure to protect workers in the Fight for 15 and a union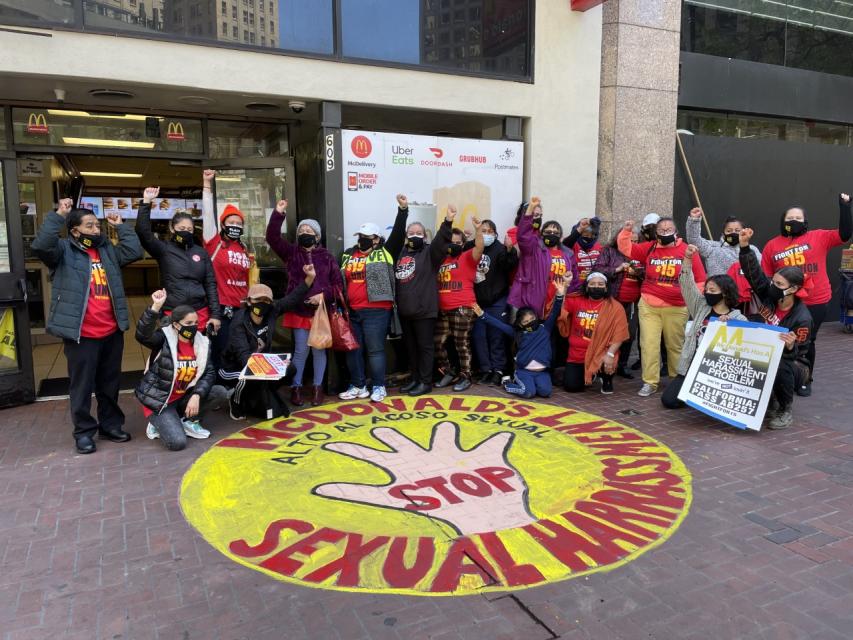 McDonald's workers outside of a San Francisco location donned in bright red t-shirts that read "Our labor is worth more" and "Respect Us, Protect Us, Pay Us." while chanting and holding powerful signage.
On Wednesday, May 19, 2021, McDonald's workers in the Bay Area went on strike alongside their co-workers in Los Angeles, Miami, Tampa, Orlando, Chicago, Detroit, Flint, Kansas City, St. Louis, Houston, Milwaukee, Durham, and Fayetteville the day before the company's annual shareholder meeting. The Strike aimed to highlight the company's failure to protect workers from a range of workplace issues such as wage theft, sexual harassment, workplace violence, and COVID-19 exposure. Workers in California are also demanding state lawmakers pass two bills, AB 257 and AB 1177, which would create solutions to lift up low-wage essential workers and communities of color who were hit hardest by the pandemic.
The Bay Area strikes come amidst a national reckoning on low pay and poor job quality. In recent months, McDonald's has sounded the alarm about a nationwide shortage of individuals willing to work in fast-food. However, the company has ignored the lingering impacts of the global pandemic and longstanding issues in the industry, from wage theft to sexual harassment to racial discrimination.
"I'm on strike today because McDonald's needs to take us workers and other survivors seriously. So many of us workers came to this country to find work and new opportunities, not to be sexually harassed and then ignored. It makes me so mad to know workers at McDonald's around the nation and world are being sexually harassed while the company refuses to meet with workers to come up with solutions to this terrible problem. We kill ourselves working for this company, only to be treated less than human beings. This is why we need laws like AB 257 which will make sure that we have a voice and say in how workers are treated around the fast-food industry. AB 257 would create a Fast-Food Sector Council that would include workers' voices in setting industry-wide safety and employment standards, and hold corporations like McDonald's accountable for protecting workers." said Aracely Nava, a McDonald's fast-food worker as she addressed the crowd in front of a McDonald's location in East Oakland which has been the subject of numerous health and safety complaints.
This strike comes just a month after workers across California held a week of action to demand passage of AB 257 and AB 1177. AB 257 has passed through the Assembly Labor Committee and the Assembly Judiciary Committee and will be in front of the Appropriations Committee on May 19. The passage of AB 1177 would create a financial services platform with existing financial institutions to close the widening racial wealth gap fueled by the exclusion of low-wage communities of color from basic banking services.
McDonald's workers are also calling on the company to withdraw from the National Restaurant Association (NRA) and the International Franchise Association (IFA). In 2019, McDonald's pledged to stop lobbying against local, state, and federal minimum wage increases — while continuing to retain membership in the NRA and the IFA. But since then, the NRA and IFA have spent more than $3 million lobbying against increasing the federal minimum wage.
Workers with the Fight for $15 and a Union have been demanding a raise since long before the pandemic as part of a movement of fast-food cooks and cashiers led largely by Black and brown workers. Since 200 fast-food workers walked off the job in New York City in 2012, the movement has won $70 billion in raises for over 27 million workers, passing $15 minimum wage laws in 8 states and putting more than 43% of the country on the path to $15.
Coverage of the strike can be viewed online via KQED, KGO-AM Radio, and Patch.