Agreement Reached to Save the Adult Residential Facility and Stop Displacement of Mentally Ill Residents in San Francisco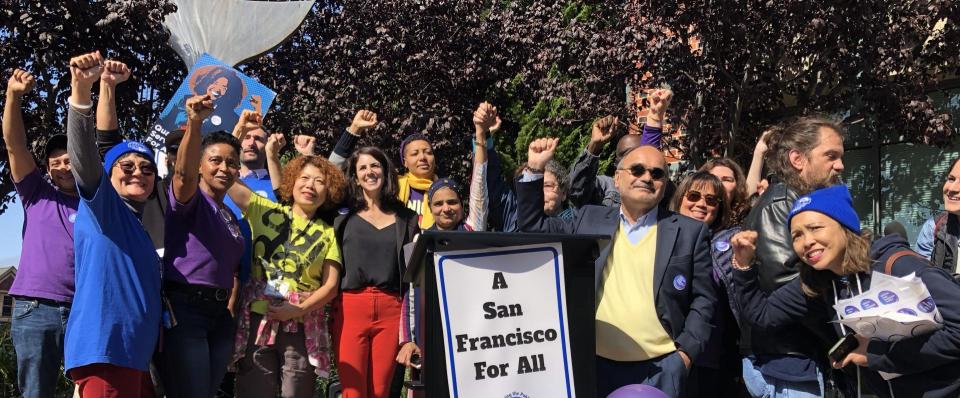 After months of protests aimed at protecting the residents of the Adult Residential Facility, members of SEIU 1021 and IFPTE Local 21, together with SF Supervisors Ronen and Haney, reached an agreement with the SF Department of Public Health and the Mayor London Breed to protect the facility and its severely mentally ill residents on October 11.
"We are happy to have reached a consensus on a plan that favors the residents and the staff at the Adult Residential Facility. The new plan includes more staff, more comprehensive and effective training, and a workgroup of staff and management which are all steps in the right direction to improve care and accountability at the facility", said Theresa Rutherford, San Francisco Regional VP of SEIU 1021. "We want to continue to work with the leaders of the Department of Public Health to fix persistent understaffing, restore cuts to supportive mental health programs, and invest in comprehensive, integrated services that address the complex mental and physical health needs of our residents."
The decision to abruptly close the Adult Residential Facility sparked citywide outrage and a massive worker led proteston August 22 at the Adult Residential Facility, the day after eviction notices were sent to 18 of the facility's residents. Initiallythe Department of Public Healthwas unwilling to negotiate with workers and left them completely out of the decision-making process.
Workers, residents, and health advocates then gathered over 1,200 signatures for a petition to stop the closure of the Adult Residential Facility, and on August 22nd delivered the petition to the San Francisco Health Commission after shutting down their meeting with a protest of over 200 concerned and passionate voices.
In early September, Supervisor Ronen and Haney worked with nurses and mental health workers to introduce an ordinance to require that the City keep the Adult Residential Facility open and at full capacity, and also introduced a resolution aimed at rescinding the notices that severely mentally ill residents received to vacate the facility next month. Both pieces of legislation were scheduled to be heard at the Government Audit and Oversight Committee for this Thursday, October 17th, where a large crowd of over 200 people were expected to attend in support of Ronen and Haney's legislation.
"I am thrilled that we were all able to come together with DPH and the Mayor and reach an agreement on the Adult Residential Facility that will protect the mentally ill residents of this facility. I am so grateful to the mental health workers and nurses who alerted my office to what was happening, and who do so much every single day to fight for their patients' rights, health and safety. It's because of them that we can celebrate this victory today, where no resident will be forcibly removed from their home, and where the City's critical long-term beds for mentally ill residents will be protected," said Ronen.
"I am glad that we reached a solid compromise that protects essential long-term care beds, while creating badly needed short-term shelter beds to get people off the streets and immediately connected to services," said Supervisor Haney.
In a new agreement reached with Mayor London Breed and theDepartment of Health on Friday October 11th, the proposed decision to remove 32 residents of the Adult Residential Facility was rescinded. Moreover, the closure of 41 long-term mental health beds has now been reduced to 14, all of which will transition to the Hummingbird Navigation Center for a temporary six-month period, after which they will return to their status as long-term beds. No residents will be forcibly removed from the Adult Residential Facility. As part of the agreement, a working group made up of staff and management will also be created, to work together for the first time on hiring, training and other issues.
"As mental health treatment specialists working for the city, it's our job to provide the best care we can, and to represent everyone in our community," said Amy Wong, member of IFPTE Local 21. "We work tirelessly to make the ARF the best it can be, but our care is undermined when the facility is understaffed. Instead of blaming us for management's failures, workers on the front line are finally being heard. This is a victory for our patients, and a victory for San Francisco," said Wong.