ADJUNCT FACULTY, STUDENTS, LOW-WAGE WORKERS, ACTIVISTS AND ARTISTS UNITE FOR ART & EDUCATION JUSTICE FESTIVAL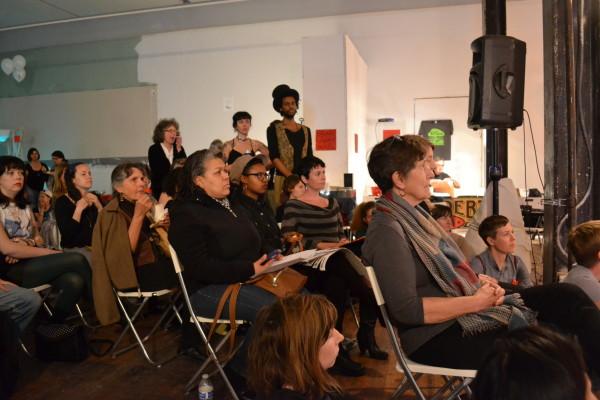 Sunday, March 8, hundreds of adjunct professors, students, artists, low-wage workers, activists and artists joined forces at the Lab in San Francisco for No Justice No Service: Bay Area Art and Education Justice Festival. A host of installations, silkscreen printings, poetry readings and spoken word performances addressed pressing social and economic justice issues, including the corporatization of American education, institutionalized discrimination, income inequality and the related displacement of artists and communities of color, and invited visitors not just to watch but interact with the issues.
Visitors partaking of the delicious black bean stew, kale salad and polenta at the Slow Food Fast Food Cafe were invited to consider the injustice of a system that does not allow the poor adequate nourishment. 1021 member Cara Levine's "Strike" punching bag installation highlighted the resilient spirit of working people. Danielle Wright's floor installation was a visual and tactile demonstration of the challenges of race relations in the US, as visitors quite literally walked on eggshells around the subject of race. 1021 member Christian Schoff-Nagler led the guests in a politically charged session of Yoga for Adjuncts, where participants meditated on the predatory, for-profit model of online education and its influence on higher education as a whole as they performed simple poses. San Francisco Art Institute alumnus Jessica Tully celebrated labor history through intricate aerosol-chalk stencils in front of the venue. California College of the Arts (CCA) alumnus and event organizer Cassie Thornton displayed her Alternative Credit Reports, which examine the value of individuals' non-economic attributes and help them demystify the construct of debt. 1021 member Art Hazelwood and students of the SFAI Poster Syndicate made silkscreen prints of 5 designs honoring adjunct professors and fast food workers on the sidewalk, attracting interest not only from guests of the event but also passersby. Fast food worker and Fight for 15 organizer Chris Higgenbotham performed a powerful spoken word poem about his experience growing up black in America. Renowned performers Guillermo Gomez-Pena of La Pocha Nostra and Keith Hennessy also dazzled attendees with hard-hitting poems dealing with race and social injustice. CCA students helped visitors create patches emblazoned with the slogans "We are 2 cool for a corporate school!" and "Take back our schools," using stamps they had designed themselves, and gave oracle card readings. SF Labor Archives director Catherine Powell gave a compelling presentation of labor history in the Bay Area. These were just a few of the contributions from participating groups and individuals.
Activist groups such as Strike Debt, Fight for 15, Black Organizing Network-Oakland, Shaping SF, the Compensation Foundation and Critical Resistance had tables and gave presentations of their efforts to combat social, economic and education injustices in the region.
To see photos of the event, click here.