98% Vote YES
We Are Going On Strike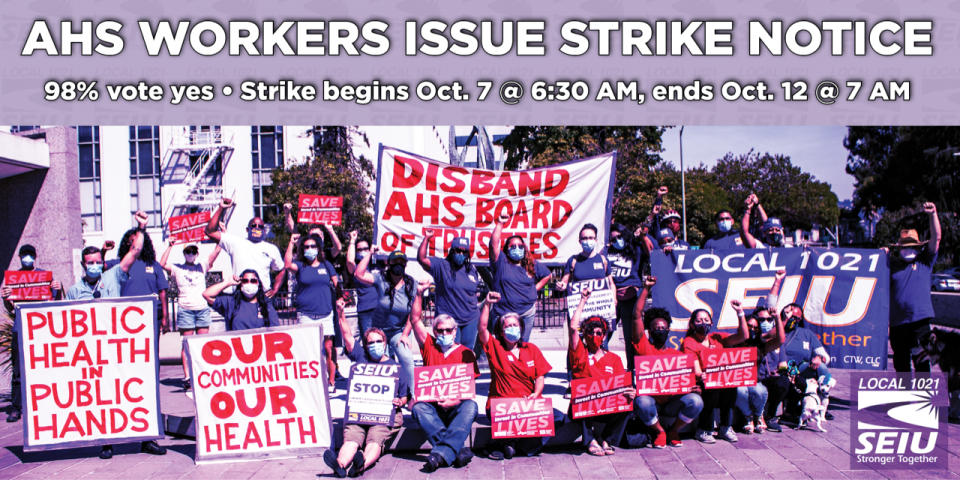 We Notified AHS Management:
Our Unfair Labor Practice Strike Will Begin
Wednesday, October 7, at 6:30 a.m.
Our Strike Will End Monday, October 12, at 7 a.m.
We have been bargaining with AHS management since January. At the bargaining table, in County Board of Supervisors meetings, in community groups, in the workplace, and in the streets we have called for better patient care and a healthcare system that works for our entire community. Management has responded with layoffs, refusals to bargain, refusals to answer our requests for information, attempts to intimidate us and retaliate against union activity, and other unfair labor practices.
Enough is enough. Our elected bargaining team called for a vote to authorize a strike, and the response from our members was overwhelming: the vote was 98% in favor of striking.
Earlier today, the morning of Saturday, September 26, we gave AHS management 10-day notice of our unfair labor practice strike. We will strike all sites with all three bargaining units: general unit, RNs, and San Leandro Hospital. The nurses united in CNA also gave a 10-day notice, and ILWU just sent their notice that they will go on a sympathy strike with us.
We will begin our strike on Wednesday, October 7, at 6:30 a.m., and the strike will end on Monday, October 12, at 7 a.m.
More details will be announced soon. If you haven't already, make sure you and every one of your co-workers has updated their personal email and cell phone number here: