2022 Mendocino County Tentative Agreement Highlights
Here's a summary of what we won in our tentative agreement. Ratification happening this week.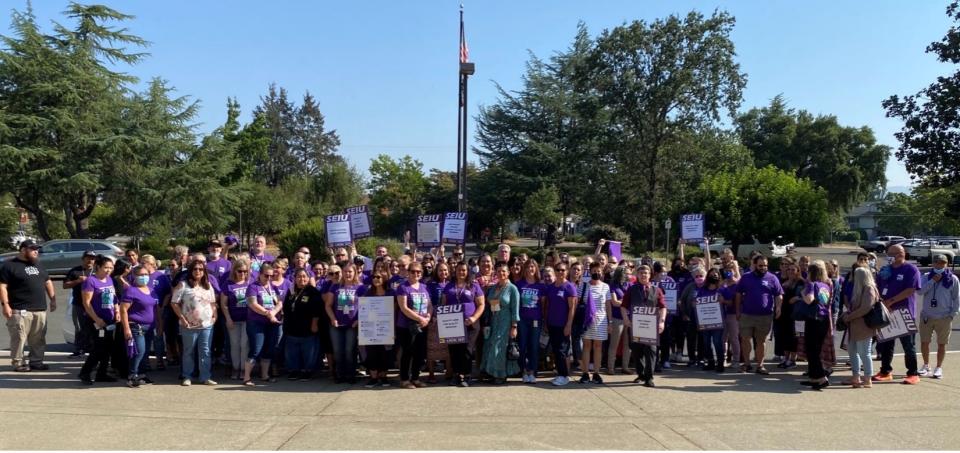 Our contract campaign was incredibly challenging considering the level of dysfunction and lack of basic understanding of the county's finances in both the Mendocino County administration and the Board of Supervisors. In the interest of providing some immediate relief to current employees and preventing the staffing crisis from growing worse, our union bargaining team has reached a tentative agreement that addresses some of our concerns while providing the opportunity to make more progress next year by reopening the contract at the end of the 2022-23 fiscal year.
Strong union membership and participation are critical get the best possible contract! If you are not yet a member, please sign up here. If you are already a member but haven't been involved yet, please plan on getting active in 2023!
Below is a summary of changes, improvements, and other important features of the tentative agreement.
SEIU 1021 members are voting on ratification between Wed., Dec. 7 and Fri., Dec. 9. Please check the ratification meeting schedule and RSVP for a session here. Only members can vote–if you are not yet a member, please join now.
Tentative Agreement Highlights
1. Term. 12 months. Expires June 30, 2023.
2. Wages. 2% COLA effective January 1, 2023.
3. Health Care. Maintain existing contribution level through June 30, 2023. County will cover the 16% increase in the health plan costs. Continue to meet and confer on changes to the health plan.
4. ARPA Payment. $3,000 supplemental payment from one-time ARPA funds for all permanent employees to be paid December 16. Extra Help employees who have averaged 48 hours/pay period or more since 7/1/22 will receive $3,000. Extra Help employees who have averaged between 20 and 47 hours/pay period since 7/1/22 will receive $1,500. Extra Help employees with less than 20 hours per pay period will not be eligible for the bonus.
5. Make the following adjustments to wages:
a. Social Services. Provide a 10% premium to Social Worker Assistants, Social Workers, Social Worker Supervisors in Family and Children's Services in the Social Services Department.
b. Minimum Wage. Effective January 1, 2023, all employees shall earn a wage of at least $17.42 per hour. Move Staff Assistant III Step I to $19.20 per hour.
c. Compaction. Increase salary for Employment and Training Worker II, III and Supervisor.
d. Revenue Producing Classifications. Revise Real Property Appraiser and Auditor-Appraiser Series.
6. Bilingual Pay. Parties agree to increase bilingual pay premium from $50/pay period to $75/pay period and for the less than 10% group from $24/pay period to $25/pay period.
7. Establish Labor Management Committees to gather information and make recommendations for potential employee benefit programs:
a. Housing. Labor Management Committee for establishing Housing Program.
b. Childcare. Labor Management Committee for establishing Childcare Program.
c. Education and Training. Reimburse tuition fees and book costs for academic courses to maintain or improve skills related to work performance in the employee's current position.
8. Telework. Modify policy to allow for an appeal to the department director if a telework request is denied.
9. Paid Administrative Leave. County will inform employees of the reason when they are placed on paid administrative leave, except in exceptional circumstances.
10. Probationary Period. 6-month probationary period for employees for any promotion after gaining permanent status in a different classification at the County. Permanent employees who are currently on probation in a promotional position and between five and eleven months of the probationary period, they will need to complete one more month to complete the probationary period.
11. Uniform and Boot Allowance. Increase reimbursement amount for clothing; add classifications eligible for boot allowance.
12. Holidays. Follow current practice for employees who work Saturday/Sunday.
13. Retirement Clean Up.
a. Sick Leave Conversion. Must retire immediately following separation from employment so all accrued sick leave will be applied toward determining retirement benefit.
b. Service Purchase. May purchase credited service for certain qualifying services: service prior to membership (§31641.5), credit for uncompensated leave of absence for illness (§31646), Military service in compliance with USERRA (§31649) or redeposit of amounts withdrawn (§31652).