1021 Members and Community Partners Speak Out Against a Safety-Net Hospital System That Is Failing to Meet the Needs of Alameda County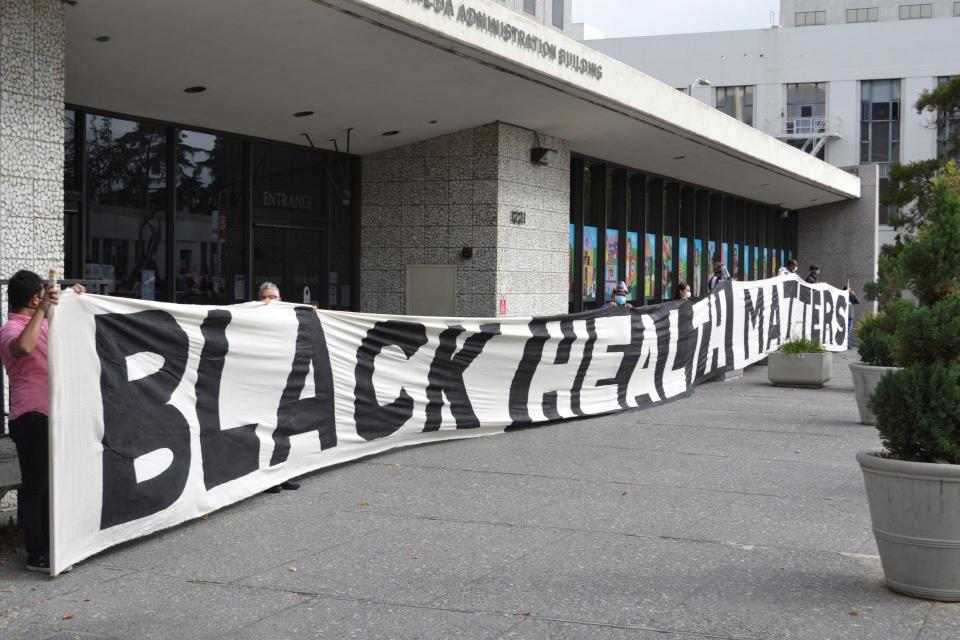 On Tuesday, August 4, workers at Alameda Health System (AHS) joined fed-up community members to demand that AHS be brought back under the control of the Alameda County's elected Board of Supervisors.
As a result of the hard work of these union members and their partners in the community, the Board of Supervisors took a step forward recently, voting to form a working group to look at ways to improve AHS, including reviewing its labor negotiations, its budget, and the performance of its Chief Executive Officer Delvecchio Finley. However, AHS workers know this doesn't go far enough and, along with the Alameda County Labor Council, demand that the Supervisors prioritize patient care and invite workers into the working group so that the people who do the work every day can have a say in how that work gets done.
Alameda County leads all Bay Area counties in coronavirus cases, with 11,846 as of August 3, according to the San Francisco Chronicle, and frontline workers at AHS, the county's public, safety-net hospital system, say that these facilities are not prepared for the surge.
Workers have called out AHS management for months now, showing that they had inadequate personal protective equipment, were struggling with understaffing, and dealing with mismanagement that has led to coronavirus tests given by security guards and parking lot attendants.
In 1998, the Alameda County Board of Supervisors stepped away from management of the county health system. Since then, the health system has been managed by the unelected AHS Board of Trustees, not by Alameda County itself. The AHS Board of Trustees, who are not accountable to voters in Alameda County, has consistently turned a deaf ear to patient advocates and its increasingly concerned workforce. They have acted as though they are not even accountable to the Board of Supervisors, even going so far as to deny access to Board of Supervisors inspectors who were investigating conditions at the hospitals.
"For years, long before COVID-19, AHS has been in crisis. Systematic underfunding and chronic mismanagement have made AHS incapable of meeting the needs of the working-class community — more than 70% Black and brown — that it serves. I see these challenges every day, as my co-workers and I struggle to keep up in the face of understaffing, inadequate equipment and materials, and endless management attacks on our union rights. The only way to fix the problems at AHS is to put public health in public hands: The Alameda County Board of Supervisors must take back oversight and administration of AHS," said John Person, a Registered Nurse in the Emergency Department of AHS's Highland Hospital in Oakland.
Pearson, along with his colleagues and co-workers across AHS and community groups united in the Alameda County Coalition for Healthy Communities, rallied outside the Alameda County Board of Supervisors' meeting at 1221 Oak St., Oakland, on August 4.
This global pandemic continues to hit predominantly Black and brown members of our community, as well as the poor, the hardest. We demanded that the Board of Supervisors vote to take control of AHS and fix the structural problems plaguing the system, which prevent underserved members of the community from receiving adequate healthcare.