Across Northern California, SEIU 1021 members stand in solidarity with the #StrikeForBlackLives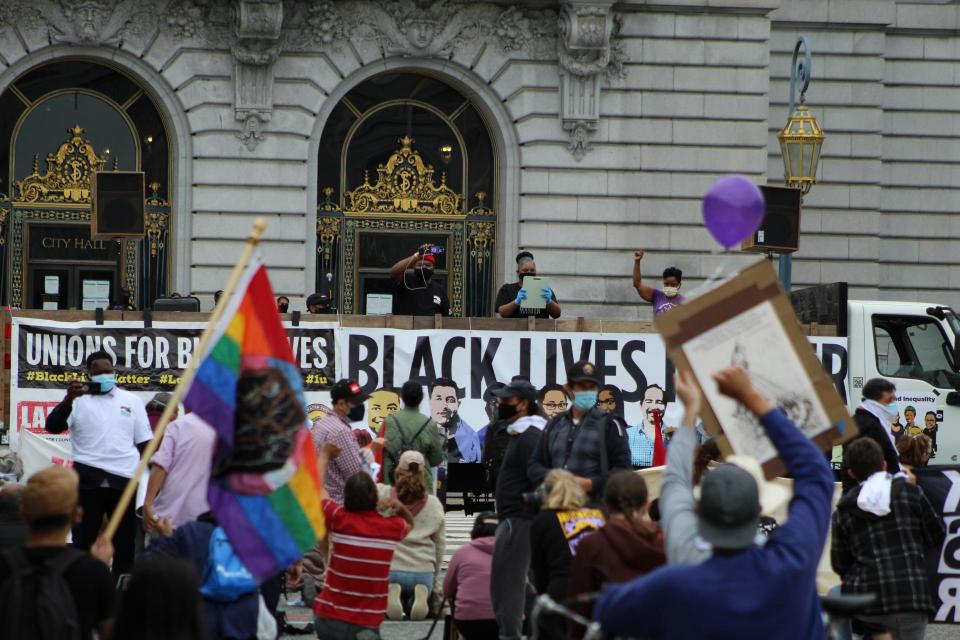 On Monday, July 20, our members in San Francisco, the East Bay, and Sacramento joined tens of thousands of workers nationwide in more than 25 cities in solidarity with the #StrikeForBlackLives.
Our union has a vision for a just society where all workers are valued and all people respected, no matter where they are from or the color of their skin. All families deserve to thrive in a more just and equitable but until Black communities and other communities of color can thrive, none of our communities truly can.
We took action because we understand that the fundamental challenges to our vision are structural racism, corporate power, widening inequality, and the defunding of public services. Read more to learn about each action:
San Francisco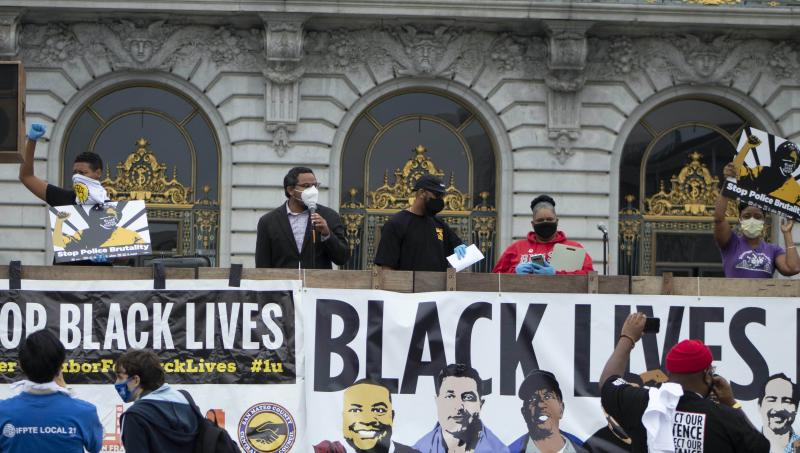 In San Francisco, our members joined hundreds of workers from our sister locals SEIU 87, UHW, and USWW as well as IFPTE Local 21, United Educators of San Francisco, the San Francisco Labor Council, Teamsters Local 350, and more. You can check out photos from the event here.
Working people need San Francisco to work for us all—not just the wealthy and elite—but structural racism, corporate power, widening inequality, and the defunding of public services stand in the way.
"In this country, racism and police brutality have taken the lives of countless Black Americans—our siblings, our parents, our friends, and our loved ones. These murders are but one manifestation the pandemic of racism has long inflicted on communities of color. Racism can also be felt throughout the criminal justice system, in our underfunded education system, in discriminatory housing systems, in the way ongoing environmental crises impact our communities, and in our workplaces and beyond," said SEIU 1021 President Joseph Bryant. "Here in progressive San Francisco, we have seen a sharp decline of African Americans in the City and County workforce while the Black population of our City has plummeted from over 13% to around 4% since the 1970s. Since the devastating pandemic began, many Black and Brown workers have risked their lives at the frontline and have kept the City running. We must fight to ensure these workers and communities are protected through this health and economic crisis and beyond."
All families deserve to thrive in a more just and equitable but until Black communities and other communities of color can thrive, none of our communities can truly thrive. As the pandemic rages, so does racial, class, and gender inequality. San Francisco is home to more billionaires per capita than anywhere else in the world, yet the City is struggling to find the funds to pay for nurses, doctors, first responders, and other essential workers just when they are needed the most.
"In addition to police violence, systemic racism under COVID-19 is disproportionately destroying Black and Brown lives across our country," said Gus Vallejo, President of IFPTE Local 21. "We must connect the dots between the inequities of this public health crisis and the austerity agenda we are up against today. We need a city that works for working people, not just billionaires."
Workers demanded an end to police killings, a robust investment in the public services that protect vulnerable people and combat the effects of systemic racism, and called for billionaires and corporations to be held accountable and to pay their fair share to fund these services.
Press
East Bay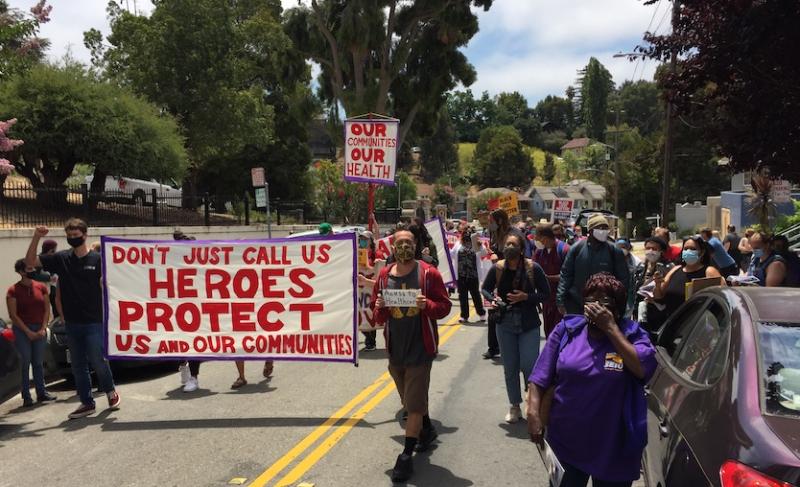 Yesterday, community members and union members from the Alameda County Coalition for Healthy Communities held a rally outside Oakland's Highland Hospital and San Leandro's Fairmont Hospital. Workers across Alameda Health System walked out on their breaks in support Black lives to join the rally and support the nationwide day of action.
The protest centered on the inadequate, underfunded, unaccountable public healthcare system serving primarily poor Black and brown community members in Alameda County. Participants demanded that the Alameda County Board of Supervisors retake control over Alameda Health System.
"We are hoping we can place the community at an advantage by transferring Alameda Health System back under County supervision and putting AHS in a place of public accountability, so these Black and brown patients will have a say in what kind of health care they receive, and so the workers who are also a part of those communities will have a say in the kind of care that's being provided at these hospitals," said SEIU 1021 member Sheleka Carter, a Sexual Assault Response Counselor at Highland Hospital.
Press
You can learn more, as well as see photos and videos from yesterday's action, on Facebook.
Sacramento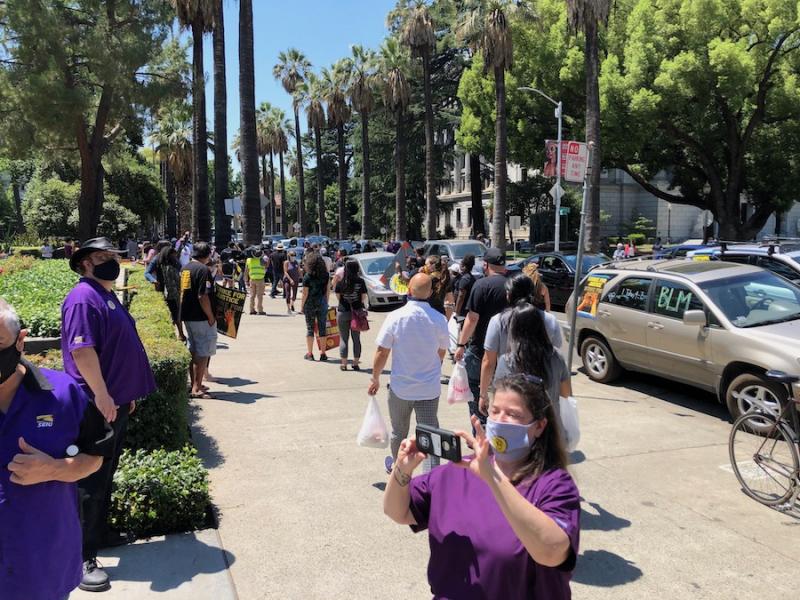 More than 200 members from SEIU Locals 1021, USWW, 2015, and 1000 took action in a car caravan with community allies in Sacramento on Monday.
The car caravan ended in front of the State Capitol, where more than 2,000 people took a knee and observed 8 minutes 46 seconds of silence. We called on elected officials to go beyond their statements for change and implement actions that demonstrate their beliefs that Black lives matter.
"Its important that we as labor leaders show up for Black Lives Matter because and hold these politicians accountable for their words. As labor leaders we want our fellow members to know that there are multiple opportunities for them to get involved through protests, phone banking, writing letters, and more," said Elizabeth Uribe, an SCUSD School Bus Driver and Chief Steward.
Press