Working families deserve strong advocates in the leadership of our retirement associations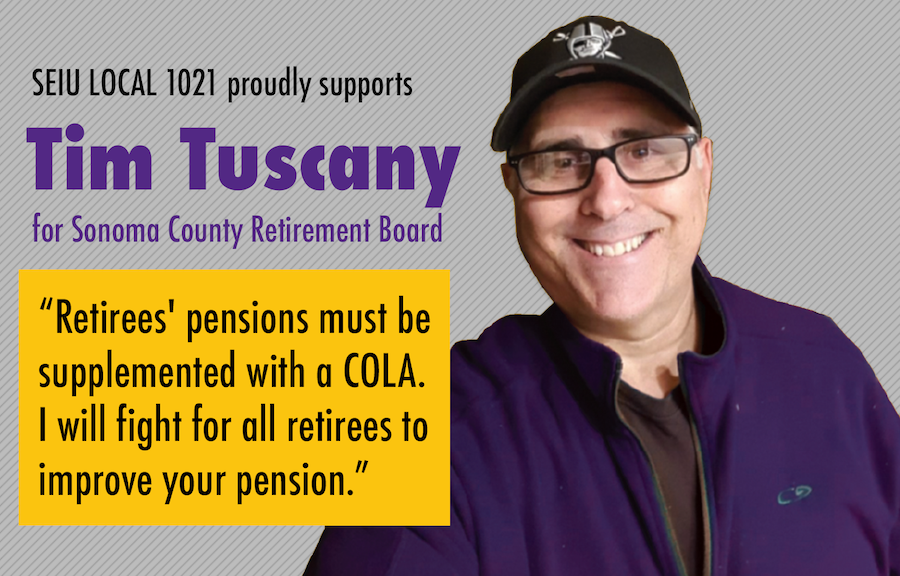 While the general election season has passed, the political work of our union continues. Working families deserve a voice at every table where decisions are made that impact us, our families, and our communities. We utilize our collective power not only for our employed members, but our retirees as well.
The Sonoma County Employees' Retirement Association (SCERA) is holding elections for their board and our local is proud to support Tim Tuscany, a retired Psychiatric Registered Nurse, whose experience includes serving as Chapter president, bargaining team member, Sonoma County Joint Labor Management Committee member, and as a member of the Healthcare Subcommittee.
"From our union activist days, I learned that Tim is a strong advocate and leader," said Chip Atkin, Chair of the Sonoma County Retiree Chapter of SEIU Local 1021. "He will push for a COLA for retirees. Tim knows that an Environmental, Social, Governance screening of investments help promote good returns by avoiding controversies that are a drag on investment, while ensuring that our investments solve problems as they make money."