Workers Take to the Streets to Disrupt Inequality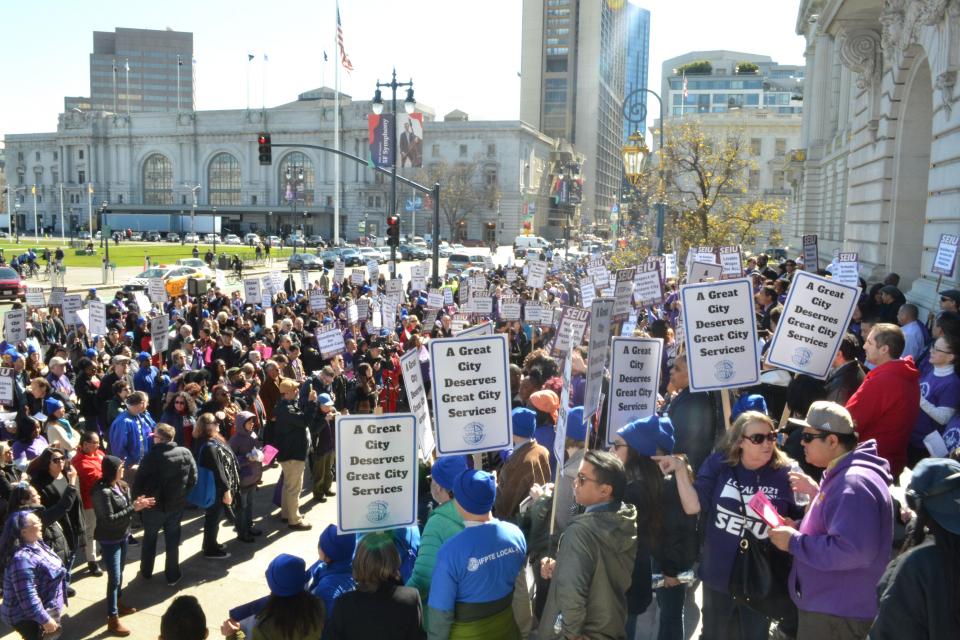 Across the country, workers are rising up to hold leaders and corporations to account for starving and dismantling public services and public school districts. In Northern California, our members in San Francisco and Oakland have taken to the streets tofight for working families and our communities.
On Feb 21, Jennifer Esteen, a registered nurse, spoke before a rally of over 1,000 workers on the steps of San Francisco City Hall about the ever-widening gap between working people and the city's extremely rich residents. "This city is so rich that it has the 6th highest GDP in America, over 500 billion dollars are generated here every year. It is home to over 2,800 people worth more than $30 million dollars…[yet] there are more than 7,500 people sleeping on the street, in cars and tents every night and day."
"This city is rich enough to make sure patients at Laguna Honda and San Francisco General have adequate places to return home to, so they can be discharged safelyThis city is rich enough to hire adequate staff for its safety net hospital and provide affordable housing for its citizens, those who are elders, or disabled, or who dedicate their lives to serving everyone." Nurses and nearly 14,000 San Francisco city and county workers are bargaining for a fair contract that prioritizes the needs of communities and working families first.
Across the bridge in Oakland, thousands of striking teachers in were joined in a sympathy strike by Oakland classified workers of SEIU 1021 to put a stop to cuts that would close libraries, lay off school staff, and close schools.
"We are fighting for our children and the world of opportunities we want to make available for each one of them," said Bettie Reed Smith, an instructional assistant at Oakland's Markahm Elementary, who has been on sympathy strike at Oakland Unified School District. "All children, from the flatlands to the Oakland hills, deserve a quality education. We cannot provide that when our classrooms are understaffed, when our libraries are closed, and when our children do not have the support they need to succeed."
According to In the Public Interest,a policy institute,charter schools in Oakland have systemically diverted funds from the public school system, to the tune of $57 million a year. Funded by billionaires like Michael Bloomberg and Wal-Mart's Walton Family, the privatization of Oakland's public school system is leading to the closure of schools in low-income communities and lower wages for educators and other school workers.
Stand Up for Our Communities. Wear Your Purple in Solidarity at the Following Actions:
Rally at Oakland Unified School Board Meeting
Feb 27, 6:30 PM, La Escualita Elementary, 1100 3rd Ave., Oakland
International Women's Day Rally and Protest
Mar 7, 12:00 PM, 1 South Van Ness, San Francisco