As workers continue to win legislative victories, fast-food corporations attempt to subvert democracy and workers' rights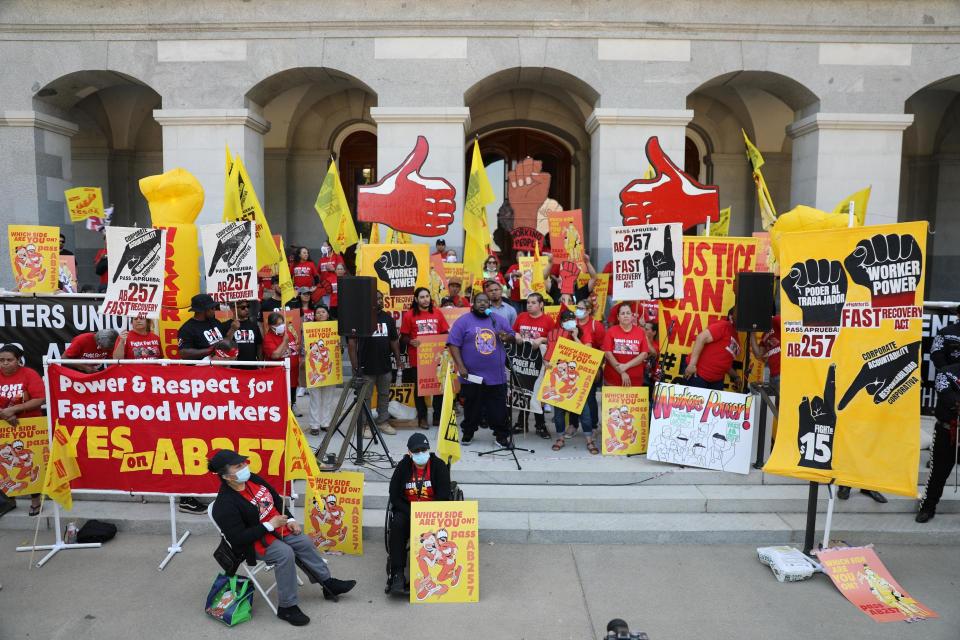 After a multiyear fight to win Assembly Bill 257 - the Fast Food Accountability and Standards (FAST) Recovery Act, fast-food corporations, such as McDonald's, Burger King, Jack in the Box, and more, are working hard to undermine this victory. AB 257 contains significant gains that protect and empower California's five-hundred-fifty-thousand fast-food workforce with a seat at the table to help set minimum industry standards around wages, safety and training. Signed into law on Labor Day, September 5, 2022, by California Governor Gavin Newsom, the victory of the FAST Recovery Act comes after hundreds of strikes and marches across the state.
The bill creates a statewide Fast Food Council, which will include workers, government officials, and industry representatives, to set minimum standards across California's fast-food industry, strengthening health and safety protections, shielding workers from retaliation, and ensuring workplaces are free from discrimination and harassment. Corporations will no longer be able to ignore the voices of the workers that make them their profits. Fast-food employers will have to meet with us to agree to term on improved pay, benefits, and working conditions.
Now, in a blatant attempt to roll back workers' rights, fast-food corporations are using the statewide referendum process to invalidate the FAST Recovery Act. Opponents of the pro-labor legislation, backed by fast-food corporations, filed a referendum to halt the formation of the Fast Food Council and put the FAST Recovery Act on the 2024 ballot, where voters could affirm or repeal it. We cannot allow these wealthy corporations to buy their way out of following the law.
Cardell Calloway and Hector Castellanos know all about moneyed-ballot initiatives. The two rideshare and delivery drivers faced a similar challenge when companies like Uber, Lyft, and DoorDash bankrolled an initiative to repeal hard-won labor legislation that would've guaranteed gig workers benefits like minimum wage, paid time off, worker's compensation, and unemployment eligibility. "It hurts my heart," Calloway said of the effort to repeal the fast-food council. "It makes me feel like these companies are an enemy of the people."
"I don't want to see any workers suffer what I'm suffering," said Castellanos, who has driven full-time for Uber and Lyft for about eight years. When he underwent shoulder surgery after an accident a few years ago, his daughter had to drop out of college and work full-time to support the family while he recovered.
McDonald's set a record for operating income and made $7.5 billion in profit last year. CEO Chris Kempczinski took home $20 million. But instead of listening to the workers who helped the company thrive during the pandemic, McDonald's is spearheading an industry-wide fight to silence fast-food workers. It's shameful for the wealthiest companies in America are using their hefty pocketbooks to subvert democracy
"In our fight for AB 257, we took on the most powerful corporations in the world and won a seat at the table to raise standards across the fast-food industry," said Anneisha Williams, a Jack in the Box worker and leader with the Fight for $15 & a Union movement. "Even though fast-food corporations are spending millions of dollars to lie to California voters and silence our voices, we refuse to let them undo this massive victory. We have already delivered well over ten thousand signatures to start the Fast Food Council and are waiting for fast food corporations to sit down with us and get to work."
"There is an emergency in California's fast food industry," continued Williams. "Corporations are complicit in the rampant, industry-wide issues like wage theft, harassment, and violence. We need protections and standards around wages, health, safety, and training now, without delay. We will not wait two years for the voice on the job that we rightfully deserve and have already won. If fast food corporations think their deceitful referendum effort will silence our voices, they are dead wrong."