We Ratified Our Tentative Agreement UNANIMOUSLY!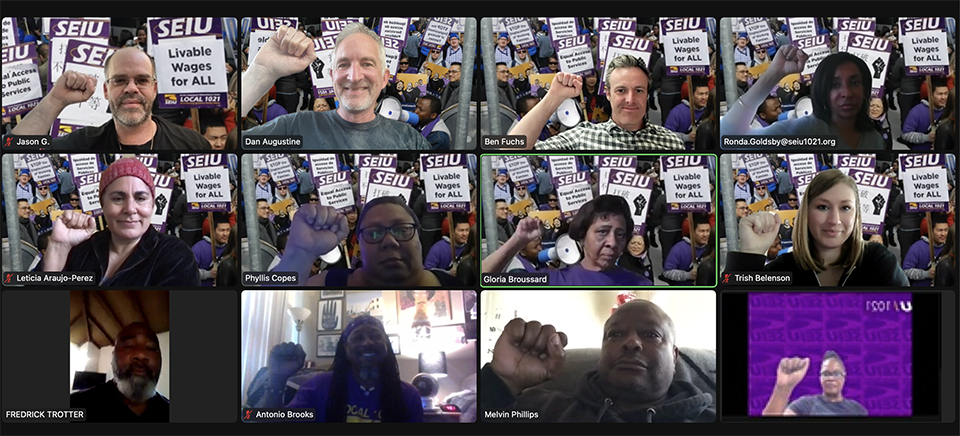 Big thanks to everyone who voted to ratify our tentative agreement! We are excited to report back that the TA was ratified unanimously. That's right–you voted by 100% to ratify!
That means that once the OUSD Board of Education and Alameda County Office of Education approve the TA in the coming weeks, this will become our new contract.
We are very pleased that our chapter membership are as happy with the agreement we reached as your bargaining team is! For an in-depth refresher on what's in the now-ratified TA, here is the slide deck from the bargaining team's presentation.
This historic agreement includes:
Record wage increases
Longevity increases
Bilingual stipend increases
Clerical mentorship program stipend
Improved grievance timeline
COVID safety improvements
Many more intentional contract improvements
See more specifics in the TA highlights below or in the slide deck here.
TA Highlights
8.25% in ongoing wage increases:

6% effective July 1, 2022
2.25% effective September 1, 2023

Thousands in one-time payments for every member, including part-timers:

6% of annual salary within 60 days of ratification;
$1,500 for all employees of 0.5 FTE or greater/$850 for all employees of 0.1-0.4 FTE;
$200 in lieu of additional stipend to reimburse for purchase of PPE (unrestricted); and
One day's paycheck in lieu of additional mental health day.
5% COVID-19 hazard pay for dozens of classifications effective immediately, through June 30, 2022

First climate crisis labor-management committee in the United States to make sure OUSD is doing its part to protect our environment and provide a safe, healthy environment for employees and students.
Expanded COVID-19 safeguards through end of 2021-22 academic year
Accelerated path to top step for hundreds of workers by reducing the amount of time to reach the top step by one year, effective July 1, 2022.
Significant additional increases for lowest-paid CDC workers by moving all workers currently on the lowest ranges (1-4) to Range 5 effective July 1, 2022.
$20 increase in monthly bilingual stipend ($80 month), effective July 1, 2022.
Bilingual extended to the OCDPA-covered members for the first time. (Previously only applied to OSEA-covered members.)
Longevity stipend for white collar and paraprofessional employees who have been employed on a half-time basis (3.75 hours a day) or more for at least 10 years.
Restoration of Clerical Mentorship Stipend (up to $6,000/year for qualifying members).
Expansion of grievance filing deadline period by changing from 20 calendar days to 20 business days to allow more time to address workplace issues.
Expanded training opportunities and access to critical student background documents for special-ed students for two classifications servicing these high-needs students (ISSs and IAs)
Expanded access to dedicated private, secured space for occupational and physical therapists to provide services to high-needs students without jeopardizing their privacy
New commitment to proactively scrutinize third-party funding sources to prevent or minimize layoffs
Commitment to jointly review union classifications for potential upward range adjustments between now and June 30, 2022