We Passed Our Tentative Agreement!
Congratulations! We Have a New Contract.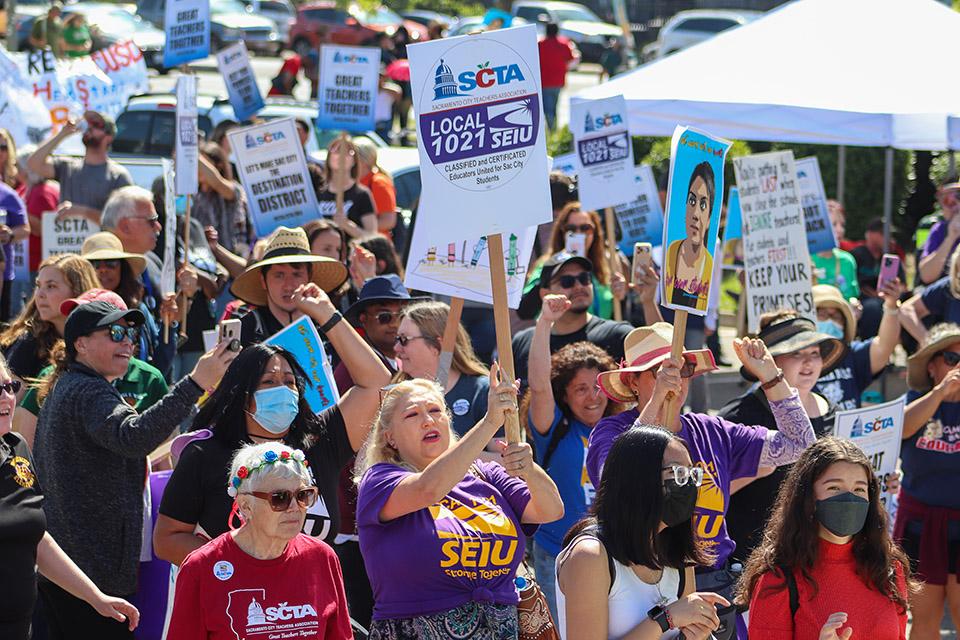 Thank you to everyone who turned out to vote on our tentative agreement over the past two days! You have made your voices heard. The votes have been counted and the results are in.
Our members voted by 99.8% to ratify our tentative agreement. Once the SCUSD Board of Education approves the agreement, we will have a new contract.
Here are some highlights of the new contract:
Ongoing 4% cost-of-living adjustment (COLA) retroactive to July 1, 2021.

Wage reopener (negotiations just over wages) for the 2022-2023 school year–in other words, another opportunity to get another raise within a few months.
Classification and compensation study, by companies selected by the union, to start within 30 days of Board approval of contract. This will help employees in classifications currently underpaid relative to the market.
At least $7,000 in one-time stipends for all SEIU bargaining unit employees who have worked for the District since at least July 1, 2020, and are still employed at SCUSD at time of contract approval; this will be paid in two payments by July 1, 2022:

$3,000 stipend for 2020-2021 school year
$3,000 stipend for 2021-2022 school year
$1,000 retention stipend for all current employees

Additional $2,000 stipend for bus drivers to be paid within 90 days of ratification in recognition of their critical role transporting students to school safely every day and their extraordinary schedules.

$2,000 recruitment and signing bonus for new bus drivers who have completed the SCUSD training program and are in the SEIU bargaining unit for the 2022-23 school year on or before October 31, 2022 (must work the full school year; bonus will be paid on June 30, 2023).
$2,000 recruitment and signing bonus for bus driver referral for any current employee who refers a new bus driver who works the 2022-2023 school year, to be paid June 30, 2023.
$5,000 recruitment and signing bonus for fully licensed bus drivers who work the 2022-2023 school year, to be paid June 30, 2023, to help relieve the staffing crisis.
District must maintain at least 50% of bus drivers at 8 hours.

$1,030 longevity pay bonus (30% increase) at 10 years, 16, 19, 22, and 25 years of credited service.
Improvements to dental and vision plans: SEIU bargaining unit members will now have access to fully-paid coverage for themselves and their spouses/dependents in the highest plans available. For dental, that is through Delta Dental and Premier Dental. For vision, that is through VSP.

Switch must happen at open enrollment and will take effect January 1, 2023.

No changes to medical coverage. The District wanted to eliminate fully-paid family coverage at the outset of negotiations. We will continue to have fully-paid medical insurance through Kaiser, Western Health Advantage, or Sutter Health Plus.
Shoe allowances:

Up to $230 for maintenance and operations and transportation department workers for footwear that meets requirements for safety toe protection and oil-resistant soles
Up to $150 for nutrition service workers for slip-resistant footwear