Union Coalition Meetings and Strike School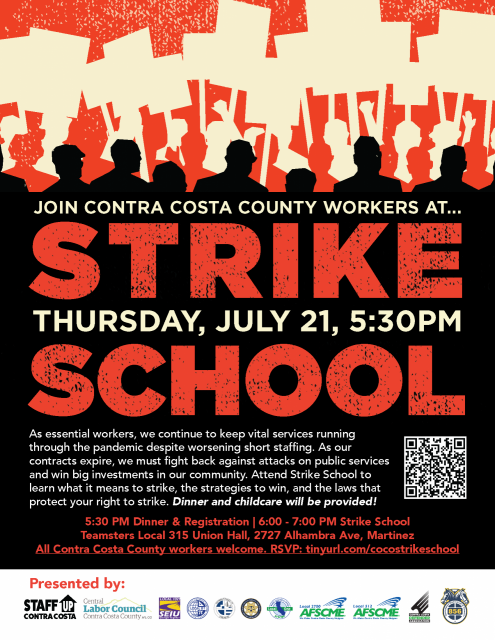 The County's contract offers aren't working for working people. Come to our coalition meetings to find out how you can get involved so we can get what we deserve.
Worksite Meetings

Agenda for all meetings:
Bargaining Update
Strike Readiness
Strike School

RSVP for the meeting that works for your
schedule: https://bit.ly/contracostamtgrsvp
July 12
Tuesday
Noon – 1 p.m.
1275 A Hall Ave., Richmond
4545 & 4549 Delta Fair, Antioch
---
July 13
Wednesday
Noon – 1 p.m.
1650 Cavallo, Antioch
151 Linus Pauling, Hercules
---
July 14
Thursday
Noon – 1 p.m.

300-500 Ellinwood, Pleasant Hill
RSVP for strike school on Thursday, July 21, at 5:30 p.m.:
tinyurl.com/cocostrikeschool