Tenderloin Housing Clinic workers are poised to strike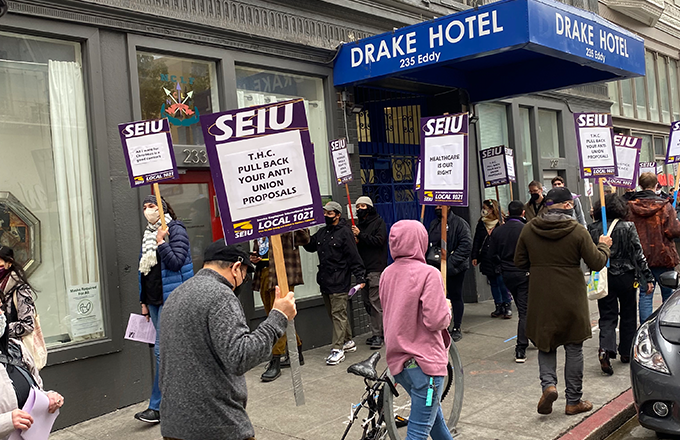 For months, workers at San Francisco's city-funded nonprofit Tenderloin Housing Clinic have been negotiating a new contract with management. Those negotiations have been contentious at times, leading members to vote overwhelmingly by over 99% to authorize their bargaining team to call for a strike, if necessary.
The tenor of these negotiations was set early on when management came to the table proposing nothing but takeaways and other measures to bust our union. They wanted to limit our representation rights at work, proposed that we begin paying for healthcare (which has previously always been employer-funded), and have denied requests from workers in legal services to join the SEIU 1021 bargaining unit.
In response, members help firm and went on the offense. We staged a number of informational pickets outside THC offices, have met with members of the San Francisco Board of Supervisors, and have given interviews to reporters about the situation to help turn the tide. This included participating in an expansive deep-dive from the SF Chronicle on the city's supportive housing system and participating in a roundtable discussion hosted on KQED Forum. As a result, management fired the law firm they were working with and pulled their anti-union proposals off the table.
The media attention created pressure on the city, which resulted in a budget proposal that would lift case managers to a minimum of $28 per hour, but it's essential that all workers throughout the supportive housing system receive fair increases as well. The system is only able to function when workers of all job titles are properly staffed and compensated, including janitors, maintenance staff, front desk clerks, counselors, and beyond. That's the sticking point that has precipitated the possibility of a strike.
Hattie, a member working as a front-desk clerk at the Vincent Hotel, recently told the SF Standard about how she herself is forced to live in subsidized housing because of low pay, despite nearly a decade of service at THC. "If I wasn't [in subsidized housing], I wouldn't be able to live off the money they paid us. I can barely make it now," she recently told the San Francisco Standard.
Because Tenderloin Housing Clinic receives its funding from the City & County of San Francisco, members of the negotiating team are closely watching the city's budget process play out this summer. The amount of money allocated will largely determine the amount available to attract and retain staff through badly-needed raises and other economic considerations.
In that same SF Standard story, Chapter President Evan Oravec said that members are ready to, "move forward [with a strike] if we don't see the kind of investment that will lift everyone up."