TA Ratification Vote Next Week!
It's almost time to vote on our tentative agreement. Voting will take place Tuesday 4/19 and Wednesday 4/20.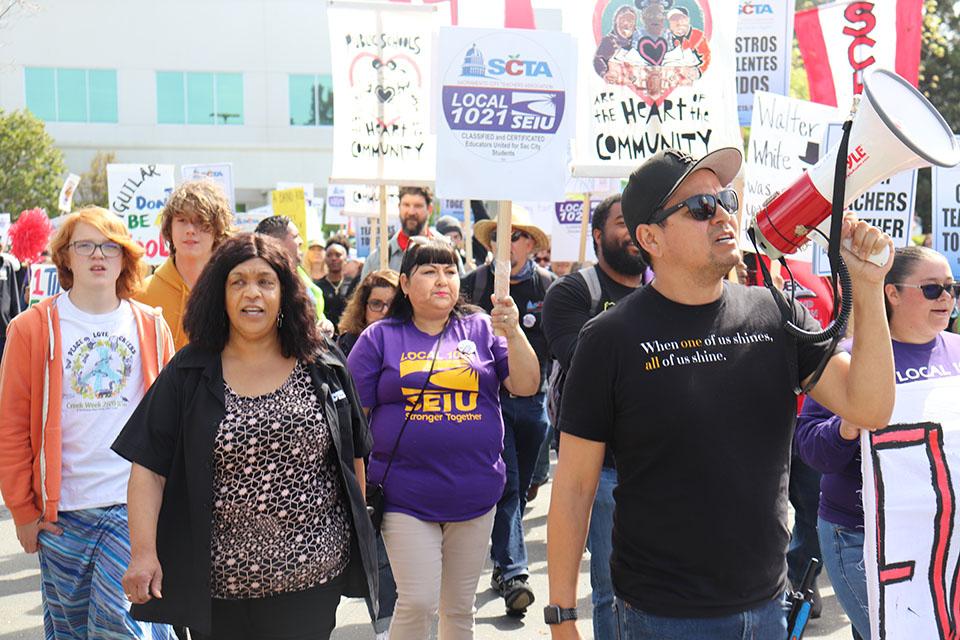 We won our strike when we reached a historic tentative agreement (TA) that we are proud to bring to our members.
Our ratification vote for the TA will take place in person next Tuesday, April 19, and Wednesday, April 20. Times and locations are listed below. If you work at a feeder site, please plan on voting at the closest location in the list below.
Your bargaining team recommends a yes vote. Please understand that a no vote is a vote to go back on strike.
Voting times and locations:
TRANSPORTATION, 7050 San Joaquin St.: Tues. 4/19 & Wed. 4/20, 5:30am-10am
MAINTENANCE, 425 1st Ave.: Tues. 4/19 & Wed. 4/20, 6-8am and 11am-1pm
SERNA CENTER, 5735 47th Ave.: Tues. 4/19 & Wed. 4/20, 8am-4pm
JOHN F. KENNEDY, 6715 Gloria Dr.: Tues. 4/19 & Wed. 4/20, 8am-4pm
LUTHER BURBANK, 3500 Florin Rd.: Tues. 4/19 & Wed. 4/20, 8am-4pm
McCLATCHY, 3066 Freeport Blvd.: Tues. 4/19 & Wed. 4/20, 8am-4pm
HIRAM, 6879 14th Ave.: Tues. 4/19 & Wed. 4/20, 8am-4pm
ROSEMONT, 9594 Kiefer Blvd.: Tues. 4/19 & Wed. 4/20, 8am-4pm
SUTTER MIDDLE, 3150 I St.: Tues. 4/19 & Wed. 4/20, 8am-4pm
UNION OFFICE, 5450 Power Inn Rd., Suite F: Tues. 4/19 & Wed. 4/20, 10am-5pm
If your worksite is not listed above, please choose the nearest location listed to vote.
Here are some highlights of the tentative agreement:
Ongoing 4% cost-of-living adjustment (COLA) retroactive to July 1, 2021.

Wage reopener (negotiations just over wages) for the 2022-2023 school year–in other words, another opportunity to get another raise within a few months.
Classification and compensation study, by companies selected by the union, to start within 30 days of Board approval of contract. This will help employees in classifications currently underpaid relative to the market.

At least $7,000 in one-time stipends for all SEIU bargaining unit employees who have worked for the District since at least July 1, 2020, and are still employed at SCUSD at time of contract approval; this will be paid in two payments by July 1, 2022:

$3,000 stipend for 2020-2021 school year
$3,000 stipend for 2021-2022 school year
$1,000 retention stipend for all current employees

Additional $2,000 stipend for bus drivers to be paid within 90 days of ratification in recognition of their critical role transporting students to school safely every day and their extraordinary schedules.

$2,000 recruitment and signing bonus for new bus drivers who have completed the SCUSD training program and are in the SEIU bargaining unit for the 2022-23 school year on or before October 31, 2022 (must work the full school year; bonus will be paid on June 30, 2023).
$2,000 recruitment and signing bonus for bus driver referral for any current employee who refers a new bus driver who works the 2022-2023 school year, to be paid June 30, 2023.

$5,000 recruitment and signing bonus for fully licensed bus drivers who work the 2022-2023 school year, to be paid June 30, 2023, to help relieve the staffing crisis.

District must maintain at least 50% of bus drivers at 8 hours.

$1,030 longevity pay bonus (30% increase) at 10 years, 16, 19, 22, and 25 years of credited service.
Improvements to dental and vision plans: SEIU bargaining unit members will now have access to fully-paid coverage for themselves and their spouses/dependents in the highest plans available. For dental, that is through Delta Dental and Premier Dental. For vision, that is through VSP.

Switch must happen at open enrollment and will take effect January 1, 2023.

No changes to medical coverage. The District wanted to eliminate fully-paid family coverage at the outset of negotiations. We will continue to have fully-paid medical insurance through Kaiser, Western Health Advantage, or Sutter Health Plus.
Shoe allowances:

Up to $230 for maintenance and operations and transportation department workers for footwear that meets requirements for safety toe protection and oil-resistant soles
Up to $150 for nutrition service workers for slip-resistant footwear
A Note About Assistance, Strike Hardship Fund, and More:
We are working to reach an agreement with the District to delay the dock in pay due to the strike to the latest possible, in hopes to get that paycheck as close as possible to when the one-time stipends and retroactive pay will come in if the TA is approved. We will keep you posted on that.
In the meantime:
The Sacramento Food Bank has been alerted that some of our members on strike will need food assistance. Please use this map tool to find the location nearest you marked with a red flag and go during business hours to pick up food.
We are getting the process for applying for the union's strike hardship fund (and the GoFundMe strike fund) approved by the SEIU 1021 executive board. We will update you as soon as possible on how to apply for these funds if you need them.
All SEIU 1021 SCUSD members who have vacation time on the books can cash out up to 8 total days per school year:

You can email the Payroll Department: the payroll supervisor Emily-Hanisits@scusd.edu or the payroll director Tanishtu@scusd.edu
We recommend to copy yourself and Chapter President Karla Faucett on the email (karla.faucett@seiu1021.org)