Strike Update: You Are Showing Up in Force & We Are Winning. HOLD THE LINE TILL WE BRING IT HOME!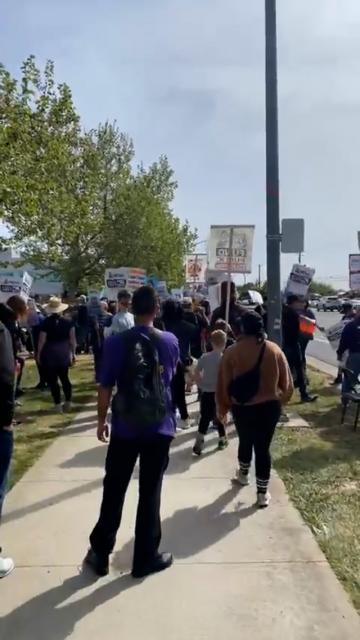 All SEIU 1021 members should report to the picket lines outside their worksite 45 minutes BEFORE the beginning of business Friday, April 1. We will rally at the Serna Center again at 11am.
Because of You, We Are Stronger Than Ever and Have the Community Behind Us
WOW!! What a sea of purple at Serna Center today! As your bargaining team, we could not be prouder of each and every member who is making a huge sacrifice to fight for what's right for our students, our community, our coworkers, our families, and ourselves. We know how difficult it is to give up a week's pay, and how frustrating it is to have to go to these measures just to secure a living wage that will allow us to keep working for the District and recruit enough full-time staff for our workloads to be sustainable.

The Central Labor Council is offering a food delivery service for striking workers in need. If you are showing up to the picket lines and rallies, signing in, and you need assistance with food, please fill out this form. Please also see the note below about the Strike Hardship Fund and our GoFundMe.

Your message is resonating. Your willingness to share your stories and show your vulnerability as well as your strength is unbelievably crucial to the outpouring of support we're seeing from the community. The parents who sat in Serna Center overnight demanding Aguilar and the school board do their jobs has been the top story in the media all day. We all feel it, even just with the streams of honks our picket lines get.

The community is behind us. They're upset schools are closed, just like us–and just like us, they know who to blame for it.
We Demand Respect
Today we celebrated the legacy of Cesar Chavez, the labor leader who fought for dignity and solidarity for farmworkers and all working people. And we publicly called on Superintendent Jorge Aguilar, who likes to talk publicly about being the son of immigrant farmworkers, to honor the values that Cesar Chavez represented and to stop trying to break his lowest-paid workers by dragging this strike out by continuing to refuse to value and respect the work we do.

Tonight in negotiations, when we asked the District if they would be coming back with counterproposals tonight, told us at 9:30pm that the people they needed to consult might be in bed.

Tomorrow is April 1. Rent is due. Many SCUSD classified staff are worried about how they are going to pay their rent. But for the District, it's simply not important enough to make sure that the decision-makers are at the table ready to settle a fair contract so that our kids can go back to school and we can go back to work. 9:30pm is too late for them to be bothered.

We face so many problems at our schools and worksites. Some departments are severely short-staffed, creating a huge burden on the workers who are still there. The District is actually saving $5.5 million a year by having 400 classified positions open–and they are just socking those savings away in reserves. The District currently has $123 million in unrestricted reserves, receives $20,000 per pupil in funding, and is promised continued strong funding from the state. Literally the only thing preventing them from offering a living wage is poor leadership.

On top of that, the District is engaging in some of the worst employer practices, making layoffs without negotiating impact with the union and replacing six-time nutrition service positions with part-timers who can only get three hours of work a day–leaving them ineligible for benefits and unable to provide for their families. They have been making these moves without negotiating with the union, which is an unfair labor practice, and we are filing charges against the District with the Public Employment Relations Board (PERB) for their actions.

Our top priority in negotiating our contract is ensuring all SCUSD classified staff earn a living wage so that they will stay with the District and even bring friends and family members to come work with us to fill the hundreds of vacant positions.

We understand our members' eagerness to see specific proposals. The process of negotiations means that proposals can change very quickly from day to day or even hour to hour, so to avoid confusion, we cannot share full proposals. We thank our members for the trust they have placed in our bargaining team to negotiate a contract that addresses our biggest issues and concerns, and ask that you continue to hold the line as we work day and night to bring this home and win the best agreement possible for all our members.

The community is behind us, and we're winning. It's because of each and every one of you who has showed up to rally at noon, before heading to your second job. It's because of each and every one of you who has shared your story at rallies and to TV cameras. You have helped the community understand why our jobs are so hard, so special–and so undervalued.

You deserve more. WE deserve more.

We are making progress because of your fight, and WE WILL WIN–but we won't win without each and every one of you. Please keep showing up on the picket lines, showing up at the 11am rallies, and sharing your stories.

We see you, we hear you, and together, WE WILL WIN.
A note about the SEIU 1021 Strike Hardship Fund:
We understand that striking is a big sacrifice for our members, especially those of you who have already been struggling to get by. Our bargaining team has been working hard throughout the weekend to get the District to a fair agreement that values and honors our contributions to Sac City kids' educations with the goal of going back to work ASAP with a tentative agreement.

SEIU 1021 has a strike hardship fund that provides $20 per person, per day, for members who demonstrate financial hardship as a result of a strike in which they participated. Those funds can be matched one-to-one by chapter funds up to $50 a day, meeting certain conditions, for every day after the third day. The strike fund is not meant to replace wages but to provide some relief for members in need during a strike.

There will be an application process which we will provide information on shortly. You MUST show up to the picket lines and SIGN IN in order to be eligible for the strike fund.

Additionally, one of our local's allies has set up a GoFundMe strike fund for our members who were on the picket lines. Please share the GoFundMe widely and ask friends, neighbors, family, and anyone you know who might be able to chip in to support and share. Every donation helps, even just $5 or $10 at a time.

We will share more information in the coming days on the process to apply for hardship funds. In the meantime, please be sure to show up for your picket line duty and make sure to SIGN IN each and every time, as the hardship funds will only be available to members who have been on the picket line and have signed in. To ensure that the funds go where they are most needed, you will be asked to show hardship in order to be eligible for the funds as they become available.

Thank you for holding the line for our students, families, and all of SCUSD's hardworking staff. We are winning. The community is on our side. We are confident that if we keep holding the line just a bit more and pushing hard, we will reach an agreement that finally addresses the District's staffing crisis and shows us the respect and dignity we deserve.

Click here to send an email to the school board and tell them that every student deserves a teacher and a fully-staffed school. Please share this widely and ask your family, friends, coworkers, and neighbors to send emails as well.
Listen to Olivia Minor's message to Sup. Aguilar today on Telemundo 33 here.