Strike Update: SEIU 1021 and SCTA Negotiations Teams March into Serna Center, Demanding the District Bring Serious Proposals to End Strike Today
On the eve of Cesar Chavez Day, Superintendent Aguilar, son of farmworkers, persists in trying to break school bus drivers, custodians, cafeteria workers, and other low-wage employees as kids remain out of school and families scramble.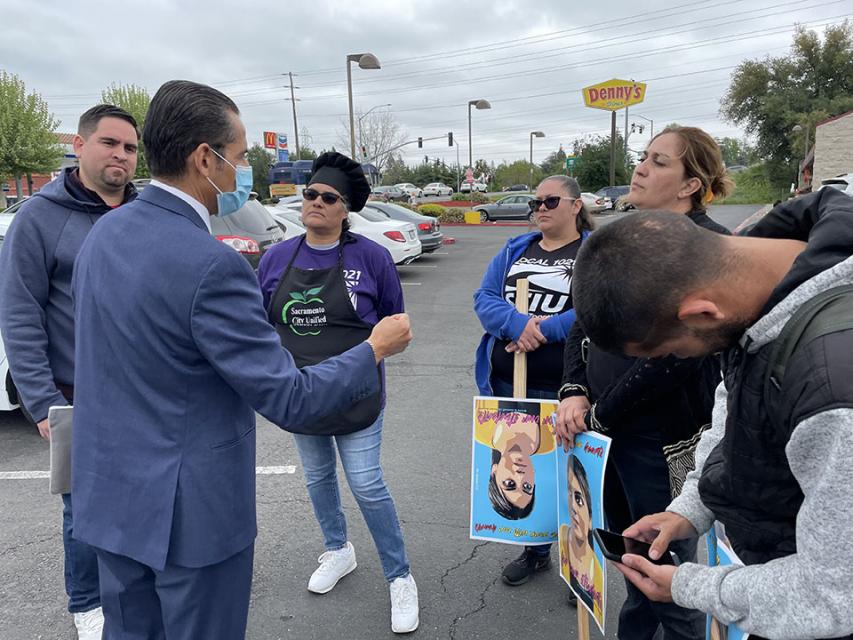 **FOR IMMEDIATE RELEASE**
Contact: Jennie Smith-Camejo, (510) 710-0201, jennie.smith-camejo@seiu1021.org
This morning, as picket lines once again went up outside schools across the city, kids were out of school for the sixth day, and the bargaining teams for SEIU 1021 and SCTA stood on standby waiting for word from the District, Superintendent Aguilar was having breakfast at Denny's. Some of his employees–eager to get back to work, devastated by the loss of over a week's wages, and frustrated that he seems to want to wait them out until they break–were waiting for him in the parking lot.
"Many of us have two jobs in order to survive, and many of us are only allowed to work for three hours a day," said Maria Santamaria, a nutrition services worker. "The three hours we work will only pay $300 to $600 a month to provide for our family. And we can't take another job because we have to take care of our children. Why didn't you make it to negotiations today? What's missing? How can you help? And in turn can we help?"
Other than platitudes about negotiations being a process, Superintendent Aguilar, son of farmworkers, had little to offer the staff who have made huge sacrifices to take a stand to improve their working conditions and stop the exodus of SCUSD classified staff. Making over $400,000 a year–50% more than even Governor Newsom–Aguilar seems to have forgotten his roots–or is callously indifferent to how much of themselves his employees give every day for so little in return.
The SEIU 1021 bargaining team, representing the District's lowest-paid employees including instructional aides, school bus drivers, nutrition service workers, custodians, and maintenance workers, are determined to reach an agreement that will help fill the 400 vacant positions that are preventing Sac City students from getting the services they need and the education they deserve. Even the District's bargaining team acknowledged over the weekend that SCUSD classified staff are severely underpaid, yet they have so far made no offer that would bring them anywhere close to market rate.
After a spirited rally at noon, the bargaining teams of both SEIU 1021 and SCTA, frustrated that the District had still not been at the negotiating table with either group all day, marched into the Serna Center and sat in a large room downstairs, asking the District's negotiating team to come down and meet. They were waiting a while, though the District's team eventually showed up and agreed to head back into negotiations with SCTA. SEIU 1021 and SCTA have both asked the District to meet with them together to reach an agreement as quickly as possible and get kids back in desks, but the District has refused to negotiate both contracts together.
At 6pm this evening, classified staff and educators will head back to Serna Center yet again to show support and solidarity with their bargaining teams still inside by writing messages on the pavement with sidewalk chalk.
SCUSD currently has unrestricted reserves of $123 million–8.5 times greater than the minimum requirement–and has received $320 million in state and federal covid funding, which President Biden specifically said should be used to hire teachers and help students make up for lost learning. Reserves are meant to be used in situations of urgent need–and there has never been a time of greater need in the District, as thousands of students go every day packed into gyms without even a substitute teacher, and the hundreds of vacant classified positions leave kids waiting hours for school buses, special ed students without instructional aides to help them achieve and thrive, and classrooms dirty for lack of custodians to keep them clean–which earned the District one of several Cal/OSHA violations this month.
"Sac City Schools classified staff have made huge sacrifices to be out here on the picket lines for the past six days. Members are pulling me aside asking where they can get vouchers for food or help with their rent," said SEIU 1021 SCUSD Chapter Vice President Dan Schallock, who works in the maintenance department. "Nobody wants to be out here on strike. We want to go back to work. We just have to make sure that the conditions we're going back to are better than the ones that are keeping our schools short-staffed and shortchanging our students."
A GoFundMe strike fund has been set up to support striking classified staff in need. It has collected over $15,000, but every day of lost wages represents a major hardship to SCUSD classified staff.
###
SEIU Local 1021 represents nearly 60,000 employees in local governments, non-profit agencies, health care programs, and schools throughout Northern California, including seven private colleges and numerous community colleges. SEIU Local 1021 is a diverse, member-driven organization with members who work to make our cities, schools, colleges, counties, and special districts safe and healthy places to live and raise our families.