STRIKE UPDATE: Because of You, We're Making Progress. We Must Keep Holding the Line Until We Get the Respect We Deserve.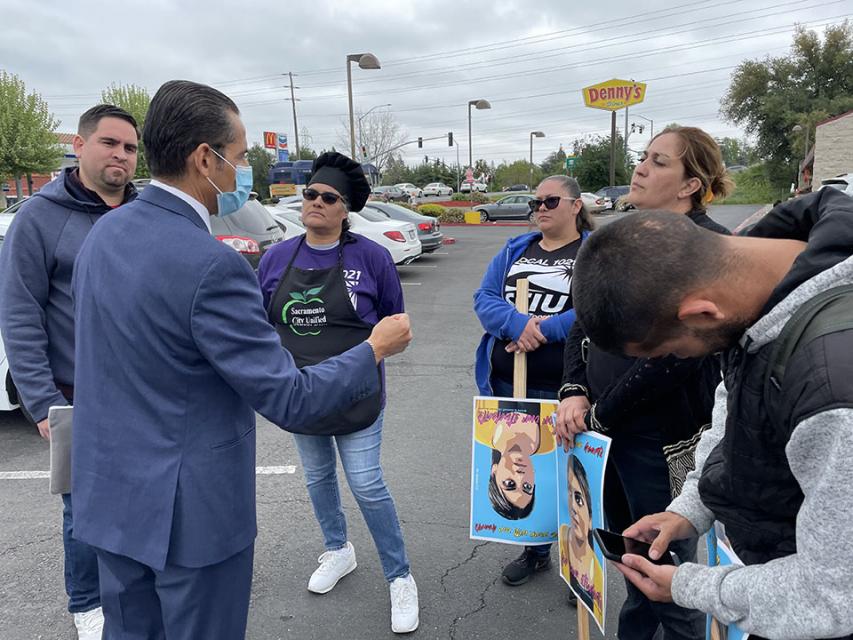 All SEIU 1021 members should report to the picket lines outside their worksite 45 minutes BEFORE the beginning of business Thursday, March 31. We will rally at the Serna Center again at 11am.
Tomorrow is Cesar Chavez Day, when we celebrate the legacy of the labor leader who fought for dignity for farmworkers and all working people. Superintendent Jorge Aguilar, who makes 50% more than Governor Newsom and speaks publicly about being the son of farmworkers, chose to have breakfast at Denny's this morning as our members, the lowest-paid employees in the District, waited at the bargaining table for him. Four brave and fierce SEIU 1021 members–Maria Flores, Melissa Santora, Maria Santamaria, and Juan Maldonado–were waiting for him in the parking lot when he came out. Watch the video of what happened here.

They shared their truth about what it's like to work for minimum wage and only be able to get three hours of work a day–of having to have multiple jobs and still take care of family. They implored the superintendent to come to the table and negotiate a fair contract that will address the staffing crisis that has us doing so much more with less and less. His response? "Negotiations are a process."

This isn't good enough for us. We have made progress at the table, including an agreement that we will get the same raises as SCTA-represented staff–and that's because of YOU. It's because of each and every one of you who reported to the picket line instead of clocking in or staying home. It's because of each and every one of you who has showed up to rally at noon, before heading to your second job. It's because of each and every one of you who has shared your story at rallies and to TV cameras. You have helped the community understand why our jobs are so hard, so special–and so undervalued.

And guess what? YOU GOT SUPERINTENDENT AGUILAR TO THE TABLE. He made an appearance this evening at SCTA's bargaining table at Serna Center.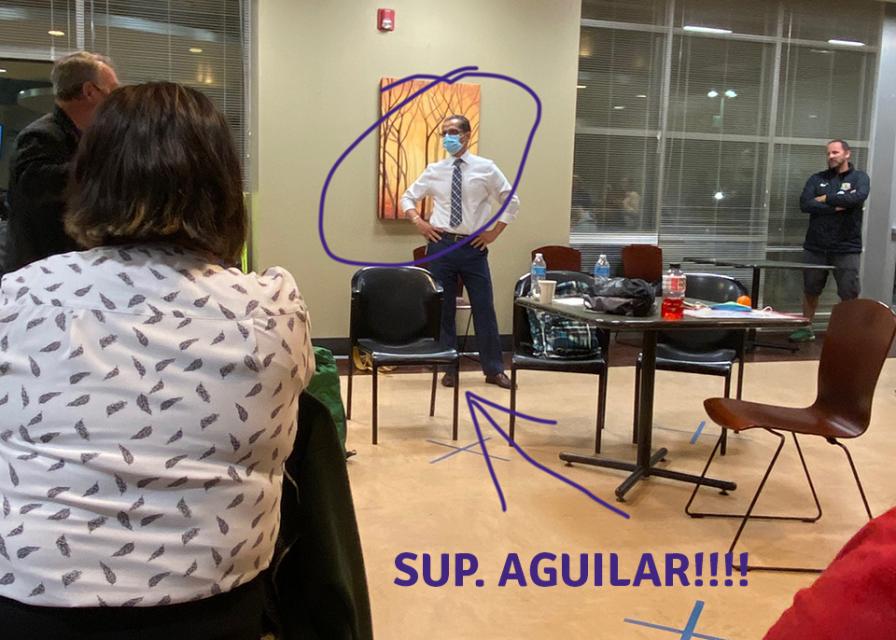 You deserve more. WE deserve more.
We are making progress because of your fight, and WE WILL WIN–but we won't win without each and every one of you. Please keep showing up on the picket lines, showing up at the noon rallies, and sharing your stories.

We see you, we hear you, and together, WE WILL WIN.
A note about the SEIU 1021 Strike Hardship Fund:
We understand that striking is a big sacrifice for our members, especially those of you who have already been struggling to get by. Our bargaining team has been working hard throughout the weekend to get the District to a fair agreement that values and honors our contributions to Sac City kids' educations with the goal of going back to work ASAP with a tentative agreement.

SEIU 1021 has a strike hardship fund that provides $20 per person, per day, for members who demonstrate financial hardship as a result of a strike in which they participated. Those funds can be matched one-to-one by chapter funds up to $50 a day, meeting certain conditions, for every day after the third day. The strike fund is not meant to replace wages but to provide some relief for members in need during a strike.

There will be an application process which we will provide information on shortly. You MUST show up to the picket lines and SIGN IN in order to be eligible for the strike fund.

Additionally, one of our local's allies has set up a GoFundMe strike fund for our members who were on the picket lines. Please share the GoFundMe widely and ask friends, neighbors, family, and anyone you know who might be able to chip in to support and share. Every donation helps, even just $5 or $10 at a time.

We will share more information in the coming days on the process to apply for hardship funds. In the meantime, please be sure to show up for your picket line duty and make sure to SIGN IN each and every time, as the hardship funds will only be available to members who have been on the picket line and have signed in. To ensure that the funds go where they are most needed, you will be asked to show hardship in order to be eligible for the funds as they become available.

Thank you for holding the line for our students, families, and all of SCUSD's hardworking staff. We are winning. The community is on our side. We are confident that if we keep holding the line just a bit more and pushing hard, we will reach an agreement that finally addresses the District's staffing crisis and shows us the respect and dignity we deserve.

Click here to send an email to the school board and tell them that every student deserves a teacher and a fully-staffed school. Please share this widely and ask your family, friends, coworkers, and neighbors to send emails as well.