STRIKE OVER! We Have Reached a Tentative Agreement!
When We Fight, We Win. WE WON OUR STRIKE.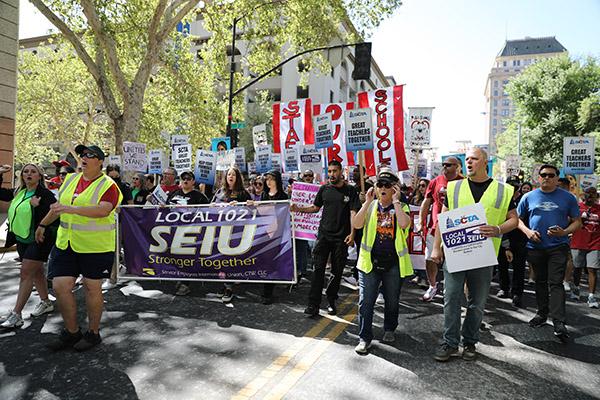 From the first day of our strike with SCTA on Wednesday, March 23, our mantra has been, "When we fight, we win. When we fight, students win." You kept on showing up to the picket lines and our rallies day after day. You kept on sharing your stories, and the community kept on supporting us and demanding the superintendent and school board do their jobs. We are so happy to announce that our strike is over.

We have won a historic tentative agreement (TA) that we are proud to bring to our members. It will give all of our members, including part-timers, at least $7,000 in one-time stipends by July 1, 2022, and will give us all the highest salary increase of any SCUSD bargaining unit retroactive to July 1, 2021.

We also won improvements to our dental and vision plans, as well as other improvements and protections.

SCTA has also reached a tentative agreement. As a result, our joint strike is now over. Schools will finally reopen tomorrow, Monday, April 4.

We will be sharing information about ratification of the TA as well as more details of the tentative agreement early this week and will hold Q&A sessions with the membership ahead of the ratification vote. Please continue to stay tuned to your personal email and text messages for updates.
We never could have achieved this historic agreement without your fierce, relentless determination to hold the line.
As your bargaining team, we could not be prouder of each and every member who made huge sacrifices to fight for what's right for our students, our community, our coworkers, our families, and ourselves. We know how exhausting and often frustrating this fight has been.
But because you never gave up, neither did we. And together, we won.

Thank you for your constant solidarity and the confidence you placed in us as your bargaining team.

Your Bargaining Team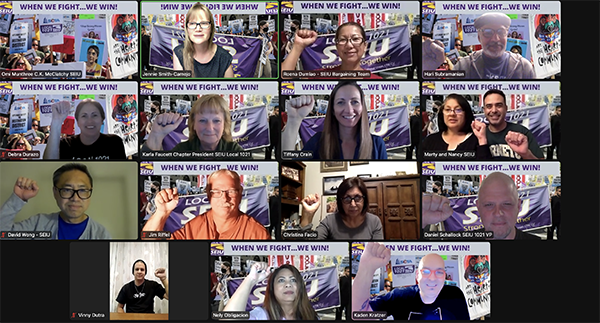 A note about the SEIU 1021 Strike Hardship Fund:
We understand that striking is a big sacrifice for our members, especially those of you who have already been struggling to get by. Our bargaining team has been working hard throughout the weekend to get the District to a fair agreement that values and honors our contributions to Sac City kids' educations with the goal of going back to work ASAP with a tentative agreement.

SEIU 1021 has a strike hardship fund that provides $20 per person, per day, for members who demonstrate financial hardship as a result of a strike in which they participated. Those funds can be matched one-to-one by chapter funds up to $50 a day, meeting certain conditions, for every day after the third day. The strike fund is not meant to replace wages but to provide some relief for members in need during a strike.

There will be an application process which we will provide information on shortly. You MUST have been on the picket lines and SIGNED IN to be eligible for the strike fund.

The Central Labor Council is coordinating a food assistance service for striking workers in need. If you have been showing up to the picket lines and rallies, signing in, and you need assistance with food, please fill out this form. We are coordinating the food assistance service with the CLC and community partners and will be in touch very soon with distribution details.

Additionally, one of our local's allies has set up a GoFundMe strike fund for our members who were on the picket lines. Please share the GoFundMe widely and ask friends, neighbors, family, and anyone you know who might be able to chip in to support and share. Every donation helps, even just $5 or $10 at a time.

We will share more information in the coming days on the process to apply for hardship funds. In the meantime, please be sure to show up for your picket line duty and make sure to SIGN IN each and every time, as the hardship funds will only be available to members who have been on the picket line and have signed in. To ensure that the funds go where they are most needed, you will be asked to show hardship in order to be eligible for the funds as they become available.

Thank you for holding the line for our students, families, and all of SCUSD's hardworking staff. Because of you, we won. Tomorrow, Sac City kids will be back at school and we will be back at work doing what we love–taking care of Sacramento's students.
Please share our member strike fund!
Watch instructional aide and bargaining team member Jim Riffle and nutrition services worker Katie Santora share their stories with KCRA's Erin Heft yesterday. This was the top story on the 5pm and 6pm news yesterday!