As Strike Moves Into Day 8, Rent Is Due and Sac City Unified Classified Staff Seek Food Assistance as District Continues to Stall in Effort to Break Its Lowest-Paid Workers
District negotiator actually said at 9:30pm Thursday that they wouldn't be able to reconvene later because "the people she needed to consult might be in bed" as SEIU 1021 bargaining team keeps working and making itself available around the clock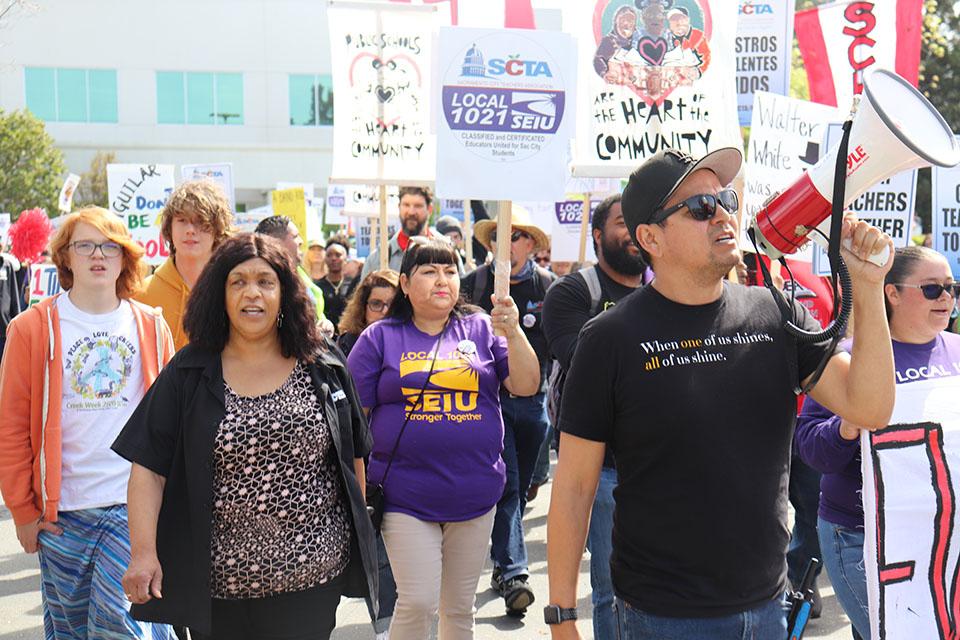 **MEDIA ADVISORY FOR FRI., APRIL 1**
Contact: Jennie Smith-Camejo, (510) 710-0201, jennie.smith-camejo@seiu1021.org
Schools workers, educators, parents, and community members will convene at Serna Center once again at 11am today to push the school board to end the strike.
Today is the first of the month – the day rent is due. For an unthinkable number of District employees, that brings trepidation this month. Classified staff, many of whom make minimum wage or barely above even after decades of service taking care of some of Sacramento's most vulnerable children, have already lost a quarter of their already meager wages for the month of March. The Central Labor Council and United Way are offering a food assistance program for the striking workers; within hours of SEIU 1021 sharing the link to the application in a text message to members, over 100 workers have applied.
With no apparent sense of irony, the chief negotiator for Sacramento City Unified School District told the SEIU 1021 bargaining team–representing classified staff such as instructional aides, nutrition service workers, custodians, school bus drivers, maintenance workers, and clerical staff–that they would be unable to respond to two major proposals passed by the union with the potential to end the strike the same night because "the people they needed to consult might be in bed." This was at 9:30pm on the eve of the eighth day of a strike that has kept Sac City students out of school for seven days and counting – and is bringing the District's lowest-paid workers to the brink.
"What the District is doing is unconscionable, and it's heartbreaking," said SEIU 1021 Vice President Dan Schallock. "They hope that by stalling and playing games at the table, they can force their lowest-paid workers back on the job through sheer desperation and make them give up their demand for basic respect and dignity wages. They are required by law to have people with the authority to make decisions at the table. After seven days of a strike, when union bargaining teams have been working literally around the clock, it's just simply shameful that they would even consider breaking for the night at 9:30pm while their employees worry about how they're going to make rent. Students and their families are also being held hostage by these scorched-earth tactics."
So much is at stake for people like SEIU 1021 bargaining team member David Wong, an instructional aide at Luther Burbank High School who works with students with physical and learning disabilities and with autism. "Many classified workers in your district are living in poverty. I am one of those people living in poverty," he wrote in an email to the superintendent and school board earlier this week. "My monthly income is $1,641.46. I need to have roommates so that I can afford to live in the city of Sacramento."
Three nutrition service workers also pleaded their case to Superintendent Aguilar, who makes over $400,000 a year and received large raises and bonuses in December when the school board extended his contract, when they confronted him in a Denny's parking lot Wednesday. "Many of us have two jobs in order to survive, and many of us are only allowed to work for three hours a day," said Maria Santamaria. "The three hours we work will only pay $300 to $600 a month to provide for our family. And we can't take another job because we have to take care of our children. Why didn't you make it to negotiations today? What's missing? How can you help? And in turn, can we help?"
After the SEIU 1021 bargaining team expressed outrage at the negotiator's comment, she backpedaled and said she would "wake them up," and returned around 12:30am after finally submitting counterproposals they should have had ready before bargaining began yesterday. While some movement was made, the counterproposals the District provided are still wholly insufficient to retain and recruit classified employees.
Bargaining with SEIU 1021 is scheduled to begin at 10am today. Classified workers, educators, parents, and community members will once again convene at Serna Center at 11am to rally and demand the school board take immediate action.
"SCUSD saves $5.5 million a year by having 400 classified positions vacant. But that work still has to get done–it's just being done by fewer people who have to work twice as hard and are still making the same poverty wages they were making six years ago," said SEIU 1021 Chapter President Karla Faucett. "Meanwhile, the District is putting the savings into a salary higher than the President of the U.S. for Aguilar and into record unrestricted reserves – and telling employees who have to work two or three jobs to keep the lights on there's nothing left for them. Not only do these workers take care of Sac City kids every day, but they are also parents of Sac City kids. What the District is doing to its workers, it is doing to its students. Shame on this superintendent and this school board."
Anyone who would like to help support these workers as they hold the line for dignity and respect on the job should contribute to and share this GoFundMe strike fund.
###
SEIU Local 1021 represents nearly 60,000 employees in local governments, non-profit agencies, health care programs, and schools throughout Northern California, including seven private colleges and numerous community colleges. SEIU Local 1021 is a diverse, member-driven organization with members who work to make our cities, schools, colleges, counties, and special districts safe and healthy places to live and raise our families.