Stopping Threats to Healthcare and Social Services Programs
Newly-Proposed Public Charge Rule Change Targets Working Families and Low Income Immigrants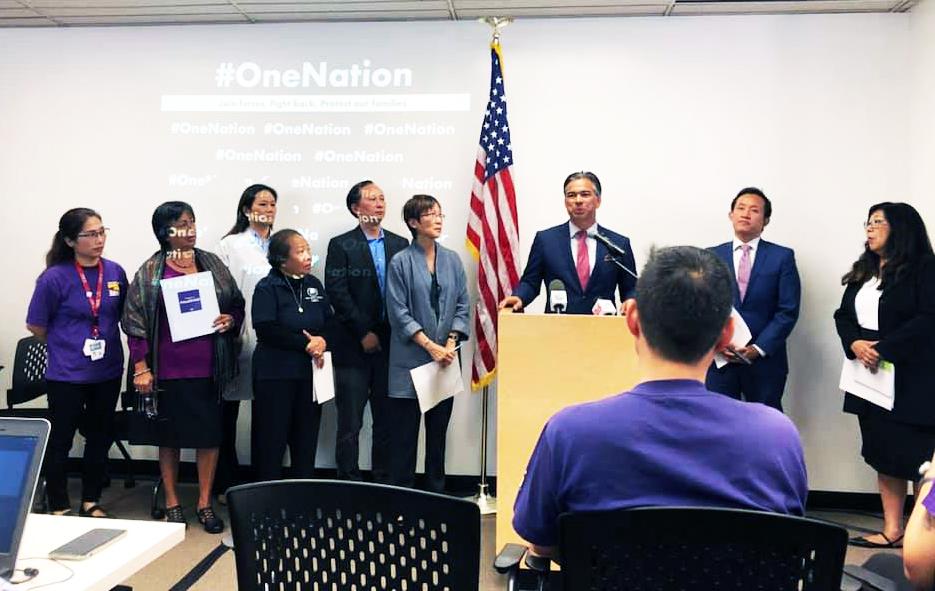 On September 27, Asian Health Services workers joined community leaders to condemn the newly-proposed public charge rule that would make it impossible for working people and low-income immigrants who participate in healthcare and social services programs to receive a green card.
"This is yet another cynical attempt by the Trump Administration to divide us and to undermine the funding that goes into public programs that we all rely on," said Tina Diep, a Community Health Advocate at Asian Health Services, " these are the programs that keep all our communities healthy and safe. Limiting access to health, housing, and nutritional programs for immigrants and working families affects us all."
Alameda County Supervisor Wilma Chan and Assemblymembers David Chiu (D-17) and Rob Bonta (D-18) joined community health workers at the press conference in calling the proposed rule change an unfair and dangerous proposal to cut off funding for community health and housing programs.
"This proposed rule change is meant to instill fear, and it is meant to separate immigrant families from critical, fundamental services that many of us believe are human rights, like housing, food, and healthcare," said Assemblymember Rob Bonta chair of the Asian Pacific Islander Caucus in the State Assembly, "We all know that it is wrong."
Once the rule is officially posted in the federal register, we aim to send thousands of public comments to oppose the proposed public charge rule. To be notified of when you can submit your comment opposing the proposed rule change during the 60-day public comment period, visit SEIU.org/takecharge
Tina Diep closed up the press conference with the caution to elected officials who threaten the well-being of working families, "We'll be making our voice is heard at the ballots, and we will do everything in our power to protect the safety, dignity, and civil rights of those who rely on us for their care."